Bad Bunny Net Worth 2022 (how rich is bad bunny?)
Bad Bunny could be described as the rave of the moment. In such a short time, he has carved a niche for himself in the Music industry. The music star has gained a lot of fans and supporters because of his authenticity, his style of music, and his unique sense of style.
With the amount of influence Bad bunny has in the music industry, people are wondering what his net worth is, and this is not out-of-place considering the amount of success he has recorded in recent times.
In this article, you'll find out all you need to know about Bad Bunny, who he is, his career, and how much he has made from it.
Who is Bad Bunny?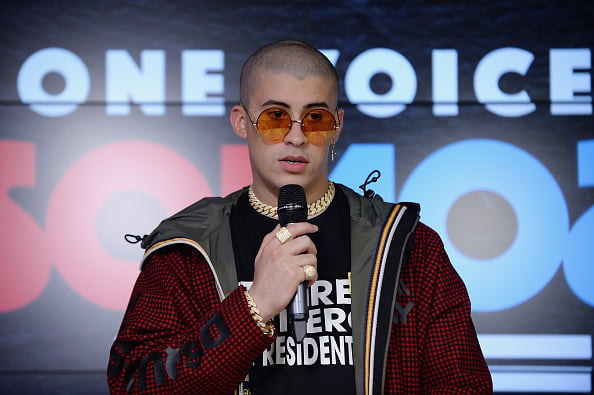 Bad Bunny is a 28 years old Puerto Rican musician, rapper, singer, record producer, actor, and wrestler.
His real name is Benito Antonio Martinez Ocasio. His style of music is Latin trap and reggaeton with a fusion of rock, bachata, and soul.
Bad Bunny stands out for being unapologetically himself. His style of music and dressing is not the norm. He writes and sings in his native Spanish and has stuck with that, even with his fame and popularity.
You would expect that he'd stop singing in his native language with his fame, but that isn't the case, even when he is singing with famous English artists.
He has been seen dressed in skirts and drags. He also paints his nails, which are quite different for a male artiste, making his fans curious about him. Apart from his music career, his mainstay, he has also had a foray into acting and, most recently, wrestling, which he has been a fan of for a long time.
He took part in the 2021 wrestle mania 37. In 2021 he started making guest appearances in the professional wrestling promotion WWE. He won the WWE 24/7 championship once and was also a contestant at wrestle mania 37, where he won a tag team match.
Bad Bunny was born in Sur barrio in Vega Baja, Puerto Rico, to a father who was a truck driver (Tito Martinez) and a mother who was a retired schoolteacher(Lysaurie Ocasio). He has two younger brothers, Bernie and Bysael, adding to his happy home.
Bad Bunny was raised in a middle-class family. His parents might not have had a lot of money, but they were all happy and content. Bad Bunny once said he preferred being at home with his family rather than being on the streets. His love for music was birthed from childhood when he listened to his mother play salsa, merengue, and balls and following her to church; his mother was a devout Catholic.
Like most musicians, Bad Bunny started his singing career as a chorister in the church choir at a very tender age. He left the choir at 13. His first song performance was a rendition of Juane's song titled "Mala Gentel" in a middle school talent show.
Interestingly, Bad Bunny's parents wanted a distinct career path for him. His mum wanted him to be an engineer. His father preferred he become a baseball player, and his teacher wanted him to be a firefighter.
In 2013, Bad Bunny officially published his songs through sound cloud. His first song was "Get." This was followed by "Tentacion" in 2014 and "Just let me know" in 2015, and since then, he has been making hits after hits.
In 2016, he released a song called "Diles" on soundCloud as an independent artist.
This song caught the attention of Dj Luian, who was the owner of a record label. He signed Bad Bunny to his record label. When he joined the record label, the other record label members were stunned when they heard him sing because of how unique and different his voice sounded.
He was accepted into the record label and has released hot songs year after year; his songs have earned him a lot of top-ten entries on the US hot Latin songs chart. Bad bunny's music videos have had millions of views on YouTube, and he has been featured on fifteen Billboard hot Latin song charts.
When he was signed to the record label, he worked in a supermarket as a bagger and also studied at the University of Puerto Rico at Arecibo. He has also collaborated with top music artists like Cardi B, J Balvin, Drake, Faruko, Residente, Arcangel, Rosalie, and Jay Cortez.
His albums have also been very successful, having a lot of listeners. Apart from singing, he has also featured in many movies, and he has also wrestled in big wrestling competitions.
Bad Bunny lives such a private life. He seems to love his career, but not the fame that comes with it.
After his performances, he tries to leave the vicinity as soon as possible to avoid contact with the crowd. Between Puerto Rico and the United States of America, he shares his time.
He is so involved in charity and advocacy frequently, and he has been found advocating for the rights of the poor and displaced in his country, Puerto Rico. He has also been seen distributing items to help cushion the effects of a natural disaster that struck his country.
link to Miesha Tate Net Worth 2022
Bad Bunny's Net worth.
Bad bunny has had a very successful career, which is clear in his net worth.
He is a millionaire with a net worth of about $18 million. Bad Bunny makes money from music, acting, and wrestling. He reportedly has real estate investment and owns a 53-foot west customs design rig.
He owns properties in the United States and San Juan, Puerto Rico. Bad Bunny also has luxury cars valued at about $4 million. He has a Mercedes G-wagon, Rolls Royce Dawn, a Toyota Corolla, a Bugatti Chiron, and a BMW M4.
He presently lives in a rented apartment with his girlfriend, Gabriella Berlingeri. Due to how private Bad Bunny's life is, it is quite a hassle to know the exact countries/cities in which his properties are located.
However, it is a fact that he is doing well for himself and has a promising career ahead.
How does Bad Bunny make his money? 
Bad Bunny is a very successful musician that has released quite a good number of hit songs that took over the charts. His songs are some of the most listened to on Spotify, and he also has millions of views on YouTube. All these translate to money.
Bad Bunny is also a wrestler on the days when he isn't recording. He has won several games, and they all came with monetary benefits.
Bad Bunny also has about 35 million followers on Instagram, which could fetch him about $50,000 for a single post. He also has big endorsement deals that come with monetary benefits.
Awards.
Bad Bunny shut into the limelight in 2018, and in such a short period, Bad Bunny has won many awards, including the very celebrated Grammy awards. Some awards that Bad Bunny has won include:
2022, Grammy award for her Musica Urban Album
2021, Grammy Award for best Latin pop Urban Album
2018, MTV video music award for the best song of the summer.
2020, Lo Nuestro Award for Remix of the year.
2020, Premio Juventud for OMG collaboration.
2019 Billboard Music Award for a top Rap song.
2021, Lo Nuestro Award for urban song of the year
2021, 2020 Billboard Latin Music Award for songwriter of the year.
Lo Nuestro Award for crossover collaboration of the year
2021, Premio Juventud for Viral track of the year.
2020, prêmio Juventud Trendsetter; the Quarentune for "En Casita"
2020,2019 Premio Juventud for "Can't get enough."
These, amongst others, are the awards Bad Bunny has gained in the course of his career.
Conclusion.
Bad Bunny has built quite an enviable career for himself. He went against the norm, which has worked for him; his style of music and dressing has differentiated him from his fellow artists.
Bad Bunny lives a very private life and tries not to show his personal life to the rest of the world. This makes it quite difficult to track his finances or anything about his personal life.
However, it is clear to everyone that Bad Bunny has a successful career, and with this comes many financial benefits. The future seems very promising for Bad Bunny.