Most Expensive Hermès Bags in the World.
Naturally, Hermes handbags are pretty expensive bags that are rare. In fact, their luxurious nature makes them most wanted by the VVIPs. But more than that, these bags increase in value over time. Most of these bags are made of precious stones like diamonds and gold.
Their designs are unique and top-notch. From collections like Hermes Kelly, Evelyn, Medor, Jide, and Hac, Hermes Birkin is the most expensive and costs over a million dollars. If you're looking for class and luxury, Hermes bags are your go-to option. Here are the most expensive Hermes bags in the world.
10. Hermes Bleu Sac Birkin Faubourg – $130, 000
This Hermes bag is an extremely rare handbag crafted for VIPs. It has only a limited number, and only a few people are lucky enough to own one of these.
Hermes Bleu Birkin faubourg is a definition of luxury. It is a 20cm sized bag that blends modernity and history. Interestingly, the body is made of deep blue Madame Calfskin, and it features five different kinds of leather with an exotic alligator. What's more, the front handles, straps, and flaps are made of bleu matte alligator. It is indeed a beautiful work of art. It was sold at over $110,000.
9. Blue Crocodile leather Hermes Birkin bag- $150,000 
The blue crocodile, Hermes Birkin bag, made it to our top 10 list of most expensive Hermes bags as it was purchased at a selling price of a staggering 125,000 euros, which translates to $150,000 US dollars. This purchase was made at Christie's first-ever dedicated handbag sale that took place at Mayfair, London.
This fascinating Hermes bag features white gold and 18-carat diamonds that make it appealing and attractive. When this bag was auctioned, thousands of online bidders tried to get their hands on it, but an anonymous buyer was able to whisk it away, making this bag one of the priciest ever sold in Europe. If you're looking for a simple extravaganza, then this blue crocodile Hermes Birkin handbag is your best bet. It is a luxurious, exotic, rare, and fancy handbag.
READ MORE: 10 Most Expensive Private Jets in the World
8. Hermes Exceptional collection shiny rouge H porosus crocodile Birkin bag $203,150
Hermes exceptional collection shiny rouge H porosus crocodile Birkin bag is the fifth of our most expensive Hermes bags list. It is a 30cm Hermes Birkin bag that stands out for its unique shiny look. Designed with 18-carat white gold and diamond hardware, this extravagant is red-colored. Interestingly, it broke the record as the most expensive Birkin bag sold at public auction some years back.
This chic and expensive designer handbag was purchased by an anonymous collector who won the bidding, purchasing it at a selling price of $203,150. This auction took place at heritage auctions in Dallas, Texas. The nature of this gorgeous-looking bag makes it worth the price.
7. Fuchsia Diamond-Studded Hermes Birkin – $222,000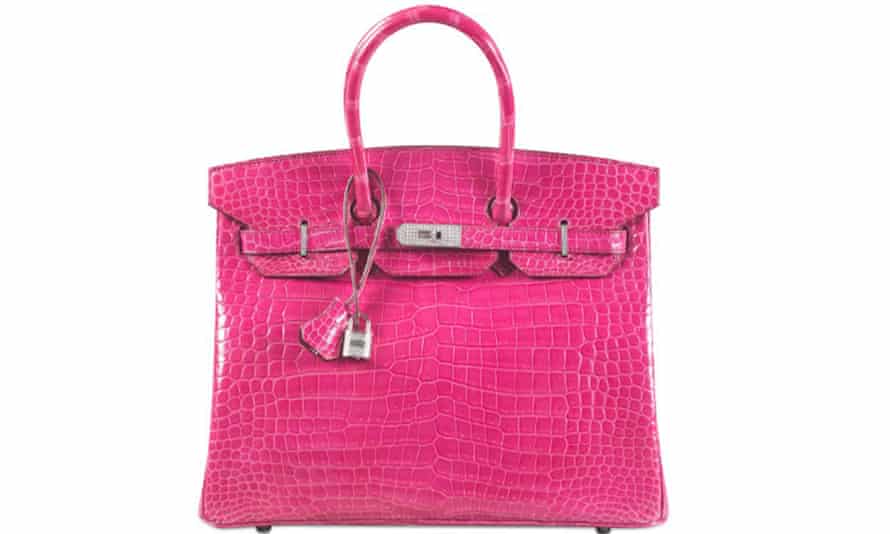 All Hermes bags seem to be topping the charts in the priciest bags of all time. Apart from their fancy nature, these bags are pretty expensive. The Fuchsia diamond-studded Hermes Birkin handbag is no exception. Like other Hermes bags, it managed to come eighth on the list of most expensive handbags globally.
This pink colored handbag brings sparkle to the eyes at first sight. When you come in contact with it, you would fall in love with the sheer extravagance. It features an 18-carat white gold and diamonds, giving it a shiny and sparkly look. In 2015, it was auctioned at Christie's in Hong Kong and was sold for a whopping $1.72 million Hong Kong dollars, which translates to $222,000 US dollars. If you're a pink or fuchsia color fan, then this Hermes bag should be your go-to option.
READ MORE: Most Expensive Lipsticks in the World
6. Cardi B's Hermes Birkin Cargo -$240,000 
The Hermes Birkin Cargo is another unique creation from the Hermes brand. It features leather and canvas designs of five pockets on the outside and a built-in cup holder that stands out. Its multi-pocketed and multi-practical nature shows off military inspiration.
It is one of Hermes' newest designs, and the American rapper Cardi B couldn't help her excitement. She needed this bag so bad that she paid triple the price of its original purchase price. She paid an estimate of $240,000 for this fascinating piece of art. Currently, Hermes Birkin cargo is being sold for between $65 – 80,000. This handbag is eye-catchy, expensive, and of great quality. Its value is sure to heighten.
5. Hermes matte white Himalaya Niloticus crocodile diamond Birkin – $380,000
This is one of the most expensive Birkin bags in the world. Auctioned at Christie's in Hong Kong, it was sold for an astonishing $379,000 though estimated at $380,000. Though the buyer remains anonymous till today, it held the most expensive bag ever sold at auction in 2016.
This matte white crocodile Himalayan diamond Hermes Birkin contains about 18 white gold and 10 carats of brilliant colorless diamonds. It is considered the Holy Grail in the Birkin handbag collection. It is even considered the rarest handbag in the world.
Interestingly, Himalaya diamond has an interior lined with Gris Cendre Chevre leather with a zipper pocket and a side pocket. The skin of this bag is made using agate to polish the spots of crocodile skin into a fine lisse finish. When you look at this handbag, the niloticus crocodile designs evoke thoughts of the Himalayan highlands.
4. Ultra-rare Hermes Himalaya Birkin 35 – $500,000
This handbag is one of the most expensive Hermes bags in the world. Encrusted with about 240 diamonds, it was estimated to be worth at least $350,000. Though this Hermes bag has appeared once on this list, it has increased in value and price over time. Previously in 2016, this handbag sold for over $300,000 during a handbag auction at Christie's.
It also took the position of the most expensive bag ever sold. It is an exceptional matte ultra-rare Birkin bag that Nita Ambani and David Oancea couldn't say no to. The Himalaya Birkin bag was named after the actress Jane Birkin after inspiring the chief executive of Herms jean-Luis Dumas.
The handbag beat the price of the 2016's auction as it came with over 240 diamonds encrusted on the 18-carat gold shell used to design it. Its size is about 35cm and was referred to as the holy grail. Quite recently, particularly in 2019, this bag was sold for half a million dollars which is pretty expensive. They both paid such huge sums to get this masterpiece.
3. Hermes Chaine d'Ancre bag- $ 1.4 – 2 million
Another pretty expensive Hermes handbag is the Hermes Chaine d'Ancre bag. A look at this bag, and you'll notice the amazing design that carries an intricate feel of a prison. It has anchor-shaped chains which are linked to each other. These chains are encrusted with 1,160 pieces of diamonds.
The famous Pierre Hardy designed this bag. It is quite a masterpiece and goes for a selling price estimated between $1.4 to 2 million.
The high cost is due to the technicality of this bag and the quality of materials used. You should know that only three of these were created.
2. Hermes Birkin bag by Ginza Tanaka- $ 1.4 million 
If you're looking for a multi-faceted handbag, then this Birkin bag with detachable parts is your go-to option. With it, you can accessorize yourself. It was fashioned from platinum and featured 2000 diamonds on its outer shell.
What's more, it features a pear-shaped 8 carat stone centerpiece that you can detach and use as a brooch. You can also use the diamond sling on the bag as a necklace or bracelet.
With this diamond-studded Hermes Birkin handbag, you don't need to bother about accessories for that event. You'll make an impression with this gorgeous jewelry. Designed by the Japanese Ginza Tanaka, this back was sold for a whopping $1.4 million on auction.
1. Hermes Kelly Rose Gold – $2 million
Hermes Kelly Rose Gold is the most expensive Hermes bag in the world. Valued at a staggering $2 million, this bag is stunning. It is uniquely crafted to look like crocodile leather. This small luxurious bag is made of solid rose gold.
Hermes brand designed this stunning-looking bag in collaboration with the jeweler Pierce Hardy. When you take a look at this bag, you'll notice the dotted diamonds it features. These dotted diamonds are about 1,160.
Interestingly, this unique Hermes bag took two years to create, and only 12 with three variants of this bag were ever created. So if you're looking for something unique and rare, Hermes Kelly Rose Gold is your best bet. It is the most valuable and most expensive bag ever sold at auction.
Conclusion 
Hermes bags are known for their rarity and uniqueness. This peculiarity makes the bags much more valuable and highly sought after. You may need to be wealthy and possibly famous to have access to or afford one of these bags. Another fascinating thing about these bags is that only a specific number of Hermes bags can be purchased by a person every year. Which of these most expensive bags fascinates you most, and how much are you willing to pay for your dream Hermes bag?