Top 10 Most Expensive Caskets in the World.
When it comes to funerals, the price of the casket is often one of the last thoughts on people's minds. However, some people in today's world want to be buried in a specific type of casket and are willing to pay any dollar amount necessary to get what they want.
These ten most expensive caskets in the world will show you just how much money can be spent on something that will ultimately end up 6 feet under the ground!
10. Sterling Deluxe Stainless-Steel Casket – $2,700.
The Sterling Deluxe Stainless Steel Casket is one of Star Legacy's creations, and it also appears to be their costliest casket to date and one of the most expensive caskets in the world. The coffin, which is covered in a powder blue color, exudes sophistication and class.
It has a white brush finish on the inside. Created from the highest quality materials, the casket is undeniably one of the most opulent creations, hence the high price.
9. Copper Deluxe Casket – $2,900.
From the very same collection, Star Legacy offers one more casket, the Copper Deluxe casket, that has caught many people's attention. The casket features a rich aesthetic because it is manufactured from copper on the exterior, and the uniformity of the copper finish steps it up a billion rungs.
This casket isn't just ecologically friendly, but it also contains a non-corrosive material that has drawn many people for many years, making it one of the most expensive caskets in the world.
READ MORE: Top 10 Most Expensive Pearls in the World.
8. Kiss Casket – $4,000.
Some fans express their affection for their favorite band by purchasing records, hanging posters, or even tattooing the band's logo on their bodies.
In this particular instance, some are ready and able to go much further. How far is it? That is until the afterlife takes them away.
One example of that level of flashiness is this Kiss-themed casket, one of the most expensive caskets in the world. The only thing unique about it is the handmade brush around the outside of the casket.
Similar caskets with various photographs or themes are sold in the same price bracket. The cost of this casket is $4,000.
7. JFK's Original Casket – $4,000.
Millions around the world were in mourning that day John F. Kennedy was murdered. Even though you don't appreciate him as a leader, his murder will send shivers down your spine. The 22nd of November, 1963, was a bleak day. JFK was assassinated while on his way to deliver a speech at the Dallas Trade Mart Luncheon. The video is terrifying. Many folks are still unable to shake that terrifying experience, even after several years.
This all-bronze casket is not really in which he was laid to rest. It was where he was carried on Air Force One as he was flown from Dallas to Washington, D.C. As a result, this casket is known as the "Original JFK Casket," because it was the first one used to put his body to rest. This casket, one of the most expensive caskets in the world, worth approximately around $4,000, was deposited into the sea. This casket was driven out of a C-130E military aircraft and sank into the Atlantic Ocean in 1966. The procedure was said to be done quietly, confidently, and dignifiedly.
6. Robert Wadlow Casket – $4,500.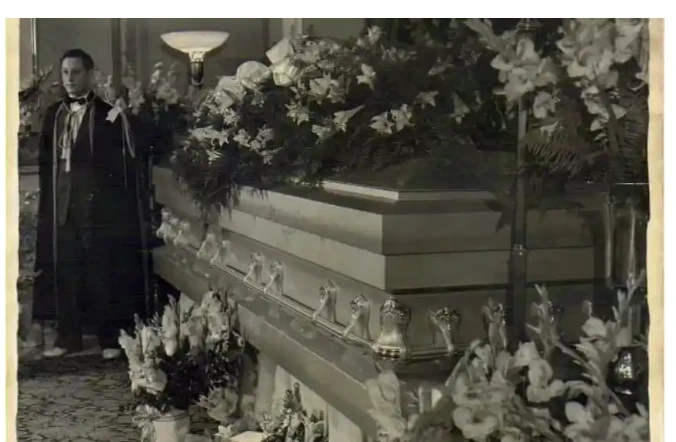 As you can probably tell from the price, this is one of the most expensive caskets in the world. Ignore what it was produced from; it has a massive size!
Robert Wadlow, also widely recognized as the Alton Giant, was the world's tallest guy. In fact, his record has yet to be broken. He continued to grow till the day he died in 1940. He was just 22 years old, but he stood 2.72-meters tall.
Wadlow suffered from blisters and inflammation as a result of irritation on his ankle while performing at the Manistee National Forest Festival. Sadly, his autoimmune disorder made recovery difficult for him. He died in his sleep eleven days later.
There was obviously no normal casket that could fit Wadlow's body. As a result, this casket was made to order. It cost approximately $4,500 to construct. Wadlow is buried in this casket in Upper Alton, Madison County, Illinois, at the Oakwood Cemetery.
READ MORE: The Most Expensive Fishing Reels in the World
5. Hallmark Bronze Casket – $6,900.
This is one of the most expensive caskets in the world and was created by The Savon Caskets and Urns, a Washington-based company. It has a bronze covering on all of its surfaces, including the rails.
The inside of this Hallmark Bronze casket is pure white velvet with a memory tube. This tube can be implanted into the casket to make it easier to identify the casket as it is being dug up.
It comprises three main brush options. The natural bronze brush is clearly visible. The powder gold and black russet brushes are the other two. Everything is the same price.
The Hallmark Bronze Casket by Savon Caskets and Urns ends up costing up to $6,900 and also has a classical bronze protective layer as well as a soft white velvet body.
4. Elizabeth Taylor Casket – $11,000.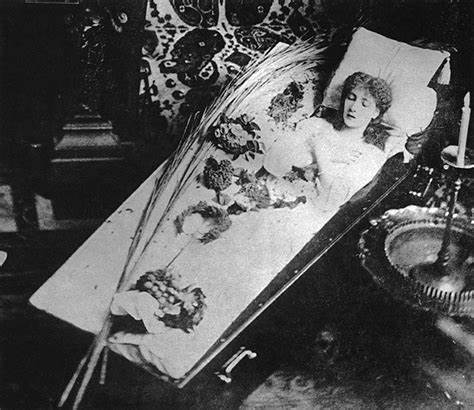 Elizabeth Taylor died at the age of 79, leaving behind her heritage to the planet. If you've ever read about any of the world's most valuable diamond necklaces, you'll understand the type of legacy we're about to talk about.
The American actress had been dealing with a slew of health issues. Her life was cut short by congestive heart failure, which she was diagnosed in 2004. She was laid to rest in a sturdy mahogany casket with a red velvet inner surface at Forest Lawn Memorial Park in Glendale, California. The coffin is worth around $11,000, according to estimates, making it one of the most expensive caskets in the world.
Regrettably, no photos exist of this casket or her memorial service. Her family held a private funeral for her and refused to grant any video to be made.
Rabbi Jerome Culter presided over the Jewish ceremony. And, at her request, it started fifteen minutes early. It was her intention to arrive late for her own burial.
3. The Promethean – $25,000.
Doesn't it look like a king's casket? A king was buried in it, after all. It was Michael Jackson, the King of Pop. Michael was carried inside this Promethean casket to Forest Lawn Memorial Park in Los Angeles, where he was interred, in 2009.
This is one of the most expensive caskets in the world and is built exclusively of solid bronze. As if that weren't enough, the casket's outer layer is covered in 14K gold plating. The design incorporates gorgeous blue velvet that complements the gold color quite well.
When somebody as famous as Michael Jackson passes away, a casket worthy of his name is required. And that is exactly what this Promethean casket did!
For your knowledge, the casket was available prior to Michael's death. A few famous people and wealthy individuals are known to purchase this high-end casket for the burial of their family members. This gold-plated bronze casket costs $25,000 and is purchasable.
2. Xiao En Center Casket – $36,400.
Hand-made, this Xiao En Center Casket, one of the most expensive caskets in the world, is a work of art in and of itself!
It is made from high mahogany timber. It also has hand-painted creative decorations around the sides. Within it, you'll find a stunning maroon velvet interior. Its gorgeous maroon color motif makes it appear to be the ideal location for your final life journey.
Over several decades, this casket appears to be the top choice for Chinese leaders, entrepreneurs, and other influential people. Almost all of the time, they get this casket made to order.
What a beautiful way to remember the deceased's graceful life!
Although it is the second most expensive casket on our list, the Xiao En Center Casket is still the market's second most expensive coffin. Every one of the opulent caskets is priced at $36,400.
READ MORE: Most Expensive Hermès Bags in the World.
1. Zsa Zsa Gabor's Casket – $40,000.
This is an important tidbit for you: the casket at the top of this most expensive caskets list's top-3 pole position is truly the most expensive casket on the market at the moment. Much more intriguing, despite the fact that this casket belongs to Zsa Zsa Gabor, she is still very much alive.
I'm not sure just what Golden Casket Company had in mind when they gave her this opulent casket. To be honest, the purpose was to commemorate her healing after a leg amputation caused by an infection in 2011. But giving somebody a casket as a way of wishing her well? I just can't seem to comprehend it.
Her eighth partner, Frédéric Prinz von Anhalt, has asserted that he intends to dissolve the casket and turn it into a ring for her. Well, it's going to be a ring to remember!
Zsa Zsa recently celebrated her 99th birthday. She still is alive, but she is in poor health. The casket is being kept to this very day. The Golden Casket Company sells the same casket for $40,000 retail.