10 Most Expensive Computer Mouse.
Gone are the days when computer mouse were manufactured with no exciting or luxury feature. Just a tiny boring device that can almost be mistaken as a rat when stumbled upon in the dark. But now, technology is way past that.
Below are the top 10 expensive mouse in the world. They might cause a fortune, and of course, share the same price computer. But be sure that they are embellished with costly materials. That is one reason for the price shoot up. Also, they work as fast, accurate, and precise as their other counterparts. If you are high on class, luxury, and speed, this list below of our most expensive mouse in the world will go a long way for you.
10. Golden Ferrari and Crocodile Skin Mouse – Price: 17,258USD.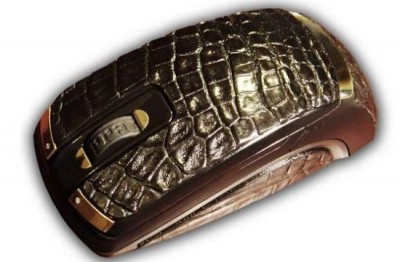 It is now a common trend that most products are usually named after the material(s) used in manufacturing.
This product computer mouse product right here isn't an exception. Judging by the name, it implies that the material was made from crocodile skin. MJ Art-Studio designs this mouse. This mouse screams so much sophisticated technology at its peak and a high-class luxury as well. No doubt that the manufacturing material is expensive.
First, it had its whole body covered in crocodile skin and additionally spiced up with 18-carat blue and golden diamonds. Fashion and jewelry lovers will find this product very impressive as it has a very detailed, attractive look and still doubles up as a mouse.
9. Mj Python Leather mouse – Price: 17, 840USSD.
Technology products and devices from MJ are always one of a kind. This masterpiece device is another example.
Like one would have expected, the mouse's name summarizes some features of the mouse. This mouse is covered in leather gotten from the skin of a python. This has been researched to be more expensive than the skin of a crocodile. This might give us a clue why this product is more costly than our tenth item on this list of the most expensive computer mouse in the world.
There is a top-notch feature of this mouse that is not common in other computer mouse products. This feature is the coming of the mouse with a light but beautiful sable skin box. Of course, because of how delicate it is, it has to be treated with utmost care. Also, the roller is comfortably situated between two golden plates.
READ MORE: Most Expensive Gaming PCs in the world.
8. Gigabyte Bling-bling GM M700s wireless mouse – Price: 18, 510.
Imagine owning a computer mouse mod that is coated in 18-carat gold. This is the class and luxury and class you experience when you use this product. One conspicuous feature of this mouse is its beautiful looks. Just like some other noise in the same category of a costly computer mouse in the world, it is wireless as well.
It is also worth stating that asides from an 18carat gold, Swarovski crystals are also used to adorn the body of this computer mouse. This mouse has a two different tone leather covering and a stitch along its edges. It has a tracking system made up of a gigabyte laser. The wireless transmission mode it possesses is 2.4GHz, and this makes it super easy to control.
7. Gold Metal Sun Mouse Edition MJ777 – Price: 19, 720USD.
This Gold Metal Sun Mouse is from the series edition of 777, and it is in the ninth position of this series. Just like the name implies: it has a pure golden body and also takes the shape of a disc circular. Asides from all the expensive items invested in its final outlook, it has the other features a computer mouse should possess.
Ranging from a surface that will suitably glide on another character to ensure cursor movement on the computer system to a portable body that wouldn't be so much of a burden when being used. These and some other features, plus its product makeup, are what makes the price of this mouse genuinely worth it.
6. Logitech Air 3D Laser Mouse – 24, 180USD.
This computer mouse is from Logitech technology as a 3D laser. It comes in a golden case, and it also has a diamond ring plus a flash jewel as a micro jewel.
This makes the product physically attractive to behold. The luxury design is one of a kind, and if you are always taken aback by physically beautiful products, you would love this computer mouse product.
Unlike some other products that do not function well once there is too much spice in their package, this isn't one of them. It performs its functions like a computer mouse exquisitely well, and this is commendable. Logitech indeed has an eye for making creative technology products, and all their computer mouse products reflect this creativity at their highest peak.
5. White Gold USB Mouse – 26,730USD.
This mouse was once rated as the most expensive mouse globally, but more technologies have come into play.
It is now the fifth on our top selection of the most expensive mouse in the world. It is designed with a while gold made up of 18 carats, and it has over fifty-nine beautifully cut diamonds adornments and design on it. It is produced in a Rhodonisation color characteristic with a palladium alloy and white gold as well.
You can get this computer mouse in two designs, including a scattered diamond and a diamond flower. Also, you can do a name initial or color customization. Based on the different reviews about this product, users have found it interesting to use.
Having the liberty to customize color and name is another feature that gives this computer mouse an edge over its other mouse brand competitors. This is a solid reason most people go for this product, and this is also a perfect explanation for their increase in sales over the year.
READ MORE:  Most Expensive Diamonds in the World
4. MJ Blue Sapphire Mouse.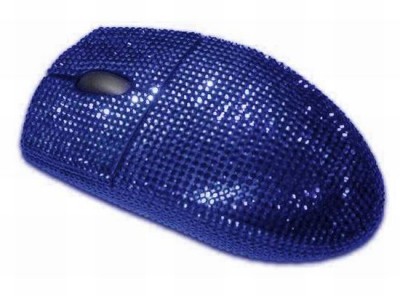 This computer mouse is closed up in a golden frame and has blue sapphire decorations spread throughout its body. This is just like its name implies. Reviews about this product have it it has just a limited available quantity in stock.
Therefore, anyone interested in this luxurious product should get it before it goes out of stock. Meanwhile, those who have gotten theirs got a beautiful golden black box which is still very much available for people who are still willing to buy.
This creative computer mouse doubles up as a piece of table jewelry and mouse at the same time. It is a limited edition product, and interested buyers are admonished to cop theirs before it runs out of stock. It has a very shiny nature because it is highly decorated with black diamonds in its purest form. The creativity of Logitech in this product is highly commendable.
2. MJ Luxury VIP Mouse – 34, 480USD.
The computer noise is produced with the use of white-colored Austrian Rhinestones. Asides from this rich rhinestone embellishment, it also has different designs of diamonds scattered all over its body.
This rhinestone and aluminum embellishment explains very much about its price tag. It also explains why it is on second on our list of the most expensive mouse in the world. Millionaires who are high on designs and luxury are best suited for this product.
READ MORE: The 15 Most Expensive Graphics Cards.
1. The Gold bullion Wireless Mouse – 36, 835USSD.
The best is indeed reserved for the last! This is the lead producer on our list of the most expensive computer mouse globally, and the attached price says it all.
The gold bullion wireless mouse has a length of 104mm. It has a scroll toll plus two buttons which are located on the left and right positions of the mouse.
A notable feature of this computer mouse is its functional ability to be effortlessly compatible with Mac and PC. As the name implies, it is golden and also wireless. According to reviews on this top-notch product, users have made it known that the experience gotten from using this mouse while operating a mac product or a PC is second to none.
There is no need to bring any of its functionality and uses of this mouse to life with so much stress, as the computer mouse effortlessly performs all the functions of a mouse posing no problem to the PC or the user
Conclusion
Technology is on the rise, and computer mouse manufacturers have wised up. You can now get a luxurious computer mouse embellished with precious stones, diamonds, sapphires, and gold. These recent computer mouse products make your computer usage session a notable one and one you would always look forward to. This list above of the ten most expensive mouse in the world is proof, and you should read through to find out more about them. CIAO!