10 Most Expensive Drones in the World
When we talk about artificial intelligence, drones make it to the top list. They're advanced tech with breathtaking features for either video recording, agriculture, or high tech. Drones are pretty expensive in the market, and people pay a lot of money to have them. Though some drones cost up to $6000, there are more expensive drones in the market. Are you curious to know the most expensive drones in the world? Then worry no more. In this post, we have listed ten of these drones. So without any further ado, let's get straight to it.
10. Multirotor Eagle V2 + FREEFLY MOVI M5 – $33,940.
Taking 10th place on our list of most expensive drones globally is the Multirotor Eagle V2 + Freefly Movi M5. This is another pretty amazing drone designed and crafted by Multirotor. It is a nice drone that weighs up to 9.9lb. It goes for a selling price of $33,940.
The maximum flight time for this drone is only about 10 minutes, and it has a maximum speed of 36 mph. What's more, its operating range is 0.6 miles. This drone, however, does not come with an in-built camera, but you can attach one to it if you choose to.
If you're looking for a drone with such specifications, this drone is your best bet. It has the features of the average drone and can carry a payload of just 4.4lb. Though this drone is on the heavy side, it will carry out its function.
9. AEE F50 – $37,000.

Another pretty expensive drone is the AEE F50 which made it to 9th place on our list of most expensive drones globally. Unlike some drones, the AEE F5 has an autonomy of 40 minutes and a maximum flight altitude of 2,952 feet. Though it has such flight altitude, its 11mph speed won't let it stray far.
One interesting thing about this drone is the advantages it has. AEE F50 can operate within a 12.4 miles range and has one of the best-inbuilt cameras available in the market. These advantages are some of the reasons for its high price.
With this drone, you can easily survey places. What's more, it can be used by the police or other institutions for major emergencies. If you can afford this highly-priced drone, then you have yourself a quality tech drone.
8. Multirotor G4 Eagle V2 Cargo – $35,360.
Multirotor is a great brand that has produced some of the best drones globally, and Multirotor G4 Eagle V2 Cargo is one of such products.
It is a surveying robot drone that is primarily designed for sky-crane capturing. It has a flight time of 30 minutes, a maximum horizontal speed of 37 mph, a weight of 5.5lb, and a 1.2 miles operating range.
Though this drone doesn't come with an in-built camera, its features make it quite pricey. You can attach a camera to its cargo gimbal.
READ MORE: The Most Expensive Fishing Reels in the World
7. Sci.Aero CyberQuad – $37,000.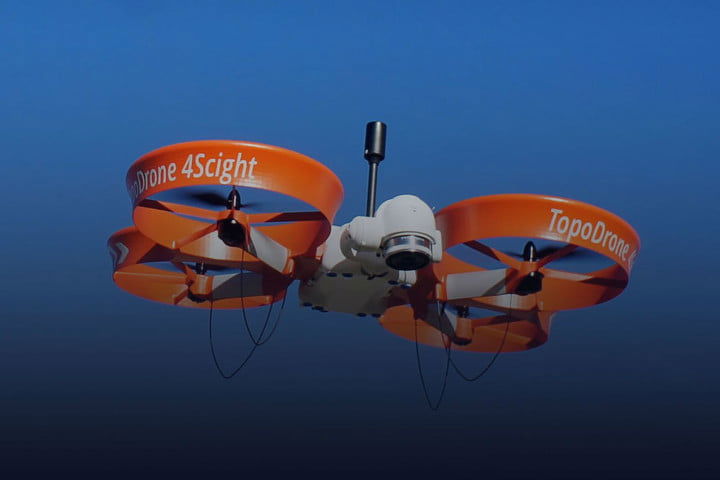 Suppose you're looking for a drone that would serve agricultural purposes but can also be used for other things like film photography and public safety. In that case, this cyberQuad multipurpose drone is your go-to. Sci-aero cyberQuad drone is a heavy drone with a weight of 3.7 lb.
It operates at a maximum horizontal speed of 37mph within 1640 feet range. You should know that this speed limit is for up to 25 minutes of flight time. Interestingly, you can control this drone either with a remote control or a mobile device. These features it possesses makes its selling price $37,000.
6. AEE F100 – $58,000
The AEE F100 is another pretty expensive drone that has a 4 drive rotor system. Interestingly, this 4 drive rotor system is rare, and you would hardly find this feature in drones today. Apart from it being highly priced, this drone has insane specs.
It can flexibly change task board equipment to meet different needs. What's more, it can reach an altitude of about 7000 meters with a top speed of 100 kmph. Apart from this, it can go a distance of 20km with a single charge and has a fly time of 1 hour.
Also, it can track multiple people as well as objects. This feature alone makes it a perfect tool for the military and law enforcement. This drone can feature professional onboard equipment, an onboard infrared camera for night shots, onboard super low illumination, and a professional board camera with 16 million pixels.
What's more, the possibility of rotation is 0-105 degrees, both up and down. When a battery is added to this drone, the weight is about 6kg.
5. XactSense Titan – $120,000
XactSense Titan is the fifth most expensive drone in the world. It is one breathtaking drone with features that you can't help but love. It is classified as an octocopter. XactSense has an operating range of 9.9 miles, a flight altitude of 30 minutes, and can fly as high as 180 feet.
What's more, the payload it lights is 50lb. This feature alone makes it fit to carry pretty big loads, which includes the heaviest DSLR. Although it doesn't have a camera of its own, you can add a camera.
The operating system of this drone is such that it combines both a separate remote controller and a mobile app. It is technically very expensive, so except this drone is very important to you, and you have the resources to fund your purchase, you could settle for the ones of lesser prices.
4. Scorpion 3 HoverBike – $150,000.
Making it to fourth place is the Scorpion 3 HoverBike that costs a whopping $150,000. If you're familiar with Hover Surf company, you would know that they're quite known for building drones.
They have been in the business of developing rideable drones known as the Hoverbike. One interesting thing about this Scorpion 3 HoverBike is that it merges a standard motorbike design with a drone quadcopter tech.
This feature allows riders to operate the drone while riding. They maneuver in the air as though they're riding a bike. This drone can carry about 104 kg in weight while running at a speed of up to 43miles per hour with a flight altitude of 33 feet. Its flight time is 13 miles between 20 to 40 minutes on a single charge. These features alone make it highly-priced and well sought after.
3. AUGMENTED AERIGON DRONE + PHANTOM FLEX 4K -$250,000
Another expensive drone to look out for is the Augmented Aerigon Drone + Phantom Flex 4K. This drone is known for its quality video footage. It is pretty much the highest quality video drone in the market.
Drone pilots love this Aerigon drone for its control, power, and stable features. It is an undeniably powerful piece of equipment that is a great fit for shooting 4K videos. So If you're looking for the best drone for shooting videos, this is your best bet.
Interestingly, Augmented Aerigon Drone + Phantom Flex 4K is designed specifically for special movies and commercials. It has a signal range of 1000m, a weight of 6,4kg, and 14.1lbs.
2. Gasoline Hybrid VTOL UAV -FD180P – $260,000
Gasoline Hybrid VTOL UAV- FD180P is another very expensive drone that costs $260,000. It has a speed of130km per hour and can be controlled remotely from a radius of 1km. As an efficient machine, it can fly for about eight to ten hours and can carry a load of 180kg.
What's more, it carries 32 8000 mAh and 6S Li batteries. You can also get an oil load of about 40l. It is a durable drone and can make endurable flights.
1. EHang 184 – $300,000.
This is the most expensive drone in the world, priced at a whopping 300,000 US dollars. It is the world's first electric passenger drone. Ehang 184 is a ghost drone produced by Ehang. It is mostly seen as the advanced version of the traditional drone UAV from the ghost series.
But unlike the traditional drone, this drone uses eight electric motors to power 8 propellers capable of carrying someone that weighs up to 100kg. But that's not all. It also carries any personal luggage of the passenger like briefcases or handbags.
Ehang 184 has a battery that allows for 25 minutes of flight time with a range of 35 to 50 kilometers from a single charge. What's more, it takes about two hours to recharge. It can cruise at a speed of up to 2 miles per hour and has a height of 11,000 ft above sea level.
It is a passenger drone that does not require any form of license or previous flying experience. This drone is said to have flown over 200 times to test the flight and wheels. It is currently the most expensive drone in the world.
Conclusion.
These are some of the most expensive drones in the world. Some of these drones are high-tech with top features. If the features of these drones match your requirement, you can try out any of these expensive drones, that is, if you can afford it.