Most Expensive Drum Sets in the World
Every drummer dreams of playing the best drums globally, but wishes are far from being horses. These drums with superior sound, design, and quality come at a price some of them cannot afford. If you're an amateur drummer and you wish to own one of the most expensive drums in the world, you may need this information in the future. Most of the world's most highly-priced drums are hand-crafted using premium woods like beech, maple, cherry, spruce, and mahogany. If the manufacturers went all out to produce a perfect piece, you don't expect them to sell it for less. These ten drum sets are the most expensive in the world!
10. The Roland TD-30KV V-ProSeries -$7499.
The Roland drum set boasts a similar technology to most of the drum sets on this list. Although its features are slightly different, it is pretty impressive. Some of the mad features that'll interest you are the USB audio output system, a built-in metronome, and TD-50 sound modeling.
Although it is an electric set, it is built to have a more natural feel and sound like an acoustic set. It comes in various sizes to give you that luxurious feel when you sit to play. Be prepared to spend a few dollars on it, but when you sit to play, you'll know it's money well-spent.
9. The Sonor JF-SSE1-Newport Beech Matte Walnut Veneer 4-Piece Shell Pack -$7537.
The Sonor Newport Beech is a hand-crafted drum set manufactured in Germany. There are only about 50 of its kind globally, as the manufacturers are bold to label it a limited edition. The 5-piece set is produced with laminated beech wood shells that produce excellent resonance and sound.
It also has unlimited tuning ranges and a unique mounting system that ensures that vibrations don't travel faster than they should. Due to its durability, perfect sound, and long-lasting construction, this drum is worth the price and hype.
This set is coated with polished and glossy plastic that boasts a strong frame. If you don't have this drum manufactured by SONOR yet, you may want to consider buying from another manufacturer because it probably isn't available.
READ MORE: Top 10 Most Expensive Pearls in the World.
8. The DW Timeless Timber Romanian River Oak Kit – $8,285.
The DW Timeless Timber also makes it to the list of the most expensive drums in the world. The company has been a trailblazer in drum hardware and custom drum manufacturing and isn't giving up yet.
You can easily convert this set into an heirloom piece and leave it for the future generation to use. What makes it unique is that the shells are made from a special kind of oak harvested from the Olt River in Romania. This material is over 1500 years old, thereby adding a touch of antiquity to the drum.
The drum kits are hand-crafted with bronze hardware and accents. This model is not readily available in the market as only a hundred of them were manufactured. Of course, they shouldn't flood the market; else, they lose their well-deserved respect.
7. DW Collector's Maple SSC Teal Glass Drum Set – $15,014.
This drum set is made of sparkly teal FinishPly and maple. It is a 10-piece set that comes with two bass drums and multiple snares, and tons. Although DW is known to create pricey collector sets, it is unclear why it is so expensive.
Considering the price, it is a worthy addition to your music room. You may wonder what's the difference between the performance and collector's series. The drums under this collection come in exciting colors, and you can choose to go custom.
To think that the company is interested in going on your musical journey with you is enough reason to own this drum set.
6. Ludwig Grand Symphonic Series Timpani Set – $18,408.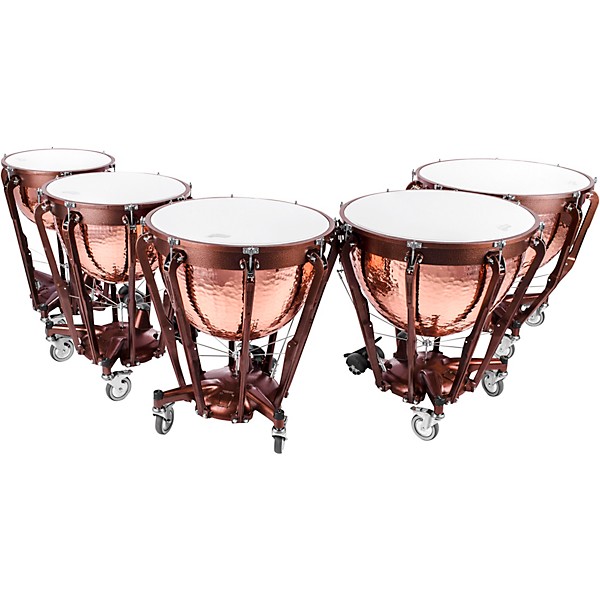 This entry features another timpani set worthy of mention. The Ludwig Timpani set has the same diameters as the Bergerault, plus it is also made of hammered copper. It has a unique rolled-lip design which allows them to hang inside the ring.
These suspension techniques ensure that it produces a richer and fuller sound. It also comes with an additional standard pedal-action tuner which has set the standard of overall timpani pedal design. The wheel configuration allows for easy transport and secure placement during a performance.
READ MORE: Top 10 Most Expensive Speakers in the World.
5. DW Collector's Series Exotic Graphics Drum Set – $10,452.
Here's another wonder in the DW Collector's Series. It is a 7-piece set that includes two-floor toms and three tom-toms. It is made with cherry-wood shells and spruce cores. You wouldn't expect it to come cheap, given the quality of materials used in the production.
As a result, the sound is marvelous – one that everyone who listens to it would love. The manufacturer says it would work with their customers to pick the best shell configuration for each drum and the exact sound they want.
This offer is exclusive to DW, as no other drum company offers its customers a blank cheque. Another thing about the series is that DW hand selects each drum for your custom kit.
4. Bergerault Grand Professional Series Timpani set -$25,000 -$30,000.
This unique drum is a 5-timpani set and one of the most expensive of its kind. Each timpani bowl comprises a piece of copper made by hand and spun to its unique shape. It produces a superior sound, accurate pitch, and reliable tuning.
Professional performers don't consider the price when purchasing one because it gives them the right vibes. This set comes in 20-, 23-, 26-, and 32. It also comes in different parabolic bowl shapes, depending on your preference.
The heavy-duty locking casters allow the Timpani to glide smoothly over surfaces, and their quality ensures they can support the weight of the drums. All Timpani sets have a Bergerault tuning key and drum-mounted key holder. You should also expect a tuning gauge that enables more accurate note changes.
3. Musa drum set – $70,000.
Musa is an Italian-made drum set that is made from quality materials. It poses as one of the most expensive sets you'll ever own. The manufacturers say it took six months to complete it, and 20 people worked on it during the period.
This unique drum is made from a 50-year-old balsamic vinegar barrel, giving it a unique aroma that smells nice. The bands are designed with engravings that say a lot about the history of drumming.
Aside from all, there is to learn, this drum enhances the player's mood and is aesthetically appealing. It is also built with lugs that resemble skulls. Despite the fee pegged on this item, there is one major flaw. Gene Krupa's name is misspelled as Gene Kupra, engraved on the floor tom's bands.
2. The Who/Keith Moon's Drum Kit $252,487.
This drum kit belongs to Keith Moon, often referred to as the greatest rock n roll drummer of all times. His customized set was auctioned in 2004 by Christie's London, and it soon became the most expensive at the time.
It sold for a mind-blowing $252,487. This personalized kit was used to create a new style of drumming that matched his beat. Keith's obsession for drums began when his father bought him the first set for $17.
Since then, the young boy has developed an unmatched love for musical instruments.
Whenever he comes across the device, he is awakened, and it stuck to him. Although the manufacturer of this drum is unknown, it is known to be one of the most durable in the market. Keith Moon wanted a more global approach to his craft, and it was expected that he didn't settle for less.
READ MORE: 10 Most Expensive Drones in the World
1. Ringo Starr's Ludwig Drum Kit – $2.2 million.
When Ringo Starr auctioned the Beatles memorabilia in 2015, this drum set was expected to sell between $300 to $500,00.
Rather than let this set go so cheap, the Indianapolis Colts owner beat everyone to their game and carted away with it for a whopping $2.2 million.
Starr purchased the drum in 1963, and when the Beatles manager requested that the band's name appear on the bass drum, the famous T-logo was created.  This set has featured across Europe and starred in movies. It, therefore, doesn't come as a surprise that it sells for much. However, there are other musical instruments that cost a fortune. For instance, a John Lennon-owned Steinway and Sons Piano was sold for $2.3 million.
Conclusion
These are some of the most expensive drum sets in the world. They may look exaggerated for their selling price, but people who have purchased it think otherwise. Due to their class, some of them are limited editions, meaning that you can't have them whenever you want. The design is another mind-blowing feature that is hard to ignore. If you are a lover of music, you may want to check out other expensive musical instruments that exist. If you can't afford any of these drums, you can start now to save for them.