10 Most Expensive Earbuds in the World
There are many reasons why these earbuds are this expensive. First, they are made by the leading companies in the business. You cannot compare the price of an earbud between a growing company and a prominent company. In addition, they are made with quality materials that ensure that the earbuds last longer. In the article, you get to know about the price and many more. Here is the list of the most expensive earbuds in the world:
10. Empire ears Odin custom – $3599.
There are several standards for determining good and quality earbuds, ranging from sound, bass boost, power, and strength among others. The Empire ears Godin custom meets the criteria. Thus, the earbuds have all those quality and anyone who owns one relish the product. However, not everyone will find the price of this earbud interesting because it is worth 3.6 thousand dollars which is one of the most expensive earbuds in the world.
The iconic earbuds serve as one of the biggest flagship earbuds of the Empire ears linage. Apart from having good sound quality, the earbuds are very good-looking and intriguing whenever you set your eyes on one. Mostly, what comes to your mind is how delirious you will feel when you use it to listen to your favorite kinds of music.
9. 64 audio tia fourté – $3599.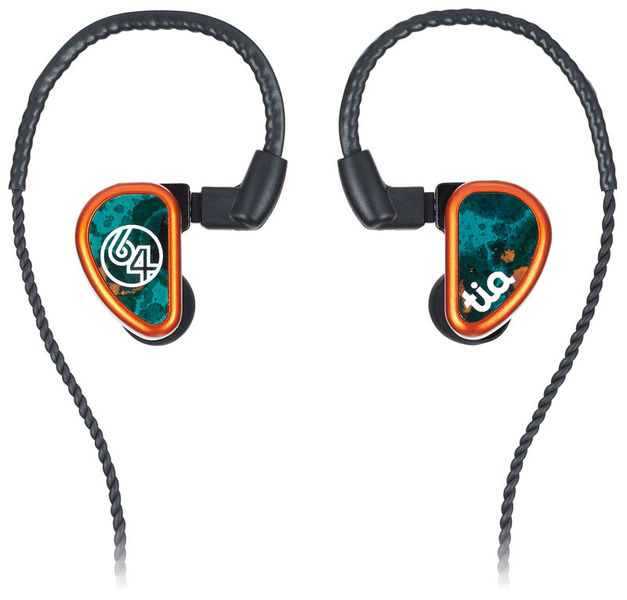 The 64 audio Tia Fourté can be placed in the world-class in the ear technology. It is widely known for its unique and exquisite look. Fanatics of beautiful earbuds will surely go for it whenever they come across it. In all IEMs, these earbuds give the best life-like and detailed sound. Although, people believe nothing is perfect these earbuds are very close to perfect.
The earbuds were made from aluminum and it features elegant copper which makes them last a long period. The earbuds have an ergonomic shell that houses an extensive three-part Tia system that is basically to facilitate the performance of the earbuds. Being on number nine of the most expensive earbuds, it will cost you 3599 dollars before you can own one.
READ MORE: Top 10 Most Expensive Gaming Headsets 2021. 
8. Noble prestige custom katana – $3999.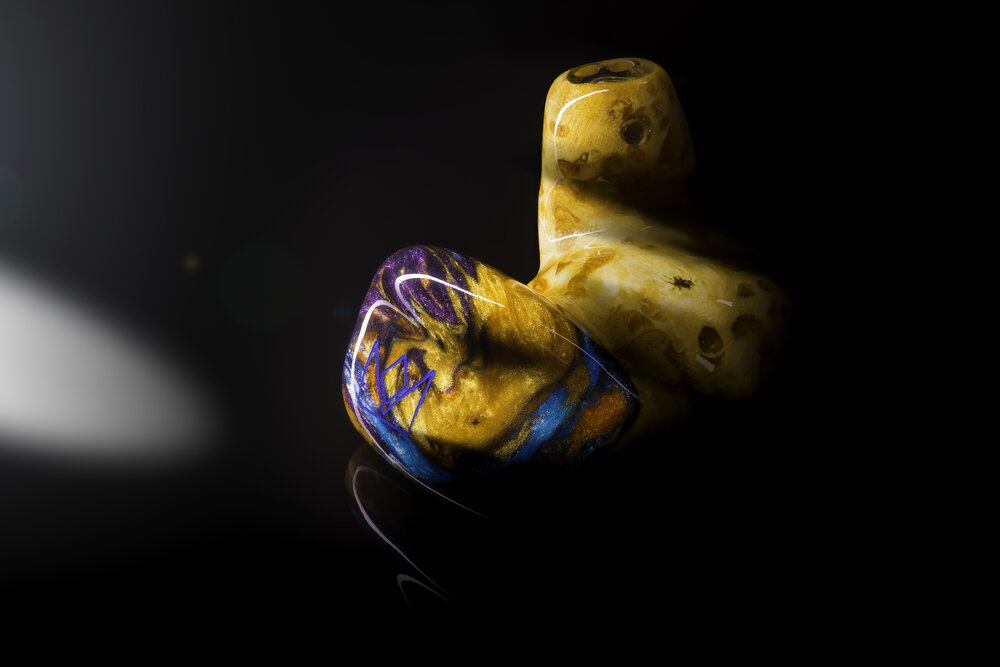 The noble prestige custom katana was motivated by the iconic Katana Samurai sword which was the leading weapon in the 13th century. The shape and design of the earbuds were etched in line with the sword. It features the combination of the sword's beauty and sharp cutting edge design. The earbuds are perfect for use either for music or for videos. It gives a super clear sound experience.
The earbuds have versatility and speed which makes them suitable for any audio or video use. Similarly in other earbuds, the noble prestige custom katana was made from quality materials and aesthetic materials which exotic woods are one of them.
The earbuds fit in perfectly in the user's ear. If you love these earbuds already, note that they will cost you 4 thousand dollars.
7. Obravo eamt-1c – $4,099.
The Obravo eamt-1c is a legendary earbud that will make the list of anything concerning earbuds. The compartment of these earbuds was made with wood and aluminum which gives it a durable texture and makes it last ten times longer than other regular earbuds. Other versions are also accessible and this gives room for variations. If you had 4 thousand dollars will you purchase one of these?
These earbuds have numerous benefits based on whatever you need them for. You might be a DJ or an instrumentalist and will need a quality earbud to get the best sounds. The Obravo eamt-1c is a good choice because it plays your sounds precisely as they are. However, these earbuds cost 4099 dollars which makes them one of the most expensive earbuds ever created.
6. Vision ears erlkönig Limited Black Edition – $4,200.
Are you looking for the best sound signature? Or an earbud with an enormous bass boost? The Vision ears erlkönig limited black edition has got you covered. The earbuds feature a shiny and beautiful silver shell and an identical circuit layout. It has a saturated rhodium finishing which makes it attractive.
The earbuds are one of the most expensive earbuds in the world and it costs 4,200 USD in retail price. The earbuds are given appraisal for their sound and stability. It gives the actual and comforting sound of any audio or video file played with it. In a codicil, you get value for money because it lasts long and you wouldn't need to replace them quickly.
5. MMR Thummim – $4,499.
The MMR Thummim is the fifth most expensive earbud ever crafted in history. There are various things to enjoy from this earbud and they include the following: strength, speed, quality, durability, and bass among others. Before you can enjoy all these qualities, you are expected to pay 4.5 thousand dollars before you can acquire one.
The earbuds feature an exotic-looking shape and it has a superb build which adds to their quality. Among other prominent earbuds in the business, these earbuds cannot be bodied because it also has super amazing characteristics that place them as the top choice of most earbud lovers. If you needed earbuds, will you purchase one of them?
READ MORE: Top 10 Most Expensive Rugs in the World.
4. UM Mason Fabled Sound Special Edition – $5,999.
The UM Mason fabled sound special edition is one of the best and most expensive earbuds in the world. As the name implies, it says "sound special edition" which gives extra special sounds to your music or sounds. It gives natural and realistic sounds whenever you plug them in.
Also, additional and clear bass is added to your sounds and you tend to hear the singer in the music. It also gives comfort to the ears whenever you put them on.
The earbuds have custom-made drivers which provide significant advantages in distortion control. With all said about these earbuds, you must have been contemplating if you should get one or not. Yes, you could. However, the UM Mason fabled sound special edition costs 6 thousand dollars.
3. Oriolus Traillii JP – $6,600.
When speaking of earbud flagships, The Oriolus Traillii JP cannot be exempted and this is because it retains superb qualities which places it at the top level. It is the third most expensive earbud in the world and it will cost anyone who wants to have one 6600 dollars. Nonetheless, the price shouldn't put you off because you get good value for your money.
The earbuds are productive for whatever you use them for and they turn out to be what most people involved in music and other sound production admire. The earbuds have a balanced bass boost and the exact production of sounds. It doesn't distort sound or voice when you make use of them.
2. Obravo ra 21 c-cu – $9,999.
This is the second Obravo product on the list and is also the second most expensive earbud in the world. Several Obravo products have good quality, sound, and design and the Obravo Ra 21c-cu is no exception. It is believed to be the best and most expensive Obravo earbuds. Before you can have one of these, you must be willing to pay 10,000 dollars.
The current rate 21 c-cu has undergone several modifications which makes it better and more luxurious than its predecessors. While using this earbud, you enjoy balanced sounds and high textured bass which makes your music enjoyable. It also has stronger and more quality cable which makes the earbuds last longer.
READ MORE: The Most Expensive Swords in The World.
1. QDC Blue Dragons – $12,199.
Finally, on number one of the most expensive earbuds, we have QDC blue Dragons earbuds. So far in this list, only these earbuds were made with exotic materials like gold alloy, sapphires, and so on. The earbuds were made with Blue Dragon titanium and 18K gold alloy. It also has 800 blue sapphires encrusted in it. The earbuds have a pleated Dragon skin that encompasses silver, copper, gold, and palladium among others.
Without mentioning, The QDC is expected to have superb sound quality. Yes, it does. Being the most valuable, it is anticipated to be the earbuds with the best sound quality. In case you need this masterpiece for music, sound production and so on it costs 12.2 thousand dollars.
Conclusion.
In a nutshell, this is the list of the 10 most expensive earbuds in the world. If you've been taking note of the prices, you must have been wondering why they are that expensive. These earbuds are one of the best in the world so they are expected to cost more.