Most Expensive Emeralds in the World
Of all the green gemstones in the World, Emeralds are by far the most captivating, enriching our sights with beauty and exquisiteness as they represent luxury and class. Like diamonds, gold, and sapphires, emeralds are valuable gemstones sold for quite high prices. While some precious stones are priceless and famous, the priced ones are pretty expensive. If you're wondering which emeralds are the most expensive, then you're in luck. We decided to give you a list of the ten most expensive emeralds in the World.
10. The Afghan Emerald – $ 1 – 1.5 million
Though most emeralds are found in Colombia, you'd be amazed to know that emerald mines are also found in Afghanistan, specifically in the Panjshir valley. These mines have yielded some eye-catching emeralds used to make necklaces, brooches, and rings. The panjshir valley has yielded about 10.11-carat weight of pure Afghan emerald that has little imperfections. It is a bluish-green gemstone so beautiful that it can stand shoulder to shoulder with the most famous emeralds. In 2015, this special emerald was auctioned at Christie's in Hong Kong. Interestingly, it received about $225,000 per carat and about $1.5 million. When it comes to afghan emeralds, it sure has broken the world record.
9. The Taj Mahal Emerald – $ 1.8 million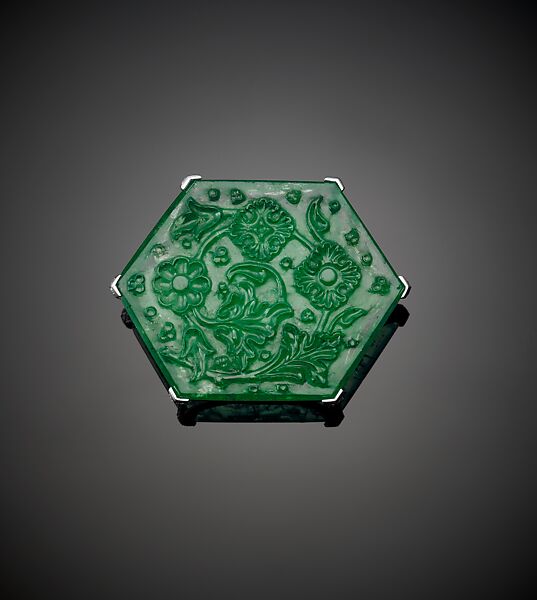 The Taj Mahal Emerald is one gemstone to behold. It is indeed nature's treasure. Unlike some emeralds on this list, this 141.13-carat Colombian emerald has never been subjected to any form of treatment. It was sold for $1.8 million at a 12-hour marathon auction in 2019. The collectors bidding for this gemstone were private, and this auction was a once-in-a-lifetime opportunity. This hexagonal-shaped emerald is unique and exciting to see. It is one of the most beautiful jewels of the Mughal rulers. The taj mahal emerald featured as a centerpiece of Cartier's neck ornament during the Art Deco era.
8. The Flagler Emerald – $ 2.8 million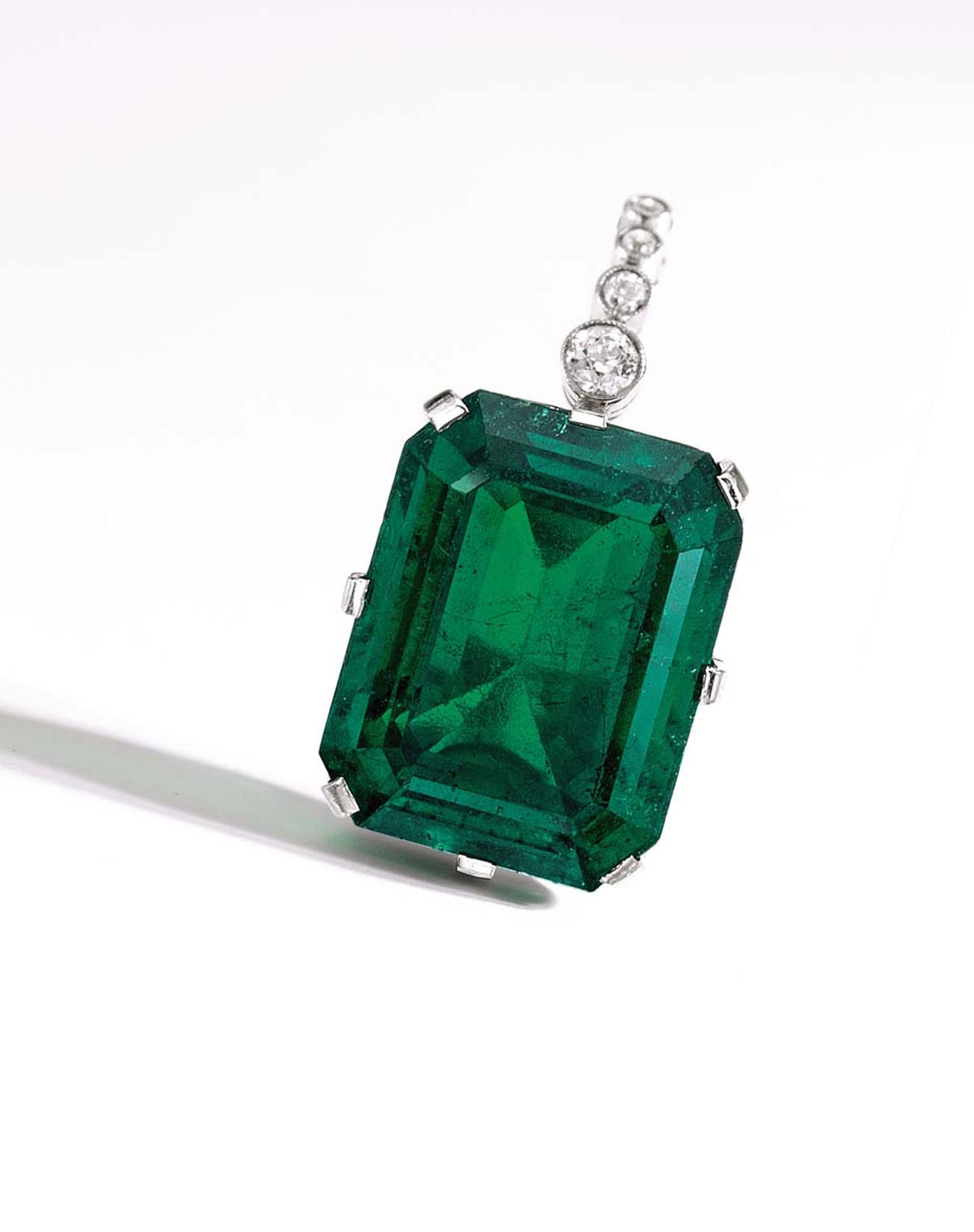 The Flagler emerald is a classic Colombian gemstone that weighs 35.02 carats. It was formerly owned by Mary Lily Kenan Flagler, the wife of Henry Flagler before it was auctioned and sold at Sotheby's auction in 2015. It is a block of extraordinary platinum, diamond, and emerald pendant estimated at 1.5 million but was sold for close to $2.8 million. This emerald pendant is not only unique but beautiful as well. If you're looking for a classic emerald, then you might as well go for the Flagler emerald.
7. The imperial emerald of Grand Duchess Vladimir of Russia – $4.5 million
This is another pretty expensive precious stone. It is owned by Catherine the Great, the Grand Duchess Vladimir of Russia. This rectangular-shaped emerald gemstone is laid on a diamond necklace. Previously, the emerald weighed 107.67 carats before it was reshaped and cut into a pear shape and weighed about 75.61 carats. Historically, this gemstone was part of the Russian imperial collection for more than 100 years.
However, in 1874 Tsar Alexander II gifted it to Catherine, the Grand Duchess, during her wedding with his son Grand duke Vladimir Alexandrovich of Russia. Following her death in 1920, the imperial emerald was then handed over to her son, Duke Boris. Over the years, this precious stone has been owned by several famous collectors, one of which is Pierre Carter. In May 2019, this imperial emerald was auctioned at Christie's and was sold for a lump sum of US$4.5 million.
READ MORE: The Most Expensive Sapphires in the World
6. The Grand Muzos – $4.5 million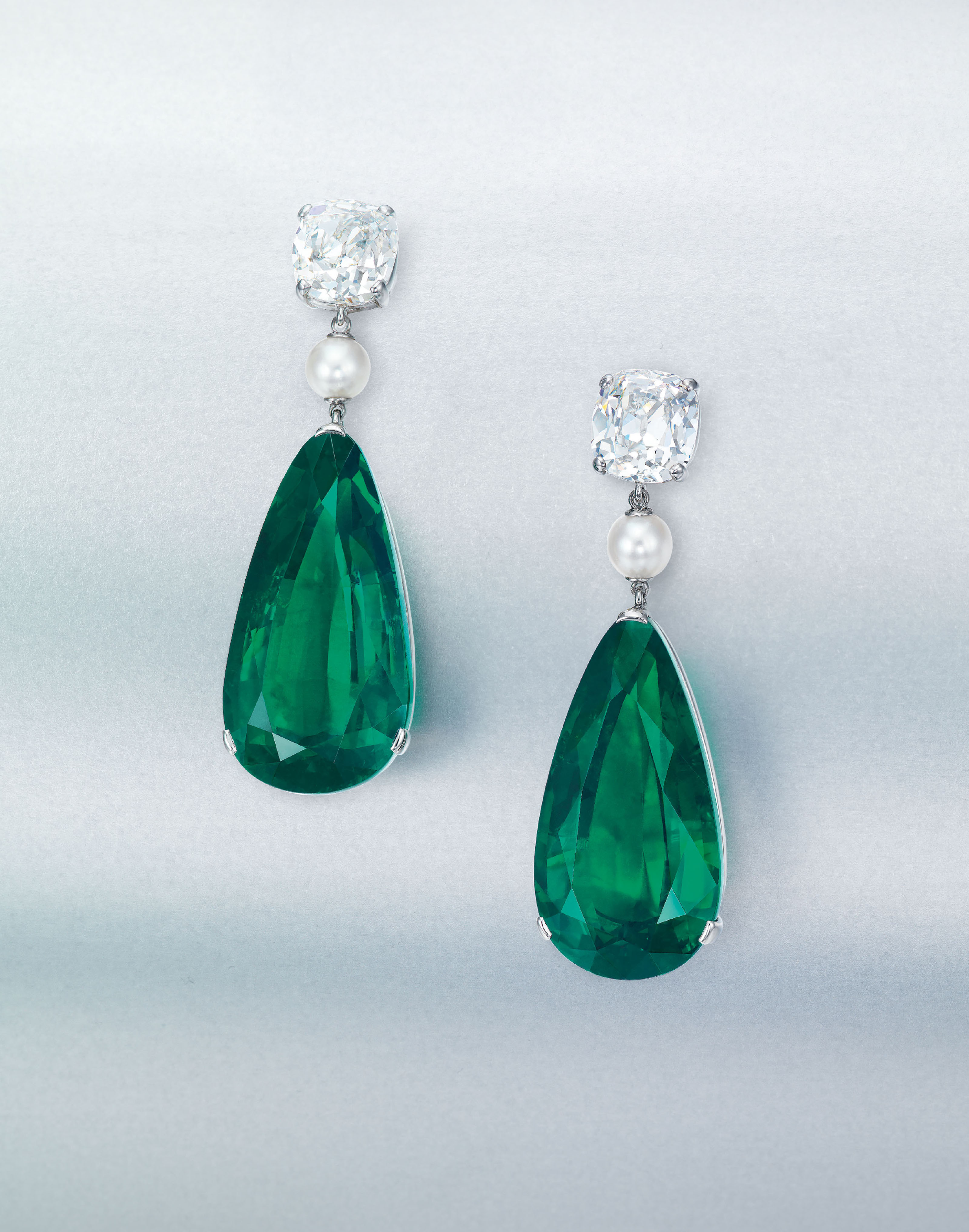 This emerald is one of the World's rarest and most expensive emeralds when it comes to rarity. These emerald stones are laid on a magnificent pair of earrings and weigh about 23.34 carats.
The grand Muzos are well matched and untreated. As a pretty attractive emerald earring, it caused quite a stir when auctioned at Christie's in 2012 and sold for $4.2 million.
However, in 2019, this gemstone piece reappeared at Christie's for an auction and was shockingly above its previous price. The Grand Muzos was sold at a staggering $4.5 million. Obviously, this gemstone has become eye candy.
5. The Rockefeller emerald – $5.5 million
This is the fourth on our list of most expensive emeralds in the World. Auctioned at Christie's, this gemstone has a mesmerizing color with impeccable clarity.
The story behind this emerald is quite interesting. In the 1930s, John D. Rockefeller bought a brooch for his wife, Abbey Rockefeller. The brooch contained an emerald in its center. This pretty large emerald had a unique and mesmerizing color that you would easily fall in love with.
Following her death in 1948, John Rockefeller asked for this brooch to be disassembled and distributed among their children. David Rockefeller received 18.04 carats of Colombian emerald, mounted on a platinum ring by Raymond Yard, a trusted jeweler. This Rockefeller emerald was auctioned at Christie's in 2017 and was sold for a whopping $5.5 million or $305.000 per carat.
4. The Palmette Necklace by Edmond Chin for the House of Boghossian – $3.6 – 6 million
The palmette necklace is one of the most expensive emeralds in the World. It is quite a magnificent sight to behold. This necklace is designed as a series of eleven palmettes motifs centered on a rectangular emerald set. Each emerald weighs about 12.34 carats to 3.00 carats, depending on the diamond cut links. The emerald stones on this necklace are pretty rare.
Edmond Chin for House of Boghossian made an interesting design as the necklace is appealing and speaks of luxury. It is a valuable piece of art that features no-oil Colombian emeralds and goes for a selling price of about $ 3 – 6 million.
READ MORE: Most Expensive Mushrooms In The World
3. Elizabeth Taylor emerald and diamond necklace – $6.2 million
You might be wondering why Elizabeth Taylor has come up twice in this post. She had an eye for collecting jewelry. When it comes to valuable jewelry and gemstones, Elizabeth Taylor has been known to collect some of the most expensive jewels, and the emerald necklace by Bulgari was no exception.
When Elizabeth and Richard Burton were engaged, he gifted her a pretty expensive pair of emerald and diamond necklaces. This Emerald and diamond necklace is the seventh on our list of most expensive emeralds in the World. This large Colombian emerald featured 16 rectangular-cut and square-cut emeralds, with each gemstone mixed with marquise and pear cut diamonds.
Interestingly, this necklace can be worn with Elizabeth's emerald pendant brooch attached to it. The emerald on this necklace weighs 18-carat, while the pear-shaped diamonds are about 12. When this emerald was auctioned at Sotheby, it sold at an astonishing $6.2 million and $280,000 per carat. This magnificent emerald and diamond necklace is one of the finest emeralds to have been auctioned.
2. Elizabeth Taylor's Bulgari emerald brooch – $6.6 million
Elizabeth Taylor's Bulgari emerald brooch held the position of the most expensive emerald in the World. In 2011 it was auctioned at Christie's and was sold for about $6.6 million, which is a lot of money. The sale of this precious jewelry was exciting for the World of luxury. This 23.46 carats Colombian emerald was cut and designed by the famous jeweler Bvlgari and later became the record-breaking brooch that spiked his popularity. The emerald brooch is designed with about twelve pear-cut diamonds in platinum, the Colombian emerald. If you take a look at this brooch, you will notice the extraordinary craftsmanship that was employed. It can be worn as a brooch or pendant on a matching necklace.
READ MORE: The 15 Most Expensive Graphics Cards
1. The Bahia emerald – $400 million 
Bahia Emerald is the World's most expensive emerald. It is a unique diamond known for a certain history. It was discovered in 2001 and is one of the largest emeralds in the World.
This gemstone weighs about 341kg. This pretty pricey precious stone is said to be cursed. In fact, since it was discovered, people who have been associated or have come in contact with this diamond are said to have been ravaged by a curse. In 2008, there was an ownership dispute for this precious stone.
This was after the Bahia emerald was reported stolen from a vault in Los Angeles, California. Currently, the stone has been recovered, and the ownership dispute settled. Though this emerald is valued at a whopping $400 million, it is not entirely clear what its true value is worth. Who knows, it could be more.
Conclusion
Emeralds are technically one of the most prized natural treasures in the World. They are rare and valuable, with great history attached to them. They have become a fascination to humans that cultures have developed several stories and folklore around them. Emeralds have over the years been used for many things like necklaces, earrings, and pendant brooches. Some are even used to make quite expensive engagement rings, shoes, and highly-priced bags. How much would you be willing to spend on these prized gemstones?