10 Most Expensive Engagement Rings in the World
For most people, engagement rings are symbols of love and union. For some, it is more than that. It is a symbol of affluence, status, glamour, and, most significantly, a statement. Many celebrities and influential people are in this category. Here are the 10 most expensive engagement rings in the World to look out for.
10. Melania Trump – $3 million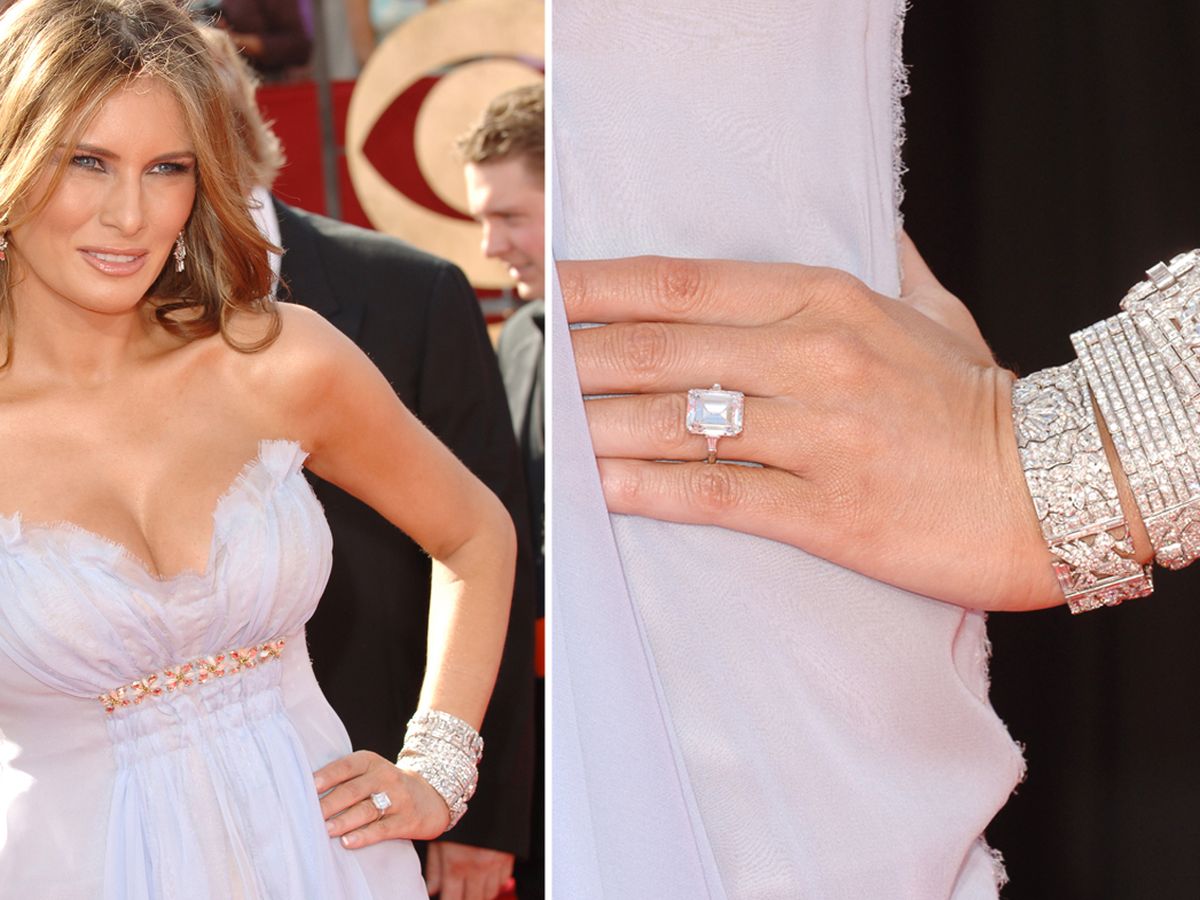 The Melania trump engagement ring is one of the most expensive engagement rings in the World, and fortunately, it takes the 10th position on our list.
Owned by the former first lady of the United States, Melania Trump, this Graff diamond ring is a 25-carat emerald-cut diamond that is worth a whopping US$3 million.
Donald Trump gave it to her before he was President of the United States. A quick look at this ring, and you would notice the level of class it oozes. Though it looks simple, it is quite an expensive, classy ring and worth its price for the quality.
9. Jennifer Lopez's Engagement Ring -$ 4.5 million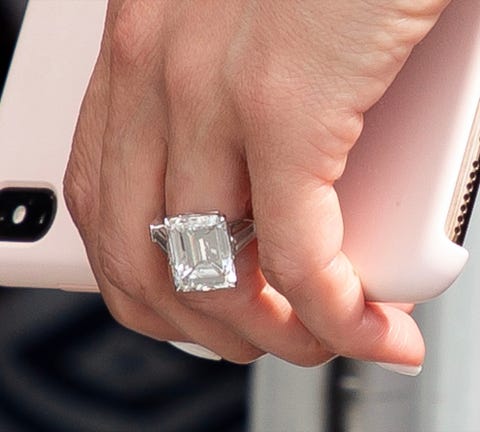 For Jennifer Lopez, style and exquisiteness are a lifestyle, and Marc Anthony made sure he gave her that. In 2004, her now ex-husband, Marc Anthony, proposed to her with one of the World's most beautiful and most expensive rings.
This diamond ring is one rare and precious ring since it was made of one of the rarest blue diamonds in the World. The ring was an 8.5-carat diamond worth a selling price of a staggering 4.5 million dollars. When this engagement ring was given to Jennifer Lopez, it was definitely the talk of many tabloids.
Though their relationship ended in 2014, the ring still holds value because of its association with the singer, songwriter, and actress. It also made it to our list of the most expensive engagement rings in the World. The singer has worn some of the most expensive engagement rings in the World since she has been married more than once.
8. Grace Kelly's Engagement Ring – $4.6 million
The Grace Kelly engagement ring is the eighth on our list of most expensive rings in the World. Let's take a brief journey to the past, shall we? In 1995, Prince Rainier III of Monaco proposed to Grace Kelly with one of the most expensive rings in the World.
This mammoth engagement ring by Cartier is a 10.47-carat emerald-cut diamond ring known for its unique history. Interestingly, this is an incredible piece of jewelry that is still of great relevance and has received much attention over the years.
It oozes royalty and class, as it is one of the most iconic engagement rings of all time. Currently, the actual engagement ring is in the collection of the House of Grimaldi.
It is one engagement ring you should look out for when choosing an engagement ring design or replica. You can read up on the story associated with this engagement ring.
7. Paris Hilton's Engagement Ring – $4.7 million
Another most expensive engagement ring is the Paris Hilton engagement ring.
This engagement ring was given to Paris Hilton by her ex-fiancé, Paris Latsis, in 2005. The engagement ring is a 24-carat canary diamond that holds style and beauty. It was worth a whopping 4.7 million dollars. Sadly, the relationship didn't last, and their wedding was called off.
Regardless, this wedding ring came in handy as Paris Hilton auctioned the ring to help Hurricane Katrina victims.
6. Beyoncé's Engagement Ring – $5 million
Who wouldn't want to go all out for the amazing music star Beyoncé? Jay-Z 2007 went all out, as he proposed to Beyoncé Knowles with one of the most expensive engagement rings in the World.
This ring designed by Lorraine Schwartz was worth a staggering $5 million. It is an 18-carat emerald cut center diamond placed in a platinum split-shank band that contains tiny diamonds around it.
Ultimately, the ring contains 24 carats worth of diamonds. Beyoncé's engagement ring is simple, yet carries great elegance, style, and class. Though their engagement was said to have taken place in 2007, Beyoncé's engagement ring made its stunning debut on the red carpet for Fashion Rocks at Radio City Music Hall in NYC in 2008. The couple had an intimate engagement.
5. Anna Kournikova's Engagement Ring – $5.4 million 
Anna Kournikova is a Russian Tennis star who got engaged to the Latin music artist Enrique Iglesias. She was given a stunning giant yellow ring that is quite expensive. This cognac and champagne 11-carat diamond engagement ring worth $5.4 million made the headlines in 2004.
Not only was the ring beautiful, but it also held the position of one of the most expensive engagement rings in the World. Apart from this ring, it was also rumored that Enrique Iglesias gave her another pink diamond ring. Their relationship is out of the public eye.
4. Kim Kardashian's Engagement Ring -$ 8 million
Like most male celebrities who propose to their partners, they have made efforts to give them the best engagement rings that most often make it to the front covers of papers and magazines. Kanye West made sure he was one of those men. The engagement ring given to Kim Kardashian was worth $8 million.
This ring is not only beautiful; it showed off Kim's high-class status and luxury. In fact, the designer called this ring "perfect." Kim Kardashian's engagement ring is a 15 carat D color flawless cushion cut diamond designed by Lorraine Schwartz.
This diamond is set on a thin platinum band with micro pave diamonds. Though the couple is currently divorced, Kim's engagement ring is most definitely a stunner. If you can afford an engagement ring like Kim's, check out the replica of this ring from the designer, Lorraine Schwartz.
3. Elizabeth Taylor's Engagement Ring – $8.8 million
Another pretty expensive engagement ring is Elizabeth Taylor's engagement ring.
Not only is it one of the most expensive engagement rings in the World, but it also holds the position of being the largest celebrity engagement ring of all time.
Richard Burton gave this engagement ring to her. It is a 33-carat Asscher cut Krupp diamond set in a platinum band.
Her relationship with Richard Burton was a dicey one, as the celebrity couple married twice. Regardless of Elizabeth Taylor's many marriages, her engagement ring gifted by Richard Burton is the third most expensive on this list and is worth $8.8 million.
2. Bvlgari's Blue Diamond – $9.5 million
Bvlgari's Blue Diamond engagement ring is the second most expensive engagement ring on this list. Unlike others on this list, this ring was purchased by Graff Diamonds and won the World's most costly ring title. This ring was sold at a selling price of $9.5 million in 2013.
It is quite an expensive engagement ring that holds a 5.30-carat blue diamond set in a Trombino ring. It is famous for its unique nature. One notable thing about this ring is that the diamond stone it features was crafted in 1965.
This means it is not only stunning, but it also holds a bit of history in it. To get a diamond ring of this nature, you would need to spend a lot of money. This sort of jewelry can't be found in the general market.
1. Mariah Carey's Engagement Ring – $ 10 million.
Mariah Carey's engagement ring is at the top of our list. Owned by the famous Mariah Carey, the engagement ring is worth $10 million, clearly a lot of money.
It was given to her by her ex-fiancé James Packer during their engagement. This 35-carat diamond ring is a beauty to behold. It comprises an emerald-cut 35-carat diamond and two delicate tapered baguette diamonds set in solid platinum.
Though the marriage was called off, this engagement ring is still the most expensive in the World. Interestingly, after the engagement was called off, it was sold for a whopping $13.2 million, which is way higher than its original price.
Conclusion 
Though there are tons of engagement rings in the World, none are as glamorous and expensive as the engagement rings on this list. They are produced with some of the most priceless jewels existing in the World, such as diamonds. Also, the jewelers are famous for their craft. If you cannot afford any of the rings on this list, but you wish to give your partner the best proposal, you can also look at these most expensive rings to draw inspiration from them. These rings are stunning, simple, classy, and unique.