The Most Expensive Fishing Reels in the World
To lovers of the fishing world, fishing reels are the most important tool gear for their fishing escapades. It helps them take hold of fishing lines and tackle their fishing problem. However, fishing reels can be expensive. If you're curious to know how expensive these gears can be, then you're in the right place. Here are the most expensive fishing reels in the world that fishers purchase for the love of fishing.
10. Tibor Billy Patefly Fishing Reel – $560.
Wondering how your fish problems can be tackled? Then you should check out this fishing reel. Making it to the top spot on this list of expensive fishing reels is the Tibor Billy Pate Fly fishing reel. This is an anti-reverse tarpon reel that's durable and dependable. In fact, with this, you need not worry about the location, condition, or species of fish.
You can use it in any fly fishing environment. It is made with a coal-black and satin gold frame along with its classic Anti-Reverse design. The main gear features three clicker pins that make your experience trouble-free and gives you lasting performance.
What's more, this fishing reel weighs 8.2oz with a frame size of 3.5 x 3.65. The line is about 300 yards. You can use this fishing reel on fishes like salmon, bonefish, steelhead, tarpon, and Dorado. It also comes with a cool case for easy and comfortable storage.
9. Penn Retrieve Rate Ambidextrous Torque II Spinning 7500 Reel – $749.
Penn Retrieve Rate Ambidextrous Torque II spinning 7500 reel is another quite expensive reel that costs up to $750. Judging from the name, this fishing reel is an ambidextrous fishing reel designed to handle heavy fishing either offshore or onshore.
It features an IPX6 sealed system that keeps water out of the gearbox and drag system, a side plate, a full metal body, and a rotor. What's more, it utilizes dura-drag material using an updated slammer drag system.
Interestingly, it has a CNC Gear technology, a 9+1 chrome steel bearing system, and an Instant Anti-Reverse bearing. This fishing reel is about 7500 in size, its retrieve line is about 50 inches, and it has a braid line capacity of 470 yards. With this fishing reel, you can comfortably fish.
READ MORE: 10 Most Expensive Drones in the World.
8. EatMyTackle Saltwater Fishing Reel/Blue Marlin Tournament Edition – $600 – $1000.
Another fishing reel to look out for is the EatMyTackle saltwater fishing Reel. This 80 wide-2 speed fishing reel features 9 shielded chrome steel ball bearings that shift smoothly with one touch. It has a gear ratio of 2:5:1 and 1:3:1.
Also, it has a CNC machine cut aircraft aluminum frame and spool with a line capacity of 1025yards of 80lb. It has a sturdy reel of 9.6 pounds that will strike the acute environment of offshore saltwater fishing.
This fishing reel can successfully catch very large fish, and it is designed specifically for offshore fishing. It also has a two-speed function that lets you reclaim the line quickly.
7. Daiwa SALTIGA5000H Saltwater Spinning Fishing Reel – $900.
Making it to seventh place is the Daiwa SALTIGA5000H saltwater spinning fishing reel. As with most of the fishing reels that have been listed here, this fishing reel is one of a kind. The Daiwa SALTIGA is a lead choice for sport piscators.
It possesses a spinning quality that makes it outstanding. What's more, it is great for even the most challenging fishing conditions. This is interesting because it features the ATD (Autonomic Tournament Drag) for better hook-up and ultra-smooth drag performance.
It also offers other features that make it durable and lasts long. The gear has a ratio of 5:7:1 while the weight is about 1.38 pounds. It has a braid line capacity that is a maximum of 625 grams.
6. Tibor Signature 7-8 Fly Reel -$984.
The Tibor Signature 7-8 Fly Reel is another expensive fishing reel that costs about $984. Designed by a master reel designer and fly fisherman Ted Juracsik, this fishing reel boasts elegance and efficiency. In fact, this reel is waterproof, self-maintaining, and has a smooth and strong embroil.
It weighs about 8.5oz with a line capacity of 200yards and 200lb. The micron backing is about 7- 8in wt. Interestingly, this reel is assembled from a solid bar stock aluminum and is equipped with a soft micro grain cork that is constantly lubricated.
The Tibor Signature fishing reel features a customized carve-free nameplate and a thick neoprene case for easy transit and cache.
With this fishing reel, you can handle fish species like Dorado, bluefish, bonefish, permit salmon, and steelhead. Know that this reel stays cool even after long runs.
READ MORE: 10 Most Expensive Umbrellas in the World.
5. Shimano Talica 25 II Trolling Fishing Reel – $1071.
Taking fifth place is the Shimano talica 25 II speed lever drag multiplier trolling fishing reel. This fishing reel is great for deep-sea fishing. It offers a talica trolling fishing reel with a premium drag system made from its initial design for transcendent casting.
It has pretty impressive features and offers great versatility. Also, it comes in various sizes that adapt to the needs of an offshore fisher. This Shimano fishing reel offers the best fishing experience to its users.
It is super sensitive, durable, strong, and powerful. It comes in about 11 different sizes to help you tackle any of your offshore fishing needs.
4. Shimano Stella SW STL 18000SWBH Spinning Fishing Reel – $1100 – $1400.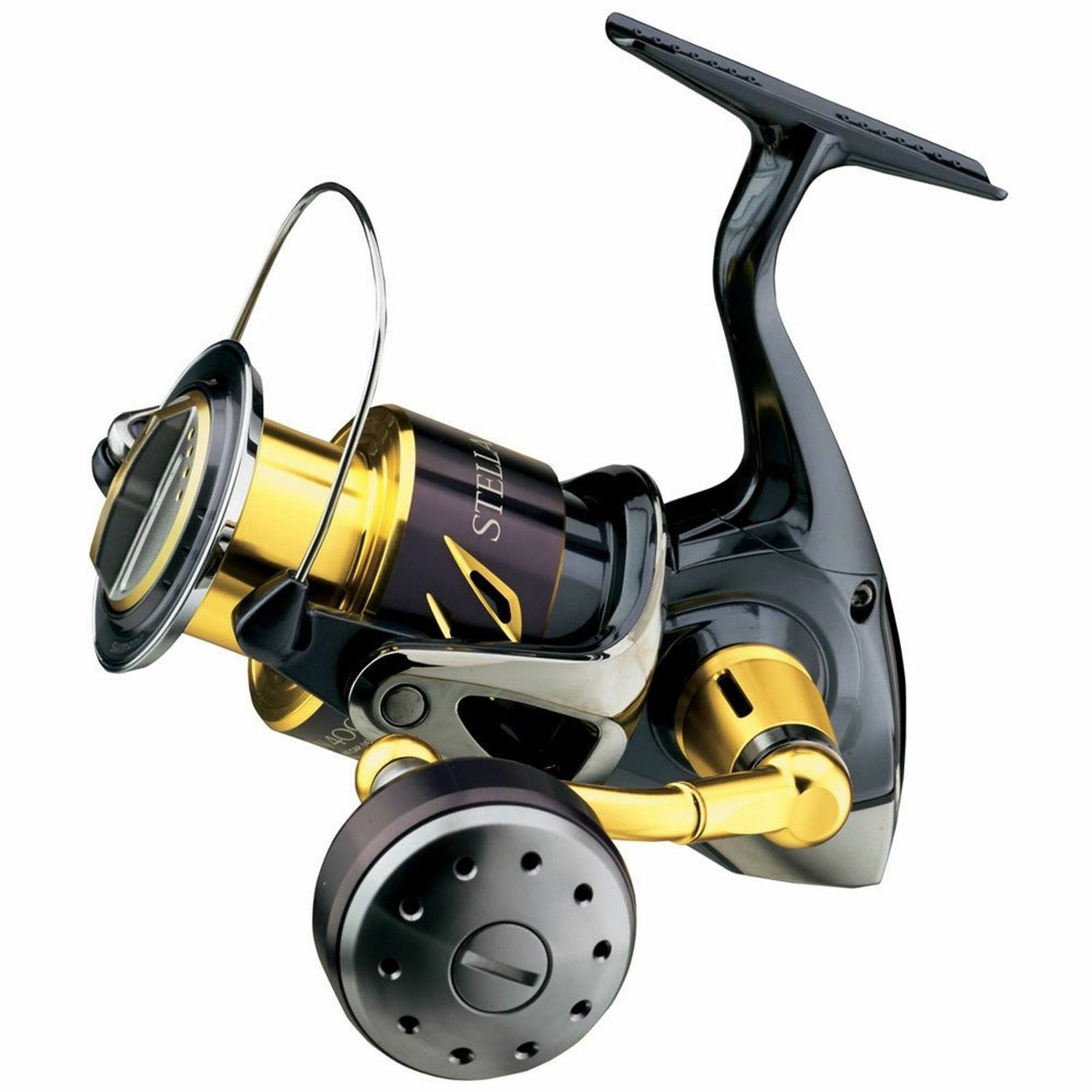 Shimano Stella STL fishing reel stands out for its long-lasting smoothness as well as its ability to handle power. With this fishing reel, that truculent sport fish in the sea can be carried seamlessly.
Apart from this, this fishing reel stands out for its 1.93 pounds lightweight, which is unique. Also, it contains silk aluminum handles and a one-piece shaft that helps to maintain strength and power when you use it on any kind of fish.
When you look at this fishing reel, you'll notice it features 15 shielded ball bearings, which have a ratio of 5:7:1. Its reel lines retrieve about 51 and have a mono and power line capacity.
If you're wondering about the drag capacity of this Shimano Stella Spinning fishing reel, just know that it has the right drag capacity, which is max-55. With this drag system, this fishing reel can easily catch a large fish.
3. Shimano Force master 9000 Electric Fishing Reel – $1200.
This is quite another pricey fishing reel that costs about $1200. The Shimano force master electric fishing reel is a 9000 capacity fishing reel that is different from others due to its electric display. It offers guidance for line feeding and audio winding.
It has display features that make it unique and works well for bottom fishing as well. Like strong reels, this reel enjoys immense hosting power with a drag capacity of 245/25. It has a gear ratio of 3.1 and a weight of 1500g.
You should know, this reel features a 75mm long reel handle, and its bearing number is 3/0. It is an interesting fishing reel that may be hard to navigate but is efficient for fly and bottom fishing.
2. Daiwa Doridoh Marine Power Deep Sea Power-Assist Fishing Reel – $3500.
Daiwa Doridoh marine power fishing reel is another pretty pricey fishing reel designed for yawn drop fishing which starts from the bottom and then drops up to 1500 with a braided line of 120lb. This fishing reel can handle heavyweight fish, rigs, and lines.
It possesses a legal drag and allows you to calibrate strike agitation when controlling near-boat fish. Interestingly, it has a unique power that delivers instant winding speed and power at your fingertips.
Another unique feature of this reel is designed with a protective shield, far away from debris and dirt. It also has manual cracks and compact battery packs. It features a couple of CRBB anti-corrosion bearings with a total of 16 ball bearings. It is quite an expensive fishing reel that goes for a whopping $3500.
1. The Holy Grail Fishing Reel – $58000.
If you think the Daiwa Doridoh Marine Fishing reel is quite expensive, the Holy Grail Fishing Reel will amaze you. This is the most expensive fishing reel globally and goes for a selling price of a whopping $58,000.
It goes without mentioning that the holy grail fishing reel is an auction reel. Designed by the fishing enthusiast Graham Turner, this fishing reel has held the position of the most expensive fishing reel for a long time.
It is peculiar for its rarity. In 2011 it was auctioned at Angling auctions in London. You may want to know more about this fishing reel, but sadly, you can't. There's not much information about it.
Conclusion.
So here you have it, the most expensive fishing reels in the world. They are all unique and would make fishing easier for you. Their prices may not be over the top, but there are pretty expensive fishing reels on this list. Which of them would you go for as a fisher?