10 Most Expensive Gaming PCs 2022.
If you're a devoted game lover, you would know that a sound gaming system is within $1000. However, if you need something that'd give you the cutting-edge graphics, best performance, and can pretty much do anything you want, then you'll need more than that.
The gamer lifestyle is quite an expensive one, and there are costly gaming systems. Chances are, you may not be able to afford them. Either way, there's no harm in knowing the most expensive gaming PCs in the world. Who knows, you can save towards owning one.
5. Maingear Epic Force Super Stock – $12,000.
Maingear Epic Force Super Stock is the fifth on our list of most expensive gaming PCs. It is also one of the most popular gaming Pcs in the world. This monstrous system is known for its overclocking feature. Every inch of this system is not only overclocked but also customized.
It is housed by a corsair Obsidian 900D tower and behemoth case that measures 27.2 by 9.9 inches. It also features a steel and cast-aluminum frame. The motherboard is an Asus Rampage V Extreme with an Intel X99 chipset.
It features an overclocked Intel Core i7-5960X, an eight-core monster processor, and VisionTek CryoVenom R9 295X2 graphic cards. It has unmatched graphic performance and is by far worth every penny of its selling price.
It is such a unique system with excellent power performance. Maingear Epic Force SuperStock is priced at $12,000 though it varies depending on the outlet. This was also stated in the "cons" of this product. If you can't afford it, knowing it exists alone is enough to make you a happy game lover.
READ MORE: 10 Most Expensive BMW Cars.
4. Yoyotech XDNA Aurum 24k – $13,000
Yoyotech XDNA Aurum 24k is another pricey gaming system. It features incredible specifications that work at high speed not only for games but anything else you would want to do with this PC.
This system comprises Intel 039 Core i7-4960X extreme edition processor, a CPU with six cores that counts at 12 and is 50% more than your Xbox One processor. It also has two Nvidia039 Titan graphic cards. What's more, these graphic cards and processors are water-cooled to keep it quiet and cool.
The storage is a whopping 64GB of Corsair memory, a 512 solid-state disk, and a 2TB hard disk. This whole system is housed in a single case known as Corsair Obsidian 900D tower case.
This case was modified to hide the cables of this PC and give a pretty clean finished look. The Aurum 24k provides massive frame rates for your use. With all these features this gaming PC has, the pricing is just about the suitable range.
This monstrous system goes for a selling price of $13,000 and retails for 7979 euros in the UK. It is not your regular gaming PC. If you're unable to afford this excellent gaming PC, knowing its specification will make you hopeful.
READ MORE: 10 Most Expensive Computer Mouse.
3. 8 Pack Polaris MK 2 -$16,500.
8pack Polaris MK2 is another expensive gaming PC present in the world. Though not the most costly, it still costs a fortune to own one. This excellent gaming pc is famous for its overclocker. In fact, it is the world's number one professional overclocker.
8pack Polaris MK2 is made up of an Intel Core i9 10920 xCPU, and maximum overclock, which has at least 4.7GHz on all cores. It has 64GB worth of memory and is housed in an aluminum case designed by Lian Li. This case is large enough to accommodate the super high-level water cooling that keeps this system at standard temperature.
Interestingly, this pc is perfect for multi-monitor high gaming performance. It can be used by gamers and media professionals. What makes this PC a go-to is the two NVIDIA flagship RTX 3090 24GB cards that are placed on their separate water cooling loop to keep them cool. Cool right?
What's more, Its motherboard is the ASUS Rampage Extreme Encore X299. It ensures the stability of the cherry-picked Core i9 10920X, 12 core, and 24 thread CPU at the highest possible clock speed.
If you're looking for a bespoke extreme performance PC, then this gaming PC is for you. You should know that each 8pack system of this PC is individually numbered and signed. The colors also come customized.
8Pack Polaris MK2 cost 14,000 euros which when converted in dollars is $16 518.81.
2. Kylaralthor Janus 2.0 – $18,000.
On our list of the world's most expensive gaming PCs, Kylaralthor Janus 2.0 ranks second place. It is a complete gaming system that features four Nvidia GeForce GTX Titan X graphic cards that cost $4,400 each. It is housed by an Intel i7-6950x processor that costs $1100.
Janus 2.0 has twenty-six fans with a customized cooling system. It comprises wireless headphones, a gaming mouse and keyboard, and a 4TB external hard drive. The desktop of this gaming pc costs about $10,000 and is about 27-inches.
Kaylaralthor Janus 2.0 is worth $18,000. This gaming pc is not only worth its price, but it will also satisfy your gaming needs.
READ MORE: Most Expensive Office Chairs in the World.
1. 8 Pack OrionX – $41,500.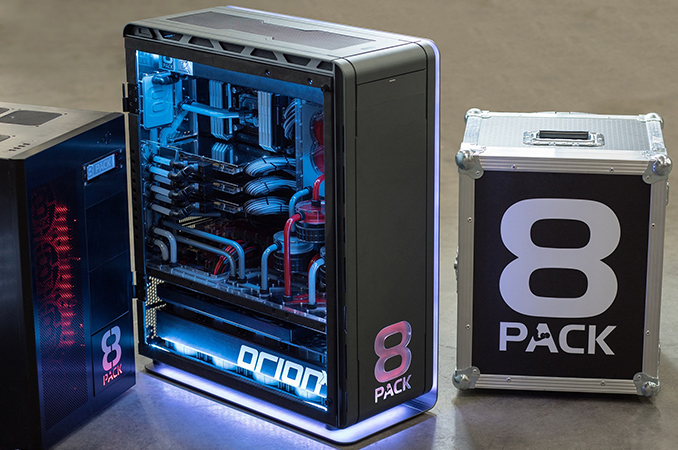 8pack OrionX is currently the world's most expensive gaming PC, priced at a whopping $41,519.96. It is an award-winning gaming computer that is regarded as the most powerful prosumer computer in the world. It is not like other conventional PCs; it is the most beneficial.
8pack OrionX is a two-in-one desktop dubbed with two systems packed in one. This monstrous gaming system was released in 2017 in front of a clandestine lab. It was designed by Ian Perry, a famous computer builder who created a list of the components he used for this creation.
These systems are robust and more than able to handle computational workloads. Interestingly, it is packed in a single case called Phanteks Enthoo Elite that costs about $949. The higher-end system is powered by the 10-core Intel i7-695x processor, which costs $1600, while the secondary system uses a more budget-friendly intel core i7-7700k processor.
Inside this expensive baby are four Nvidia GeForce Titan X graphics cards that cost $1200 each, with a whole 48GB of gaming memory. Its primary computers come with three storage setups.
First is a single 1.2 TB Intel750 solid-state hard drive, then two 1TB Samsung Evo 850 SSDs, with the third being a 10TB SATA hard drive. While the single 1.2 TB Intel 750 solid-state hard drive is for speed, the 10TB SATA hard drive is for the measure. With such storage capacity, you can download the internet.
It has three custom-made liquid cooling loops to keep everything inside at a moderate temperature while the system runs. If you're a consistent gamer, you may have heard of this gaming pc. You should know that there are no revised models of this design. It is not a prototype.
This powerhouse is available for sale to gaming lovers. It is worth every penny of its cost price. With its excellent and famous system build-up, most of its parts are customized. This gaming system is ideal for workstations and gaming.
Key features:
Storage  – 4 x 2TB Samsung 970 Evo M.2 NVM e SSDs & 2 x 14 TB HDDs
CPU – Intel core i9 10980 XE & Intel core i7 10700K
GPU – 3 x RTKX 3090
Ram – 128GB or 64GB & 32GB that runs at 3600MHz
Why are gaming systems so expensive?  
You may be wondering why these gaming systems are more pricey than the usual gaming systems like Xbox and others. Well, for anything to be expensive, it will depend on the quality of materials used, the worth of designers and creators, and the value placed on the product.
These systems are produced by tech geeks who take their time to handpick every wire so they will look uniform and nice.
Sometimes, the case would be so small that you'll be left wondering how they could bring together such a high-end product. The fact that creators spend so much time compiling and neatly placing the wires of these systems makes them come out perfect.
What's more, the components of these gaming pcs compiled by creators are expensive and of excellent quality. Gaming builders go all out to use high-tech products that are costly to make these products. If fancy car brands can have revised and remodeled expensive cars, the gaming world also deserves these beauties.
Conclusion
These gaming PCs are of little consequence if you're opting for some ultimate high-resolution gaming experience. They are cutting-edge systems that can play whatever game you choose with a robust power system.
Game builders and creators have produced the most expensive gaming PCs in the world. If you are a game lover, these are by far the best gaming PCs to have. Assuming you can't get one now, you can save up for them for the best gaming experience.