The 10 Most Expensive Homes in USA
Home, they say, is where the heart is. For some people, it isn't just a place to live, it is a representation of class, finesse, and personality with grandeur and exquisiteness. And when it comes to luxury, the United States holds a track record of amazing exotic homes and estates in the world. So grab a chair and popcorn maybe as I take you on this alluring journey of the 10 most expensive homes in the United States. Who knows, it might just be your dream home.
10: The Historic Owlwood Estate – $180 million.
The historic Owlwood estate is a renaissance property designed by Robert D. Farquhar in 1936, embodies elegance.
It spans about 10 acres from the playboy mansion.
Oh boy! Such a huge property. Let's see the estate. At the estate's exterior is a driveway created around a spacious lawn fastened by a fountain. To add to that, two structures are occupying these magnificent grounds, which are the main house and an ivy-clad guest house. With both buildings combined, it holds nine bedrooms and 10 bathrooms.
Guess what? The primary suite has a fireplace, lounge, spa, bathroom, and ornate moldings. From the outside view, there is a massive landscape with rolling lawns, a tennis court, and a swimming pool. But that's not all.
Owlwood estate embodies history! A widow, named Florence Lets who inherited the property after her husband's passing, commissioned Robert D. Farquhar to design this estate. Some of the prominent people who lived here are Joseph Drown the founder of the Hotel Bel-Air and Joseph Shank. As of 2017, the house was worth $180 million but was sold for $88million by the previous owner who was involved in a Ponzi scheme.
9. Palazzo Di Amore in Beverly Hills California.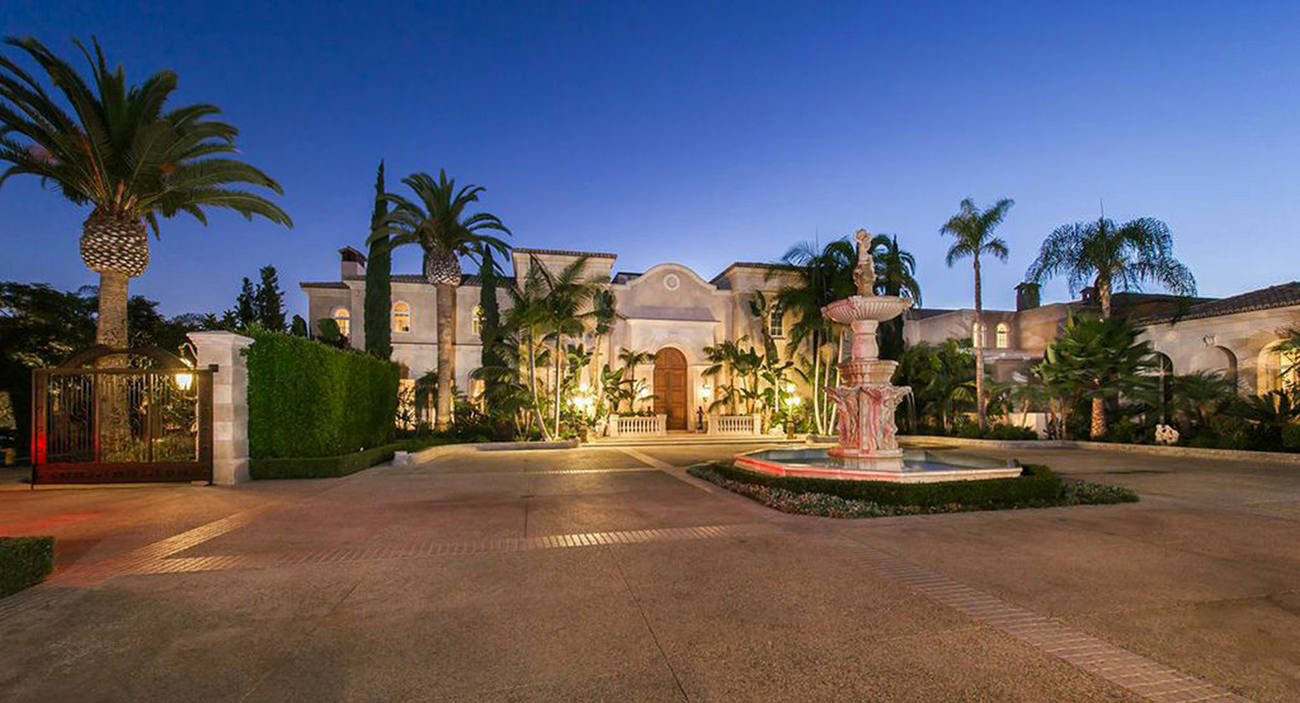 If you're looking for a European palace setting, the Palazzo Di Amore estate is probably your best bet. This Mediterranean masterpiece is situated on a remarkable apex. It holds incomparable grandeur and palatial elegance.
The 25 acre attached grounds of a wine-producing vineyard and panoramic views of the Los Angeles and Pacific Ocean, stands out for its magnificent scale and extravagant luxury. This architectural gem embodies unparalleled privacy and a resort lifestyle.
Its interior and exterior consist of a 53000 square feet living space; an expansive residence featuring a two-story marble hallway and dual staircases, massive rooms, and an elegant kitchen room.
The interior also has a wood-paneled office and library, billboard, and wine tasting room. It also comes with a detached guest house, a tennis court, a pavilion, indoor and outdoor swimming pools, a waterfall, expansive lawns, and a formal garden.
This estate, my friend, is an embodiment of luxury. In addition, the building contains 25 bathrooms, a 15,000 square foot entertainment center bowling alley, a 50 seater state-of-the-art theatre, a 24 car garage, a guardhouse, a private driver's quarters, and a city-to-ocean view. In 2014, Palazzo Di Amore was listed as the most expensive residence in the United States at $195 million. In 2017, it was relisted with a selling price of $129 million.
READ MORE: 10 Most Expensive Rum In The World.
8: Colorado's West Creek Ranch -$279 million.
In the history of luxury, West Creek Ranch is one of the finest properties in west America. With 22,000 square feet and 1700 acres of stunning landscapes, West Creek ranch carries a majestic extravaganza.
John Hendricks, founder of the discovery channel chose this destination to make a home. There are about eight bedrooms, eight bathrooms, four elevators, great room, formal dining, breakfast room, chef's kitchen, spacious study, art studio, theatre room.
Gym, staff quarters, pool and spa, six fireplaces, four water fountains, marble column, five-car garage, a library, backup generator, and a whole lot more.
One fascinating feature of this ranch is the 400 square-foot observatory dome that opens to an incredible starlit sky. You should know that aside from the main house, are guest houses, with western riding horses and stables, definitely what makes it a befitting ranch.
West Creek was purchased by John Hendricks in 1995 and it holds an interesting history, one of which is that the red cliffs and canyonlands of the ranch date back to the age of dinosaurs, like 300 million years ago. Well, this ranch is worth 279 million dollars. It is expensive and worth it. Next on the list is …
7. 1080 Meadow Lane Property in Southampton.
With the sound of the ocean waves drumming calm soothing sounds, the meadow lane property looks like an amazing place to make a home. Well, if you are wealthy enough to afford it. Most American wealthiest use these homes as a vacation spot.
The meadow lane property is the most expensive home in Southampton with the same asking price for over two years. It is about 14 acres of sided land containing 700 ft. of direct oceanfront across three separate lots, with an additional bay in front. This property was previously owned by Robert Sillerman and was sold at 38 million us dollars in 2016.
Over the years, it has become a home for celebrities like Brooke Shields, Kelly Ripa, Mark Consuelos, and Calvin Klein.
The main house was built in 1994, and it features large glass windows to enjoy the water view, 12,000 square feet of living space with 12 bedrooms, 12 full bathrooms, an indoor pool, tennis court, spa, two golf greens, and a golf house, a pool house, and an outdoor pool. There are also three private walkways leading to the ocean. Such a blissful sight to behold. The 1080 Meadow Lane property goes for 150 million dollars. If you can afford that, go to the house owner!
6. Gemini Mansion in Florida.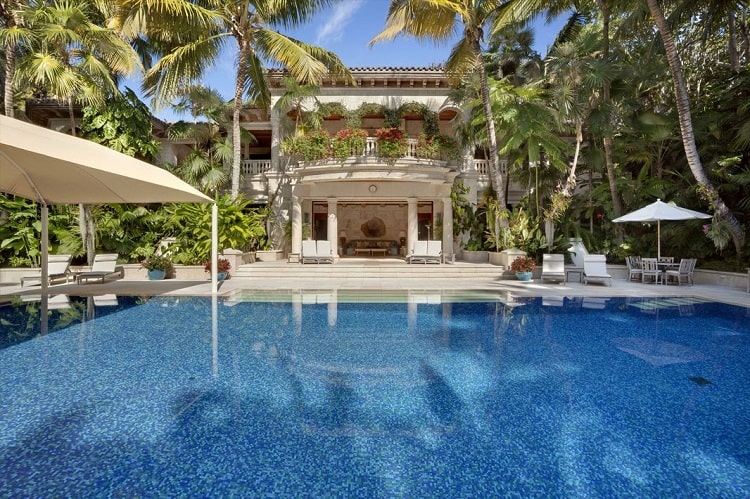 Gemini mansion is still rated the most expensive home in Florida, with a compound of about 15 acres situated between Palm Beach and Delray Beach.
You should know that because of this, Gemini gets about 2500 feet of water frontage, 1200 feet along the beach, and 1300 feet along Lake Worth. This alone makes it indeed an expensive mansion.
Gemini estate was built in the 1940s. It has about 33 bedrooms, 47 bathrooms in total. Additionally, it has a guest house, north and south ocean cottages, indoor and outdoor pools, tennis and basketball courts with fountains, and tropical greenery. You could get your privacy if you want with the Robinson Crusoe tree house style.
READ MORE: 10 Most Expensive Condos in the World.
5. Connecticut Zeigler Property in East Coast Island Estate.
If you are looking for a private, secluded place, something mild and calming, the Connecticut Ziegler property could be your best home choice.
This property has 63-acres in the island estate with a stone mansion and 21 horse stables. This island is connected to the mainland by bridges so if you were wondering how you would get on the mainland, just know this property got you covered.
To add to this grandeur, there are the main house and additional separate houses, a polo field, a private beach as well as a boathouse.
In the main house, there are 10 mouth-watering bedrooms, 10 exquisite bathrooms, and four fireplaces. It has a yacht basin with docks, beach cottages, and an 1800's antique house. The list of its exquisiteness goes on and on. The Connecticut Ziegler property was worth $175 million.
4. Chartwell Estate in Beverly Hills.
This estate is as the French would call it "Magnifique" Truth is each of these houses listed here are amazing but this Chartwell estate is simply beautiful. It was designed in the early 1930s with an exterior of symmetrical limestones.
Let's say a French neoclassical style. It is known for its large green areas, fountains, and majestic mountains. Remember the 1960s Beverly Hillbillies television show? Chartwell Mansion was used as the Clampett family home. Isn't that amazing?
In this home, you will find a 5 bedroom guesthouse, 75 feet pool, a tennis court, and some other entertaining places. It looks as amazing as it sounds and is worth $175 million. You wouldn't want to miss something this fancy.
3. The Manor at Holmby Hills in Los Angeles.
The manor at Holmby hills is a French chateau-like estate formerly owned by the TV producer Aaron Spelling and his wife Candy.
This estate is indeed large, some say even larger than the white house. It is a 56,500 square feet land space with an estimate of 123 rooms inside it which includes 14 bedrooms and 27 bathrooms. This privately owned property has a flower-cutting room, a humidity-controlled silver storage room, a barbershop, and gift wrapping rooms.
This home contains a bowling alley, a lounge, five maid bedrooms, two butler suites, and a large aquarium study. The exterior which is 4.7 acres of ground has a garden, a pool house, an orchard, a tennis court, a swimming pool amongst others for your leisure.
The manor might not be the most expensive of properties but it is a large estate. Built in 1988, the Manor was designed by architects James Langenheim and Associates. As of June 2019, it was sold at $199.7 million.
2. The 4 story mega-mansion, Bel-Air in Los Angeles
The four-story mega-mansion is one of the priciest homes in the United States and it is an over-the-top home designed by Bruce Makowsky. This home features at least 100 most expensive artworks, a 30 million dollar collection of rare and expensive cars including a Bugatti. Hulala!
This Bel Air home has 38, 000 square feet of interior space and 17, 000 square feet of exterior deck area. It contains 21 bathrooms, two master suites, 10 guest suites, a swim-up bar, and five more throughout the interior. It also has three kitchens.
For the home theatre system, there is a 22 feet screen, 57 speakers, 16 subwoofers, and 14 reclining leather seats for guests.
The home features 4 elevators, wine, and champagne cellars, 4 lane bowling alley that doubles as a lounge, an infinity pool, a spa, and a gym room combined. It also gives you a view of the Los Angeles skyline at 270 degrees.
The mansion is worth $250 million. It is quite expensive but it comes with two years of the already paid staff of seven. Sounds like a good deal to me.
READ MORE: The 15 Most Expensive Graphics Cards.
1. Fairfield Mansion.
Fairfield mansion represents elegance, class and beauty.
As it is already popularly known that Hampton is the best vacation location for celebrities in the US. Fairfield mansion is located in Hampton and owned by the billionaire Ira Rennert who owns a fortune worth $3.8 billion.
One interesting fact about this mansion is its largeness. It is said to be one of the largest mansions in the United States.
It is 6400 square feet of extension. In addition to the main house, you will find a playhouse as well as two other houses, a swimming pool, with a total of 21 deluxe bedrooms, 18 amazing bathrooms and 164 seater theatre cinema. Super doo!
To add to this entertainment, it has two-lane bowling, a tennis court and other amazing stuff. This house is priced at $250 million. Well if you are for the extravagant and luxurious life, then you would surely find these homes appealing.
Know of any more expensive homes in the United States? Let us know in the comment section below.