10 Most Expensive LawnMowers in the World
Lawnmowers are actual grasscutters, and when Edwin Budding invented them in 1827, I can bet his imaginations didn't go so far as picturing them with the fast-charge lithium-ion, steel deck, and precision-cutting blade features like the current ones.
The most expensive lawnmowers are way more sophisticated. They offer premium functions, high quality and compact designs that you'd hardly find in ordinary ones. But more than that, they speak of luxury, status, and class; and people spend lots of time acquiring them. Curious to know more? Here are the top 10 most expensive lawnmowers in the world.
10. Raven Hybrid — $4000. 
Taking the tenth spot on our list of most expensive lawn mowers in the world is the Raven Hybrid. This lawnmower is a combination of a lawnmower and a generator. Although the first models released to the market got many complaints from users, this lawnmower is an upgrade.
It is a gas-powered cutting machine with the ability to double as a generator. This means that it can supply electricity even to areas with no power. Raven Hybrid mower runs at a speed of 17mph and can go 12hours on a single tank.
Interestingly, this powerful lawn tractor has features that generate over 7,000 watts of power. What's more, it contains a self-charging technology that eliminates changing batteries. It also has a 46" quick-release cutting deck, ATV-style shocks for cutting on rugged terrain, and can pull up to 500 lbs.
This incredible lawnmower was sold at $4000 but its current price is $2999, making it the tenth most expensive lawnmower in the world.
9. Bush Hog PZ3073 Lawn Mower – $4950.
Making it to the list of most expensive lawn mowers in the world is the Bush Hog PZ3037 lawnmower. This tractor is rugged for its intended purpose, which is a road lawnmower. The Bush Hog PZ3073 is great for any road type.
It has a cutting width of 73 inches, a maximum cut height of 5 inches, with three equal rotating blades. It has a mid-mount deck location, a deck discharge type on the side, and about 30 horsepower.
This lawnmower is as fast as you can dream. It was sold out at an auction in Kansas on September 2, 2021, for an interesting $8,505.
READ MORE: Top 10 Most Expensive Rugs in the World.
8. Husqvarna MZ 61 Zero-turn Lawn Mower – $5299
Another expensive lawnmower is the Husqvarna MZ series zero-turn mower. This lawnmower raises the bar on performance, productivity, and comfort. In fact, it creates an ideal shaving experience with its easy operator interface, heavy-duty steel frame, and commercial-rated hydraulic system.
It also provides considerable turf-cutting muscle with 27 Horsepower, a Briggs & Stratton engine, and a maximum forward speed of 8mph with a reverse speed of 4.5mph. This lawnmower goes for a selling price of $5299, making it the eighth-most expensive lawnmower in the world.
With Husqvarna MZ 61 in your home, you can meet all of your property maintenance needs.
7. Ariens Apex 60 Kawasaki lawn mower – $5390.
The makers of this lawn mower are looking to save your time, energy, and money with their one-of-a-kind tractor. The Ariens Apex 60 Kawasaki lawn mower keeps your lawn free of grass clippings and leaves it well-manicured time after time.
In fact, it offers exciting features, which include one of the most powerful engines in the world; the 24 hp/726 cc Kawasaki FR730. The Apex 60 Kawasaki also offers a sleek design, seamless precision, and noticeable liveliness. It also provides a 60-inch cut width that can adapt to meet your individual needs.
What's more, it features a vented carburetor for improved fuel management. It also has a high-back seat that features lumbar support and armrests for added convenience. These fantastic machines cost a whopping $5390 and are available for customization. So if you're looking for a custom-made lawnmower, this Ariens design is your best bet.
6. Ultimate John Deere X749 Tractor – $14,000.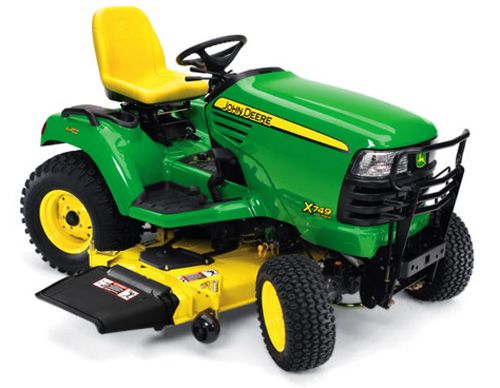 The Ultimate John Deere X749 is the second John Deere mower to make it to this list of most expensive lawnmowers in the world. This lawnmower stands out from the rest because of its outstanding features.
It has a liquid-cooled three-cylinder engine that produces 24 horsepower and has a forward speed of 8.5 mph and a reverse speed of 6 mph, and a linear torque curve. It has numerous decks, including 48x, 52x, and 64x, and it gives excellent cuts. It also ensures excellent proficiency thanks to the Tuff-Torq K-92 hydrostatic transmission and heavy-duty robotically welded frame.
The mower's four-wheel steering features six adjustable tilt positions for fantastic flexibility, and it's easy to maneuver. It also features headlights, taillights, and backup lights that are similar to those found in automobiles.
READ MORE: The 15 Most Expensive Graphics Cards.
5. Tank S by Cub Cadet – $15,000.
Another mower to make it into our list of the top 10 most expensive lawn mowers is the Tank S. Cub Cadet Commercial's Tank S. It is a unique commercial lawn mower with steering wheel control that gets the job done efficiently.
This great lawn mower comes with a Select Cut System deck for premium cuts and comes with gas, diesel, or liquid propane engine. It also has adjustable armrests and an adjustable air ride seat with lumbar support that meets operator desire and post productivity.
With a $15,000 price tag, this mower snags up the number five spot on the list of most expensive lawnmowers in the world.
4. Super Z Hyperdrive Lawn Mower – $17,000.
The Super Z Hyperdrive lawn mower boasts unrivaled execution and longevity. It is fast, efficient, and moves through different soil types with ease.
What's more, it comes with excellent steel wheels, a synchro steer technology, and a 4-wheel hydraulic power steering system that allows you to cut up to 7.5 acres per hour. It has a rotating front axis that makes operation easy and convenient.
The Super Z Hyperdrive comes in different grades; Super Z Hyperdrive 60" REAR DISCHARGE, SUPER Z Hyperdrive 60" and SUPER Z Hyperdrive 72. The cost of owning one of these is about $17,000. The Super Z Hyperdrive lawn mower is the fourth most expensive mower on this list.
3. Turf Tiger Lawn Mower by Scag – $17,000.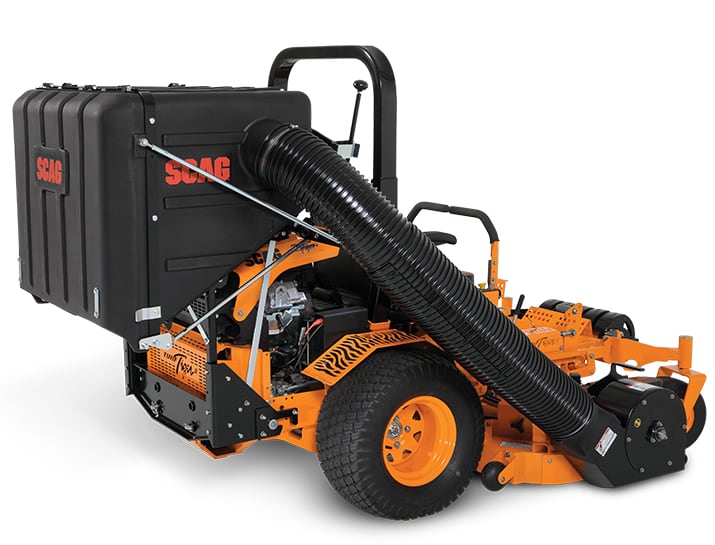 With a selling price of $17,000, the Turf Tiger takes the third spot on this list of most expensive lawnmowers in the world. What makes it such an expensive must-have lawn mower are the top-notch features it offers.
Its features include a 37 horsepower engine, electric fuel pump, a tailored front baffle system, trim-side wear pad, split-steel pulleys, and a water temperature sensor. What's more, it boasts a suspension seat with upholstered armrests, a handy cup holder, and a display meter that shows maintenance notifications.
The Turf Tiger lawn mower also has a halogen light kit which allows mowing in the dark. It is one lawn mower you want to have in your collection.
READ MORE: 10 Most Expensive High Heels in the World.
2. John Deere X758 Signature Series – $25,000.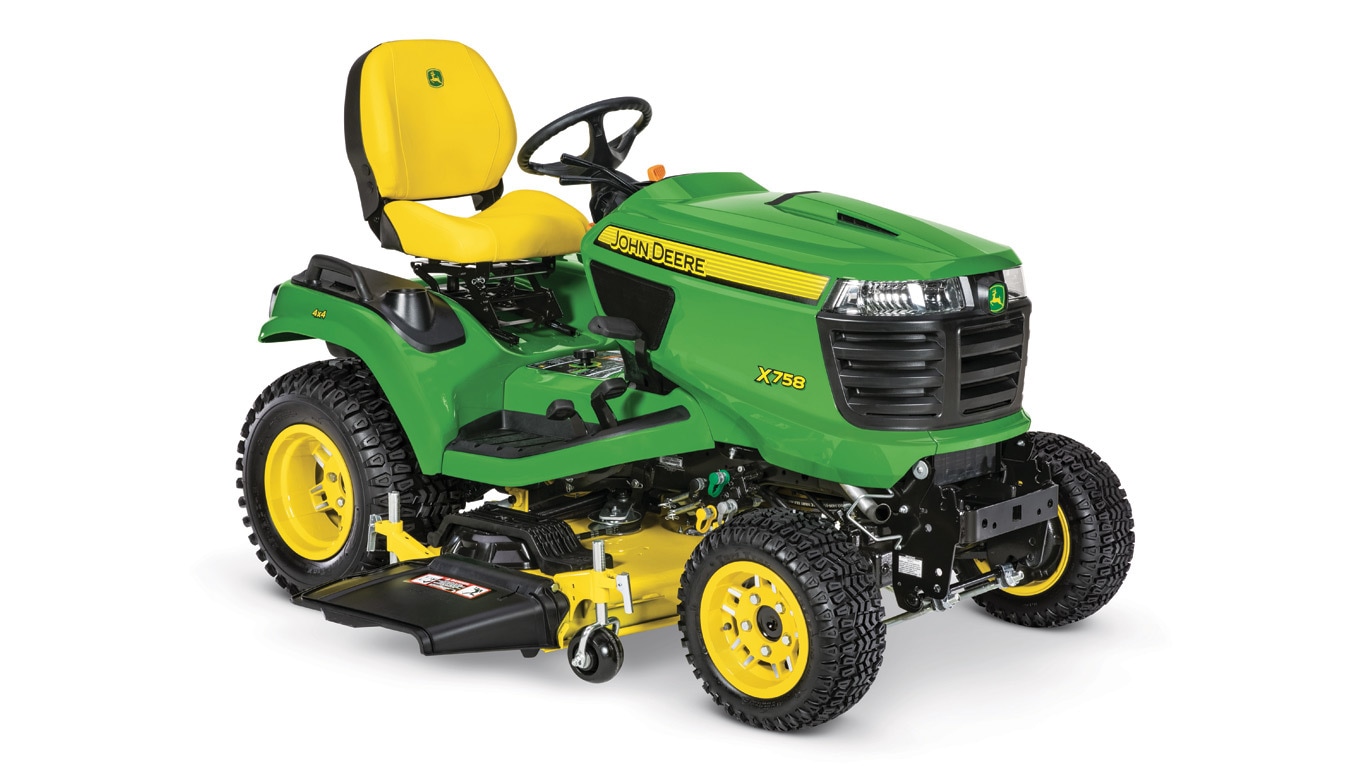 These lawnmowers are so classy they are considered the most luxurious line of lawnmowers in the world. It is the creation of John Deere, the largest producer of world-class agricultural machines. This machine comes fully packed with tons of unique features and gears.
The most notable feature of this powerful machine is the inclusion of an engine block heater adapter, an engine coolant heater, power steering, unique hitches, hydraulic lift kits, a front fender kit, hydraulic angling, power flow chutes, a battery charger, and a maintainer.
The John Deere X758 was designed with flexibility and efficiency of use in mind. It is a high-functioning and easy-to-use tool that can assist you with almost any lawn maintenance and grooming duty you have.
It was previously sold at $25,000 but now goes for $13,264. Though it held the position of the most expensive lawnmower in the world.
1. Honda Mean Mower V2 – $120,000.
Tagged as the fastest lawnmower globally by the Guinness World Record in 2019, the Honda Mean Mower V2 is the most expensive lawnmower in the world. This fantastic creation combines a lawnmower, a power bike engine, and the build of a race car. In fact, it is the beast of all lawnmowers.
The Mean Mower V2 has over 200 horsepower, 86 pound-feet of torque, and weighs 483 pounds. Its power-to-weight ratio is 850 hp/ton, and it can go 60 meters per hour in less than three seconds. What's more, it has a top speed of more than 150 mph, with an estimated 35 mpg.
The engine is a 999-cc four-cylinder engine from the Honda CBR1000RR superbike. You can get a custom-made design for this lawnmower.
Conclusion
Whether you're a lawn lover or someone who wants to keep your yard tidy, the need to have the perfect lawn mower is exceptionally vital. So if you're looking for a luxurious, classy lawnmower to gift your friend or buy for your property, this list of the top 10 most expensive lawn mowers in the world will help you find a perfect fit to meet your needs.