10 Most Expensive Necklaces In The World.
Since ancient times, pieces of jewelry, especially diamond-designed ones, have always been an object of luxury. No wonder a high price tag always comes along with them. This is also because diamond is one of the expensive materials nature has gifted humans. It is pretty surprising that even till now, diamond pieces of jewelry still exist as items of luxury and class.
Below is the list of the top 10 most expensive diamond necklaces in the world. We warn you to tighten your seatbelts, as some shocking facts and price tags of these diamond necklaces will blow you away. It will excite you also to find out the different features they possess and the reason for the high price tag that comes along with them. Jewelry and necklace lovers, this article is for you!
James Currens birthed this beautiful diamond necklace. James Curren is a renowned jewelry designer, and he is known throughout the world for his extraordinary unique designs of the different diamond necklaces he has worked on.
Out of all his works, this diamond necklace is one expensive one that looked like it brought him into the limelight. In November 2012, the Christie's Hong Kong auction sold this enormous piece of diamond necklace for a whooping price of 5.1million dollars.
This beautifully adorned diamond necklace has twenty-six oval-shaped Burmese rubies. These rubies weigh over 1.27 to 5.38carats, with each ruby possessing a pear-shaped cluster and diamonds in the shape of a white marquise.
This diamond necklace comprises white diamonds, which are primarily pears.
The necklace is a cascade diamond jewelry with a weight of about 187.5carats of topnotch white diamond quality. The necklace has its precious stone feature moving from the band of diamond present on the necklace to the middle of the diamond jewelry.
One can add to the weight of the jewelry or stress the tapered look of the jewelry by placing three diamonds below the product. Imagine the beauty of a diamond necklace that has two hundred and seven diamonds present in it. Jessica Alba used this diamond earring to the golden globes award in 2003.
The awesomeness of this jewelry made it very noticeable and brought it into the limelight as well. All diamonds come in D, E, and F colors, plus some other additional platinum settings. This helps to guarantee its top-notch quality.
READ MORE:  Most Expensive Earrings in the World.
As of 2013, this ruby necklace was labeled as the most expensive diamond necklace in the world, designed with ruby adornments.
This is clear in the price that it was sold for at Christie's Hong Kong auction. During this auction on November 2024, it was sold for 6.4million dollars. This is a stunning piece of diamond necklace that comes in a lace collar form.
It features a white and oval Burmese ruby and a pear-shaped diamond. The Etcetera's Burmese Ruby Necklace is an 87.78carat of diamond and rubies. It is an exciting feature that each of these rubies has connections with a diamond wave. The hanging also creates a dripping effect if the pearshsoes diamond hangs from the sides of the stream. All these make the coordination of the diamonds and pearls superb.
At Christie's auction in November 2013, Christei's diamond necklace was sold for 8.14million dollars. It is not so hard to recognize that this diamond necklace goes for this price because of the total amount of diamonds found in it.
This diamond necklace has an item weight of 104.84carats plus fifty-two rounds of diamond gems. Not only that these diamonds are just present, but these diamonds are also of excellent quality and clarity.
It emphasizes that these diamonds were tested to be 100% original for all the fifty-two rounds of diamonds.
Also, they have shining properties that create deep sparks and flames, making this diamond necklace stand out from its other Diamond earring counterparts.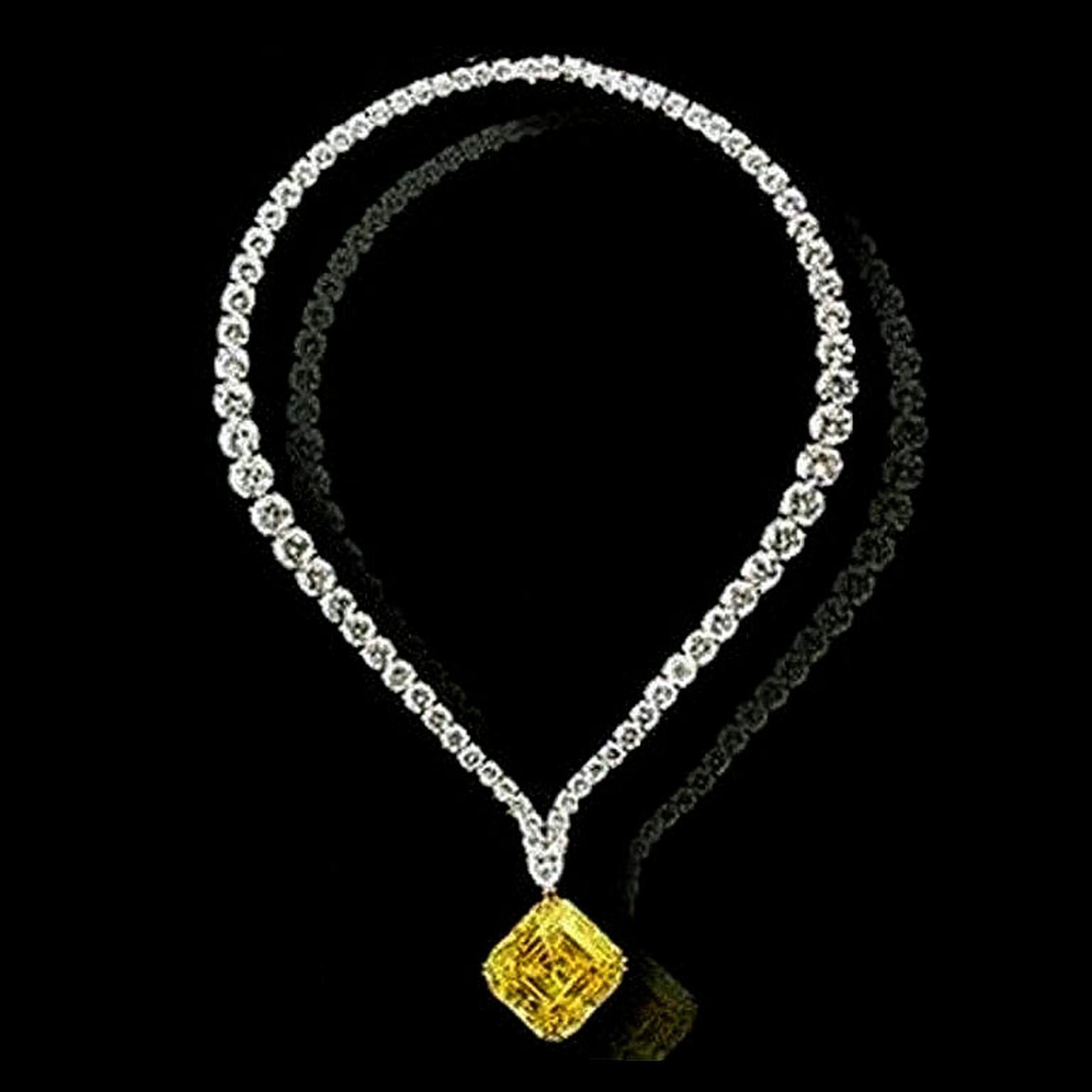 This beautiful piece of art has a 77.12 carat worth of bright yellow and white diamonds. It is not daily news again that the common reason for the high price of all our items on this list of the most expensive diamond necklace in the world is the carats and the total number of diamonds found in this jewelry.
Kev Leviev sold this gold diamond for 10million dollars. As history recorded it, Levi Leviev Is a renowned Israeli diamond trader.
He sold this jewelry for this amount because of the many diamonds and its worth of carat. The necklace is structurally arranged so that the white diamond,  with bright yellow diamond supplemented by a string on it.
It was recorded that lev levies found this diamond inside one of his mining locations. This beautiful diamond gel is even recorded as one of the biggest Ascher cut diamonds in the world. This is a genuine reason for its price.
This briolette diamond is the perfect option for the fifth item on this list of the most expensive diamond necklaces in the world. This briolette diamond comprises 75.36 carats worth of diamonds.
For those familiar with the jewelry world, it is popularly referred to as China Star. At Christie's audition in Hong Kong, this diamond necklace was sanctioned for the price of 11.1million dollars.
This was in 2013. William Goldberg, who was the chief artisan sort over six months trying to cut 160.5 carats of rough diamond into the most beautiful sample of brioche diamond. This has been one of the best diamonds that the world has been seen.
READ MORE: Most Expensive Drum Sets in the World.
This beautiful set of diamond necklaces was founded by a famous jewelry maker known as Garrard and Company. This stunning piece of diamond goodness is arranged in pear shapes bands and a white diamond of about 155 carats.
It is a 40.63carat of beautifully set diamonds. The stones used to surround this item on our list of the most expensive diamond necklace in the world are one of the biggest Burmese rubies which can be found in the world.
There is one notable feature that makes this necklace one of a kind diamond necklace. This is the color appeal of the necklace. It comprises pigeon red tones in deep blood, which is very rare to come across in a typical situation. Also, this expensive diamond necklace can be used as a headdress because it is very flexible. Its flexible functionality is truly highly commendable.
This diamond necklace has one hundred and fifty diamonds on it. It has been proven by a renowned laboratory in swiss that the super shinning ruined found on the body of this jewelry are very authentic and very hard to fund as well. The rareness, quality, and quantity of the diamond found in the jewelry make the price truly worth it.
One major incident that brought this necklace into the limelight is the use of the magnificent diamond and blue sapphire necklace to the Academy awards by Gloria Stuart. This was in 1998. It made her stunning, and she stood out as well.
This Diamond necklace was crafted and designed by Harry Winston.
This was the same person who created the beautiful jewelry copy worn by Kate Winslet in a top-rated 1997 movie titled Titanic. Winston is a good jewelry designer who has come up with different masterpieces of this beautiful jewelry adornment.
The original diamond necklace made by Winston had a beautifully crafted blue diamond of 15 carats on it. No wonder his adornments come with a lot of prices. It was later discovered that this original diamond necklace had a replica, which was first for ten thousand dollars. This was worn in the movie.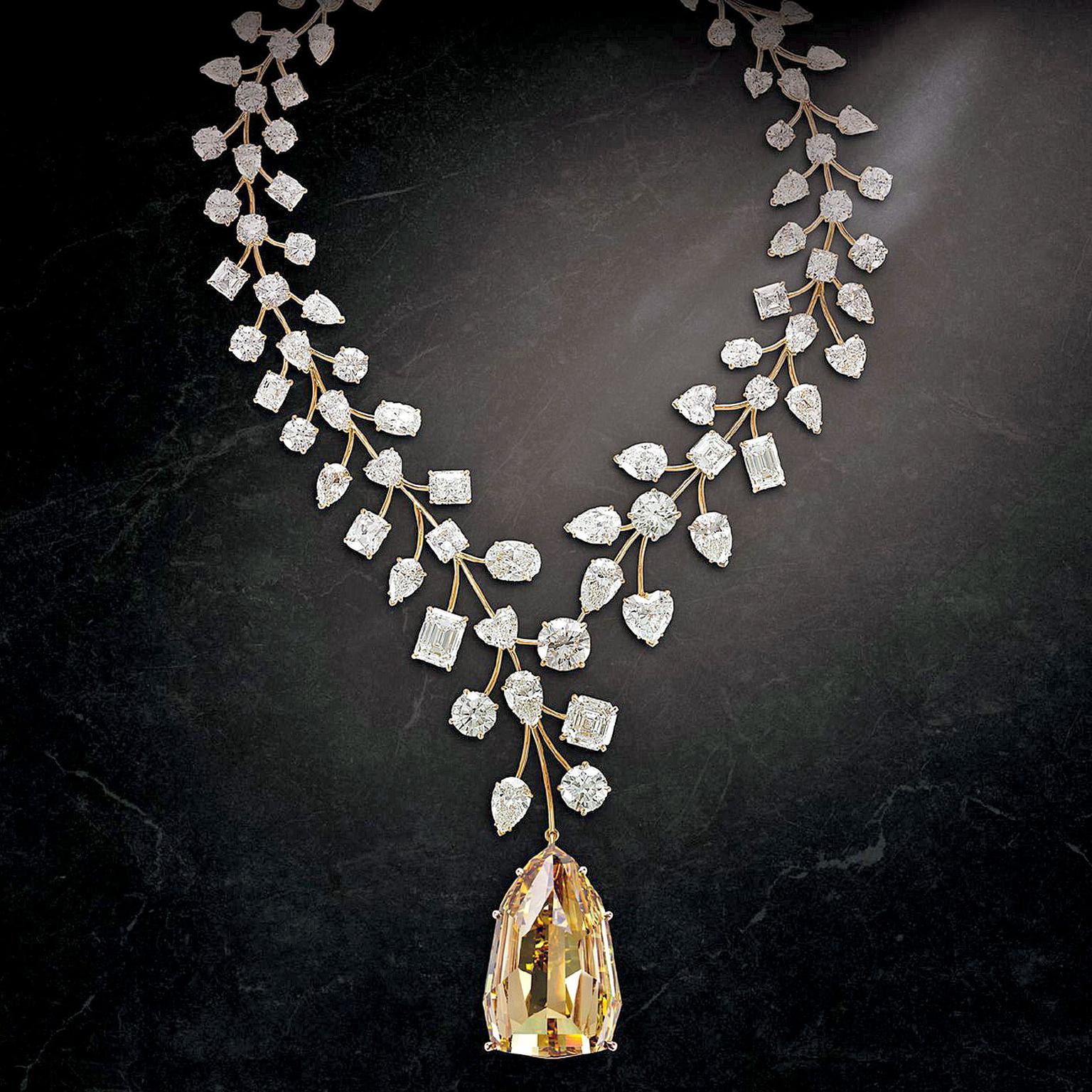 Mouawad designed this beautifully crafted diamond necklace in 2013. The necklace is a 637-carat diamond, and this explains how the 55million dollars price tag came along.
Asides from its carat worth, it also has a pendant gemstone, which is a brown-yellow diamond that weighs 407.48carats. As of 2013, this masterpiece was recognized by the Guinness world record as the most expensive diamond necklace in the world.
This can indeed be referred to as a massive rock, and asides from this, the chain also has 35 round diamonds, two radiant my thinning diamonds, 27 pear-shaped diamonds, three Asscher cut types of diamond, nine heart-shaped forms of diamonds, five different cushion diamonds, and a five emerald-cut form of diamonds! It can be appropriately described as an object with central stones suspended from the stem. It is stunning jewelry to behold.
READ MORE: Most Expensive Supreme items.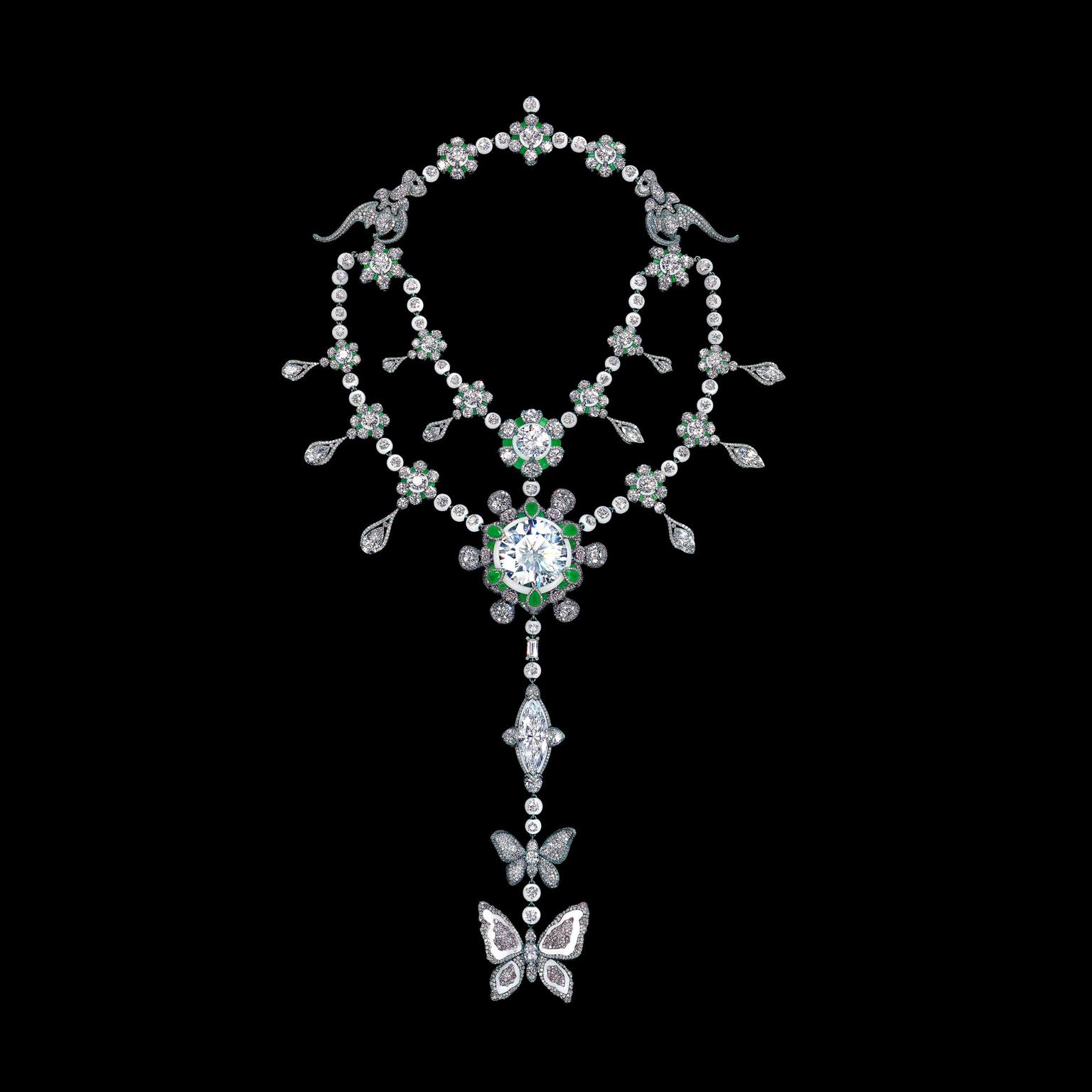 We wouldn't be surprised if you have your mouth opened in surprise at this point. Wallace Cham unveiled this diamond necklace, and the works stood still for a moment.
This masterpiece was designed by Cheng Shiqing, who is a master craftworker in China. The diamond necklace contains 383 carats worth of diamonds, and the bright diamonds used to create this masterpiece were worth thirty-five million dollars.
This necklace also comes with a seventy-two fat jade of a white goat and one hundred and fourteen ice green emeralds. It is known that Chem Shiying and his craft workers used forty-seven hours to design this world-class masterpiece.
Conclusion
We are sure that you have been blown away by the different features the 10 most expensive diamond jewelry in the world possess. It is no doubt that they are genuinely luxurious items that deserve their space on this list.