Top 10 Most Expensive Pearls in the World.
Few things in this world have been highly sought after for centuries. One of those items is pearls. Pearls have been around since ancient Greece and Rome, used as a form of currency. Many women who could not afford to purchase expensive jewelry would instead wear necklaces made from these gems.
These days, it's hard to find any woman who does not enjoy wearing pearls and other types of jewels regularly (though we're sure there are some out there!). With the introduction of our list today, you will see just how much people love these precious stones!
10. Natural Three Strands Pearls Necklace – $1.4 million.
This three-strand natural pearl necklace, priced at $1.4 million, ranks tenth in our list of the top ten most expensive pearls in the world. Christie's, a renowned jewelry seller, a precious necklace of timeless elegance was put up for auction at New York Magnificent Jewels.
This strand pearl necklace fetched $1.4 million at an auction described as "a popular showcase for the unique and the beautiful." The strand is made up of 180 pearls of variable sizes that are all-natural. Every pearl is evenly aligned and, of course, graduated. The emerald cabochon specifics and the sparkling diamond clasp make this piece truly unique. This jewelry is well worth the money.
9. The Barbara Hutton/Marie Antoinette Pearl Necklace – $1.6 million.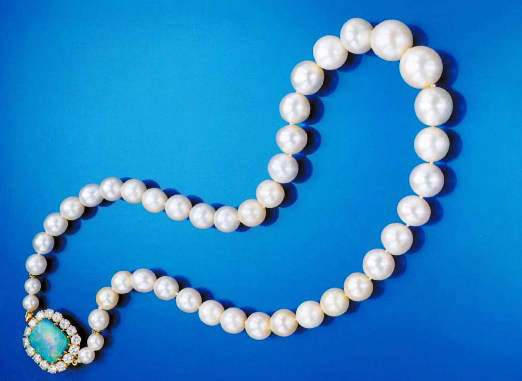 The Barbara Hutton/Marie Antoinette Pearl Necklace sits at number nine on our list of the most expensive pearls in the world. This necklace is a scarce piece of jewel history as it was initially part of the French Crown Jewels and was worn by Marie Antoinette during her reign.
The original owner, Barbara Hutton, bought this beauty and wore it on the wedding day to her first husband. The jewel comes with forty-four pearls of varying sizes and has a measurement of 8.7mm to 16.33mm, but it's the pearls that make this piece so rare and expensive!
READ MORE: Top 10 Most Expensive Speakers in the World.
8. Natural Five Strand Pearls – $1.7 million.
Christie's also auctioned off this five-strand natural pearl necklace in 2012. The innermost strand contains sixty-three separate natural pearls. The following strand comprises sixty-eight graduated natural pearls, accompanied by a strand made up of seventy-two pearls. The fourth and last strands each have seventy-three graduated natural pearls. The pearls range in size from 4.10 to 11.35 millimeters.
The blue and gold silk cord that connects this necklace to the pearls is what makes them simply breathtaking. The jewelry was auctioned off for almost $1.7 million at Christie's New York Magnificent Jewels in 2012, making it one of the most expensive pearls in the world.
7. The Pearl of Lao Tzu – $3.5 million.
The number seven in our list of the most expensive pearls in the world is undoubtedly going to catch your eye! This gorgeous piece, which is also the most significant natural pearl in the world. It comes in the shape of an Islamic prophet's turban that comes at a jaw-dropping estimate of just under $3.5 million! The piece of natural wonder measures 9.45 inches in length and 24 centimeters in width, which adds another element of beauty to the overall design.
With a unique name like 'The Pearl of Lao Tzu', you know this jewel has got something special about it, and it certainly doesn't disappoint when you learn its history!
6. Duchess of Windsor Single Strand Necklace – $4.8 million.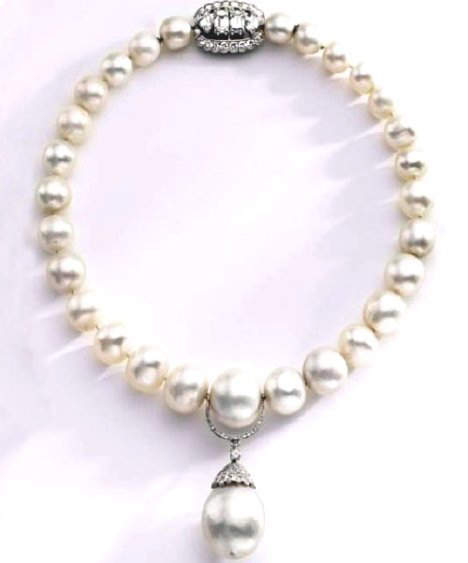 Wallis Simpson, Duchess of Windsor, was a connoisseur of luxury items. She acquired an extraordinary collection of remarkable jewels throughout her life, including this breathtaking single-strand pearl necklace, one of the most expensive pearls in the world.
The jewelry was given to Simpson by her partner, the Duke of Windsor, who reputedly relinquished the throne to marry Simpson. The Duke of Windsor obtained it from his mom, Queen Mary, and it is said to have been the same piece of jewelry that King George V bought from his aunt, Dowager Empress Maria Feodorovna of Russia, in 1929.
The exceptional quality of these jewels is a solid statement of the necklace's royal heritage. Cartier crafted the necklace, which comprises twenty-eight large pearls, along with a lovely luster and symmetrically round structure. The clasp also is set with four diamonds.
Calvin Klein, a fashion designer, once acquired the necklace and gave it to his partner. The jewelry was auctioned off for more than $4.8 million at a Sotheby's auction in 2007.
READ MORE: 10 Most Expensive Drones in the World
5. The Big Pink Pearl – $4.7 million.
What can be more flawless or more extraordinary than a natural abalone pearl? Diver Wesley Rankin unearthed the Big Pink Pearl in 1990. The abalone jewel, weighing 470 carats, has attracted attention due to its enormous size that contributed to making its value that high, putting it on our list of the most expensive pearls in the world. It's a shimmering pink color.
Remarkably, its beautiful nacre, or mother of pearl, is multi-colored, with hints of orange, silver, blue, pink, green, and lavender. The 'big pink pearl' was valued at approximately $4.7 million in 1991. Rankin is currently owned by the world's largest abalone pearl broker, who also runs "Pacific Coast Pearls" in Petaluma, California.
4. Cowdray Pearls – $5.3 million.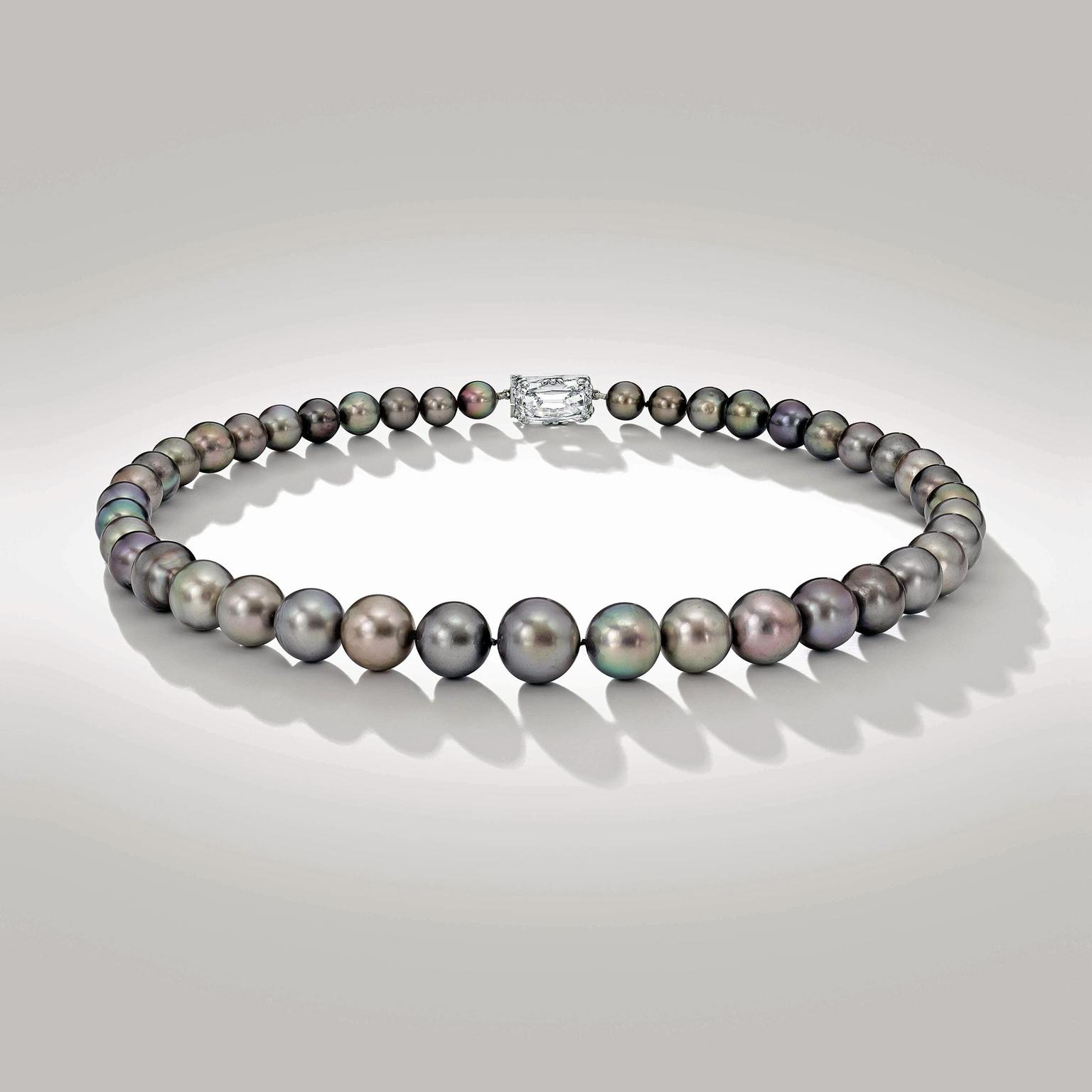 The Cowdray Pearl Necklace is well-known as one of the most expensive pearls globally, but it is equally steeped in history and scarcity. Greyish pearls are scarce, with only one in 100,000 being found. This necklace, made up of 38 graduated natural dark grey pearls, is good enough to justify its expensive amount of nearly $5.3 million.
The late Lady Pearson, who subsequently became Viscountess Cowdray, was the true owner of this greyish pearl necklace. The said 43.2-centimeter necklace is composed of pearls varying in size from 11.4mm to 6.8 mm.
The clasp on this piece of jewelry is a stunning rectangular mixed-cut diamond that undeniably added a great deal of pizzazz and sparkle to the pearl necklace. Christie's sold this beauty in 2012 for $5.3 million at auction, demonstrating that its price has gone up comparatively in three years.
3. The Baroda Pearl Necklace – $7.1 million.
The Baroda Pearls have been initially a magnificent Seven-Strand Pearl Necklace made up of spectacularly aligned natural pearls varying in size from 10.0-16.0mm. The majestic necklace was acquired by the Indian Maharajas of Baroda and developed a reputation over the generations as one of the most expensive pearls in the world due to its relative scarcity and fabulous elegance.
The Seven-Strand Baroda Pearl Necklace was dismantled and distributed to various connoisseurs over the centuries. Nevertheless, the most prominent and flawless pearls were re-made and paired into a large Double-Strand Pearl Necklace of 68 round to gently drop-shaped pearls measuring 9.47-16.04mm, completed with an unbelievable Cartier-crafted cushion cut diamond clasp.
It was auctioned at $7.1 million, with complementary Cartier natural pearl earrings encircled by dazzling diamonds, pearl and diamond headpiece, and ring set at Christie's Auction House in 2007.
2. La Peregrina Pearl – $11.8 million.
The La Peregrina Pearl is among the most expensive pearls globally, having a heritage of more than half a millennium. The pearl was discovered in the Gulf of Panama off the coast of Santa Margarita, a Spanish outpost, in the 16th century. Before their wedding, Phillip II of Spain gave the jewel to Mary I of England.
When the Queen died in 1558, it was brought back to the Crown of Spain, where it stayed for another 250 years, being worn by various Spanish members of the royal family on formal occasions and for official photographs.
Napoleon's older brother, Joseph Bonaparte, was crowned King of Spain in 1808. He reigned for five years till the French troops were defeated at the Battle of Vitoria, and he was ousted from power. Bonaparte stole several of the royal treasures as he escaped, including the La Peregrina Pearl. The necklace then was passed to Napoleon III, who sold it to James Hamilton, Duke of Abercorn, after his banishment to England in the 1870s.
The Hamilton family sold the gem at a Sotheby's auction in London in 1969. The new owner was movie star Richard Burton, who paid $37,000 for the necklace. Burton gave the pearl to his partner Elizabeth Taylor for Valentine's Day to add to her wonderful jewelry collection. Taylor later had Cartier re-set the Peregrina Pearl in a piece of jewelry studded with rubies, diamonds, and much more pearls.
Christie's held a posthumous auction of Elizabeth Taylor's assets in 2011, and the Peregrina Pearl necklace sold for more than $11 million.
READ MORE: Most Expensive Shampoos in the World
1. The beauty of Ocean Pearl – $139 million.
Lastly, the "Beauty of the Ocean" Pearl is the world's most extensive and most expensive pearls in the world. But what is the backstory to the iconic and enticing pearl? It is the year it was unearthed and presented to everyone. This jewel took three years to grind into this unusual design. The green pearl, which is made of fluorite, can light up in the dark.
It is also the world's largest pearl, weighing six tonnes and standing five feet tall. The world was fortunate to discover such a treasure in Mongolia, China. Such a wealthy location, brimming with priceless gems and pearls! The price of such a glamorous gem is $139 million.