What is the most expensive Pokémon card?
If you're familiar with Trading games, you'll know that some collectible Pokémon card games are so rare that their value has spiked over the years. Collectors have even become so passionate that they would pay anything to have these cards. Most of these card games are so expensive and cost almost as much as your car, if not more. Here are the top 10 most expensive Pokémon cards ever.
10. Ex Deoxys gold star Holo Rayquaza – $45,000
Ex Deoxys Gold Star Holo Rayquaza is the tenth on this list of top most expensive pokemon cards in existence. It is the first legendary Pokémon card of its kind that was released in 2005 and is the trickiest one to find.
This card was sold in December 2020 for $45,000. Rayquaza is quite a popular Pokémon card and is mostly sold for about $10,000. However, the PSA 10 is the most desired of the seven Ex Deoxys Rayquaza due to its gold star feature.
9. Ex-Dragon frontiers Gold star holo Charizard $60,066
Unlike other Pokémon cards, this is the most recently printed card. Ex-Dragon frontiers God Star Holo Charizard was printed as recently as 2006. Despite this, it received a welcoming auction that sold for a whopping $60,000 in October 2020.
This card, according to PSA, was printed in about 1500 graded copies, but only 59 have been awarded GEM GT 10 ratings.
Read More: The Most Expensive Sapphires in the World
8. Tropical Mega Battle tropical wind promo card – $65,100
The 1999 Tropical Mega Battle Tropical Wind Promo card is the eighth-most expensive Pokémon game ever. One interesting perk of this Pokémon card is that it allows players access to special treatment at Pokémon events.
In October 2019, an authentic copy of this Pokémon card sold for $60,000 on eBay. Shortly after, it was sold by pwcc auction  for  $65,100. This card is appealing because it features a relaxed site of lounging on the beach.
The mega tropical battle was a tournament that was held in 1999, with over 50 people participating in the tournament.
7. 1998 Japanese promo card Tamamushi University Magikarp trophy – $66,100
The 1998 University Magikarp Pokémon card is seventh on our list of most expensive Pokémon cards. It was sold in October 2020 for $50,000. This card doesn't come up for sale quite often, but it is sold for a fairly high price when it does.
This Pokémon card was given out to Japanese University students in 1998. To get these trophy cards, they had to pass a test on Pokémon knowledge through a quiz. Out of all who participated, only a thousand students received these cards.
In February of 2021, this card was sold on eBay for a staggering $66,000, which is slightly (about $16,000) higher than its former selling price. Of the many cards given out, only a few survived till this day.
6. Pokémon Super-Secret Battle "No.1 Trainer Promo Holographic card – $90,000 
Pokémon super-secret battle 'No. 1 Trainer promo holographic card is not only one of the most expensive, but it is also considered one of the rarest Pokémon cards in existence. This game card was sold quite recently for about $90,000 at the Heritage auction in July 2020.
What makes this sale a little shocking is that it sold for less than the expected price, considering that this card is incredibly rare. Hopefully, soon, the value of this Pokémon card will spike high.
5. Neo Genesis 1st edition Holographic Lugia PSA 10 -$129,000
The 2000 Neo Genesis 1st edition holo-Lugia is another incredibly expensive Pokémon card which is also believed to be the most valuable card of gold and silver. It is a legendary monster and star of Pokemon 2000 Lugia that is very much rare.
Collectors who now have access to these cards won't let them off their sight. Hopefully, the value for this card would go skyrocketing. Neo Genesis Lugia is known for its shiny print that has no prime lines. Interestingly, there are only forty-one of these cards in the world.
It was first sold for over $50,000, and shortly after this, it was sold off by Neo Genesis pwcc auction for a whopping $129,000, a price that broke the record for this Pokémon card.
Read More: The 15 Most Expensive Graphics Cards
4. 1998 Family Event Trophy Holo Kangaskhan – $150,000
This 1998 Nintendo Pokémon Japanese promo card Gem MT 10 is one of the most expensive Pokémon cards ever. It holds a record of one of the rarest and most valuable Pokémon cards in existence.
This card was auctioned at pwcc auction in October 2020 for a whopping price of $150,000. This card is known as the parent-child Pokémon game card, awarded to parent/child winners of a mega battle tournament. In this game, both parent and child competed against each other to win.
What makes this card unique is that it features the original pocket monsters trading card game logo. This logo is a set symbol that is common with the rarest of Pokémon cards. There are only about 11 of these cards in existence.
Interestingly, the price for this card has only been appreciated over the years, making it important to Pokémon card collectors.
3. Backless Blastoise Commissioned presentation galaxy star hologram -$360,000
This is a test print Blastoise with a CGC 8.5 grade sold for $360,000 at heritage auction in January 2021. This Pokémon card ties with the Charizard 1st edition as one of the most expensive Pokémon cards ever.
It is one of a kind backless Blastoise commissioned presentation test print Pokémon card that is exceptionally rare. There are three Pokémon cards of this same print, but it is the only backless card.
It takes third place on this list for a couple of reasons. Apart from the fact that it predates the Charizard 1st edition and is significantly rarer compared to Charizard 1st edition, it has never held the record of the most expensive Pokémon card in history.
However, it is beginning to receive a booming market.
2. 1999 Pokémon Card Charizard Holo 1st Edition Shadowless – $360,000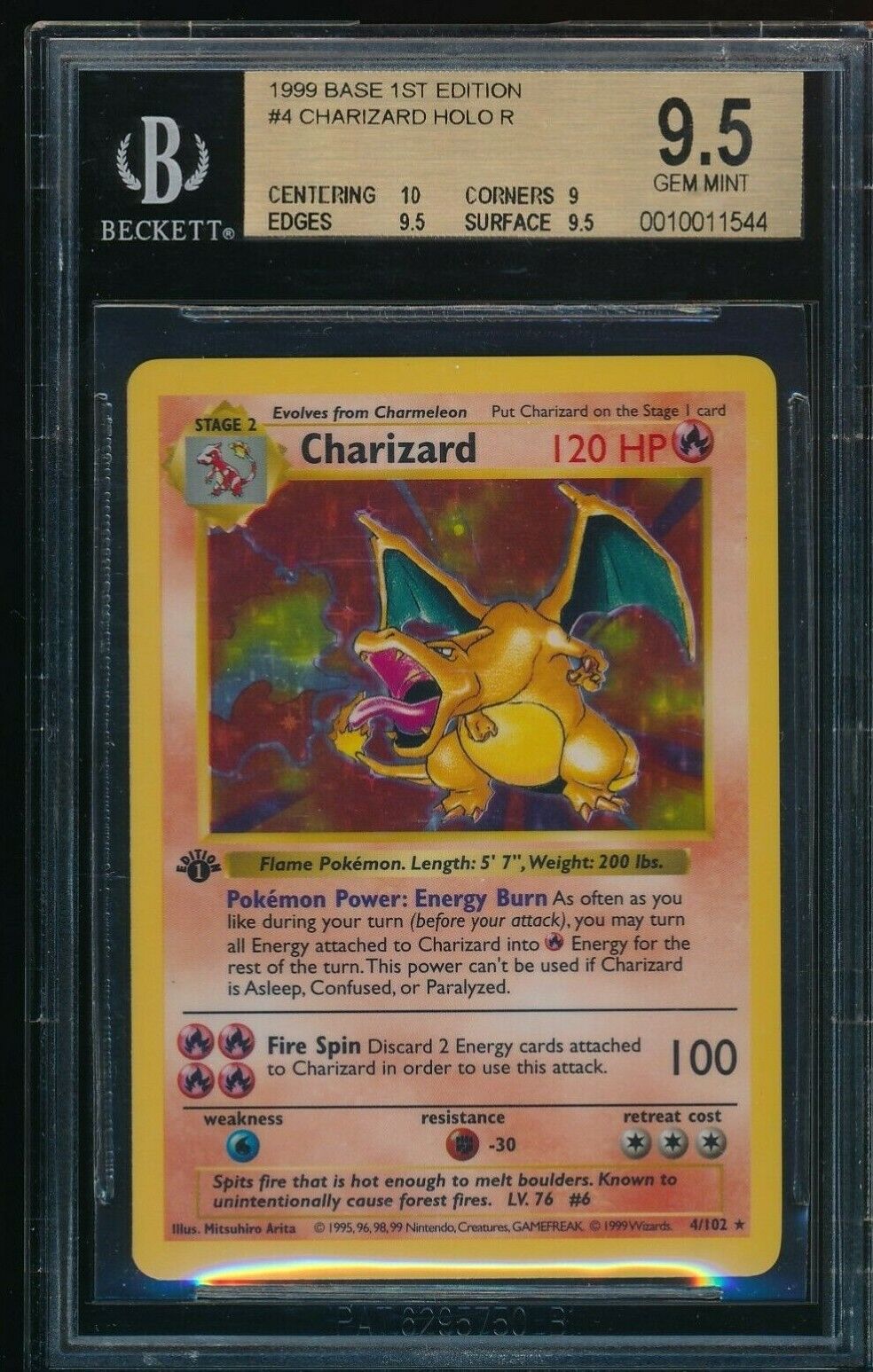 The 1999 Charizard 1st edition is one of the most popular and desired Pokémon cards among Pokémon users and collectors. In fact, it is such an iconic card that is important to die-hard fans and the Pokémon franchise. It appeared on the cover art of the Pokémon video game released for Nintendo.
They are also incredibly expensive and highly valuable. This trainer card was a one-time most expensive Pokémon card in history. Collectors have spent huge amounts to purchase this card. The likes of Logan Paul, who wore this Pokémon card to the Mayweather knockout fight.
According to him, it costs $150,000 to $190,000 on the card. Charizard 1st edition Shadowless featured a dragon-esque creature and was first seen in 1999. It is unique and has been sold for over 20 years at an incredibly high price.
Currently, a card of this type was sold at Goldin auctions for about $360,000. The estimated value of this card ranges from $300,000 to $500,000. Interestingly, there are still thousands of copies of these cards.
Read More: The 10 Most Expensive Starbucks Drink Ever
1. 1988 Japanese promo card – Illustrator Pikachu MINT 9 -$900,000.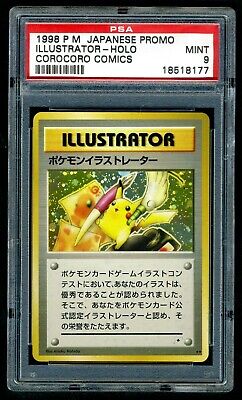 Illustrator Pikachu is the rarest and most expensive Pokémon card ever. In 2019, this card was auctioned in New York and had a total sale of $224,000. This card is a promo card given to winners of the "CoroCoro" comic contest held in Japan between 1997 and 1998. 39 of these cards were awarded, but only ten of these cards are believed to still exist, making them incredibly valuable.
The value of this card was so high that someone paid more than four times the price of its previous purchase. In 2016, Pikachu illustrator was sold for $74,000. This Pokémon card has amazing art that makes it stand out. Before this, it sold for $23,000 in the early 2000s.
What's more, it is the only card with Illustrator boldly written at the top of the trainer card. It is known for its yellow rodent Pikachu that fans love. Collectors over the years have shown their interest in this rare and valuable card.
In 2020, the card was auctioned for a whopping $420,000. It was purchased by American DJ Steve Aoki. However, in December of the same year, a collector traded $900,000 worth of value in Pokémon TCG for this card.
Illustrator Pikachu still holds the record of the most expensive Pokémon card. It is even widely considered the "holy grail" of Pokémon cards.
Conclusion 
The above listed are some of the most expensive Pokémon cards in existence, and they are quite valuable. If you're thinking of getting one of these cards, be sure you'll be willing to pay a little above what Steve Aoki and others paid for these cards.
While some of these cards are rare, a few are quite easy to find, and collectors pay lots of money for these valuable Pokémon cards.