The Most Expensive Sapphires in the World
Sapphires symbolize faithfulness, nobility, sincerity, and wisdom. They are gemstones that have been in existence since the Middle Ages and are still famous for their rare and priced nature. Sapphires are one of the most expensive jewelry globally, and people pay a fortune to own them. This article will show you ten of the most expensive sapphires in the world.
About Sapphires
Sapphires are corundum often used by jewelers to make rings. They are one of the four precious stones used as far back as the ancient Greek and Roman era, where royalty believed that they protected them from harm.
In the middle ages, the meaning slightly changed to reflect heaven as the clergy wore it to pass a message that heaven was the most important thing to look forward to. These gemstones are rare and characterized by transparency, absence of treatment, and exceptional color.
The finest of them are from Sri Lanka, northern India, Kashmir, and Myanmar. The location of the stone can add or reduce millions of dollars to its selling price. So far, Kashmir has acquired a legendary status in the game due to the story behind it.
The first Kashmir mine was discovered in the 1870s, after which the maharaja purchased it to uncover the treasures. Although it was active for only five years, the glory of the mine remains forever.
Sadly, most of these mines do not exist anymore, and the ones around have only a few years to run. This creates scarcity in the market and increases the demand for sapphires.
10. Rare Kashmir discovered in Australia -$381,325
An Australian family recently hit the jackpot after they discovered two sapphire rings. The bigger one, a 9.23-carat beauty, sold for over $1.2 million at the Bonham's New York Jewels sale in 2020. This was more than double the estimate.
The second one weighed 6.95 estimates and sold for $381 325 against an estimated price of $250,000. These precious stones were accompanied by two gemological certificates confirming that they were from Kashmir.
The family has had them for over 100 years but didn't know what to do with them. They were purchased in the late 19th century by two brothers to engage their lovers. Since then, it has been passed from one generation to another.
Read More: Most Expensive Mushrooms In The World
9. Black Opal – $ 3 million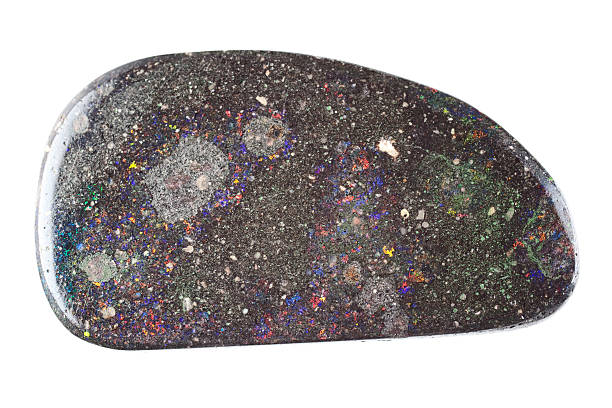 The black opal is dark and mysterious. It is different from its fiery, lighter, and whiter sibling. As expected, it is more expensive as a carat costs $9,500. This gemstone is found in only one region of the world. In this case, it was found in the Lightning Ridge area of New South Wales in Australia.
The Royal One holds the largest and most valuable black opal rank globally, weighing 306 carats and valued at over $3million. A miner first came across it while going about his daily business, but instead of making noise about it, he quietly took it to his house.
He kept it safe for fourteen years before mentioning it to anyone. By then, the price had appreciated to what it is today.
8. The Rockefeller Sapphire – $3,031,000
The Rockefeller is a rectangular-cut sapphire from Myanmar. Not only is it recognized for its size, shape, clarity, and color, it is also boasting of a fabulous provenance. John D. Rockefeller Jr purchased it from Nizam in 1934, after which he contracted a jewelry Maison to recut the stone to a unique shape.
After this was done, he asked that it be given to his first wife, Abby. After Abby died, it was passed over to his second wife. Following her death in 1971, it was up for auction and sold for $170,000.
Since then, it has resold a couple of times until its final appearance at Christie's in April 2001, where it sold for a whopping $3,031,000.
7. Elizabeth Taylor's Sapphire – $5,906,500
When Elizabeth Taylor celebrated her 40th birthday in 1972, she received a priceless gift from Richard Burton. The young man gifted her a sapphire weighing approximately 52.72 carats. The precious stone was sold in a popular auction that was held in New York in 2011.
It earned a world record for trading at $5,906,500 per carat for a Burmese stone. This jewelry didn't get the most desired attention at the auction, thanks to an Emerald sold in the same event. Recently, Taylor's jewels were loaned to Jessica Chastain, a Hollywood actress.
She wore it to the screening of the movie Cleopatra in Cannes. Unlike many other sapphires, this one is fashioned as a cabochon, thereby making it even more unique.
6. The Jewel of Kashmir – $6 million
This emerald-cut cornflower blue sapphire weighs 27.68 carats. It is built with pear-shaped diamonds weighing only 5.7 carats. To purchase them, you can make inquiries at Sotheby's Hong Kong, where it sells for over $6 million.
An accompanying Gubelin Appendix stated that this precious stone possesses a saturated and rich color combined with a high level of transparency and precision. These characteristics are rare for a natural Kashmir of this size. Indeed, it is a treasure to behold.
Read More: Most Expensive Gaming PCs in the world
5. 1927 Cartier Diamond and Sapphire Bracelet -$ 6,135,451 million
This bracelet is built with a Burmese cabochon sapphire of about 46.07 carats. It is flanked by two pear-shaped diamonds weighing 9.27 and 8.8 carats, respectively. Sotheby had initially estimated it to generate only $2million, but it exceeded expectations by fat after it fetched $6,135,451 in 2019.
This stone came from an Asian-American collection, and it raised the highest funds at an auction for an Art Deco event. After six bidders competed to win its heart, one Asian collector won it. Although gemstones were faceted, this one was cut into a cabochon shape. This cut is a design choice considering how scarce gems of this size and quality are.
4. Burmese and the Sapphire of Diamond Brooch – $7,127,453
In May of 2011, this stunning 130.5 carats Burmese Sapphire set a new world record for blue sapphire. It broke the previous record of over $3 million to become the most expensive jewelry at the time.
Asides from its admirable velvet blue color and weight, the 13.50 displays an unmatched purity that is hard to explain. It hails from Burma and sells for $7,127,453. This sapphire is definitely worth the price.
3. Unnamed sapphire and diamond ring – $7.5 million
Unfortunately, this fine-quality Kashmir Sapphire is not named. It is even more disturbing, given that it should receive all the recognition with its name on the side. This jewel possesses a desirable Royal Blue color, and its untreated stone is one of the finest Kashmir sapphires to grace the public scene.
While it is not a record-breaker yet, it stands as one of the most expensive single Kashmir sapphires to be sold in an auction. Respected gem labs like Gubelin, SSEF, and AGL have confirmed that this stone has not been exposed to any form of heat.
This is probably why the buyer had to part with $7.5 million to own it. Gubelin further justified their earlier stance that the stone was pure when it released a statement saying that it is richly saturated and combined with a high degree of transparency.
2. The Richelieu Sapphires – $ 8.3 million
Richelieu sapphires are rare with a matching 20 plus carat, which is why they set a world record in 2013. The $8.3 million sales beat the previous price record set by the Oval Blue sapphire that was recorded as the most expensive at the time.
These stones are simply unique as they partly originated from Kashmir, thereby adding more honor to their title. Their rich color, size, and matching cut mean they are one of the best to be sold in an auction. In fact, they are considered the most expensive gemstone earring ever sold.
The Most Expensive Sapphires in the World is worth $17,305,996
1. The Blue Belle of Asia -$17,305,996
The Blue Belle of Asia is relatively new to the jewelry scene as it has been quiet for way too long. The sale, which was entrusted to Christie's, reached a whopping $17,305,996 in 2014 and became the most expensive sapphire in the world.
This precious stone reaches 392.52 carats and is named the 4th largest faceted sapphires in history. To own a carat, you should be ready to part with about $44,063. Its transparency and weight allowed it to dethrone other gemstones jostling for the position of the most expensive sapphires.
Richelieu held the first position for a long time before the Blue Belle of Asia came into the picture.
Conclusion
Prince Williams proposed to Kate Middleton, his lover, with an 18-carat blue sapphire ring. He set the precedent that has led to the growing trend where men engage their lovers with colorful gemstones.
Many renowned sapphire collections are in museums worldwide for admirers to see while others are waiting to be auctioned, and collectors can't wait to own some of the most expensive sapphires in the world. They'll break their accounts for the recognition that comes with owning these precious stones.