Top 10 Most Expensive Speakers in the World.
There's a saying that you can't put a price on happiness, but what if we all the money we need to spend on setting up our dream sound system? So we did some research on the top 10 most expensive speakers ever manufactured. The result has been mind-blowing, with some speakers boasting price tags that leave your mouth ajar.
The speakers on this list are way beyond the reach of regular customers, but there's no harm in gawking at a few shiny gigantic speakers equipped with crazy tech within them. So let's indulge in a list of the most expensive speakers on earth.
10. Backes & Muller BM 100 — $550,000.
The first on our list of most expensive speakers is the Backes & Muller BM 100. It stands at the height of 2.3 meters, leaving you to wonder if it's a speaker or a refrigerator. This mid-range long horn speaker has a front area that spans 1.75 sqm.
The first thing that strikes you about Backes & Muller BM 100 speakers is the horn speaker, which is not only spectacular in size but also design. Overall, this speaker is a masterpiece in design, boasting metal flanks with scenic design and polish.
Inside, the Backes & Muller BM 100 speaker system is equipped with 16 drivers. The entire speaker is framed with bass jets, which create a wall of sound with as high as 10 meter-long bass waves spread over the loudspeaker's height. The Backes & Muller BM 100 speaker is worth $550,000.
Next on our list of most expensive speakers is another giant, standing at  2.3m. The Magico Ultimate III is the third installment in the Magico Ultimate series, and it is a five-way horn-loaded speaker system. This pair of speakers weigh a whopping 800 pounds.
The entire body is manufactured with aluminum, with some parts made with aircraft-grade aluminum and others with cast aluminum. The speaker is powered with 10 amplifiers, and the shape of each horn is designed with detailed attention. Each horn has its throat featuring a high-sensitivity compression driver.
The horns are CNC-milled and have six ALE compression drivers besides four mid/bass and custom-made bass drivers. These drivers are split by an active driver that is DSP-controlled.
Magico Ultimate III speakers are very rare, and you won't find any pair on display at any dealer's shop. Magico builds the pair of speakers when demand comes in for it, and it costs $600,000.
READ MORE: The Most Expensive Fishing Reels in the World
8. Wisdom Audio Infinite Grande – $700,000.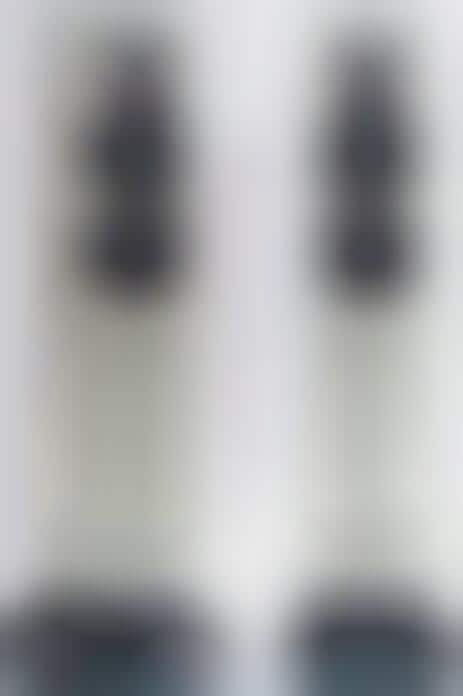 We are climbing up the price ladder with this next entrant into the list of most expensive speakers. The Wisdom Audio Infinite Wisdom Grande is a product of Wisdom Audio, and it lives up to its name in grandeur. The entire speaker system reaches a height of 13 feet and weighs 3,800 pounds, which is nearly 2 tonnes!
Wisdom Audio says that the speaker system was designed for the largest palaces and homes, grand ballrooms and halls, and multi-level rooms. Infinite Grande also boasts the performance to match its imposing appearance. You can tell an excellent speaker by the degree to which it doesn't sound like a speaker. And Infinite Grande performs excellently in this aspect.
The cabinets housing the mid/treble units are separate from the ones housing the bass units. The bass units stand at 2.43 meters and accommodate a mind-boggling 24 woofers, 30cm each. The mid/treble units are stacked in a 4m frame as six Quasi-Ribbon/Planar-Magnetic units.
Wisdom Audio proudly boasts that Infinite Grande can reach a sound level above 120 dB. And it sells for $700,000.
7. Wilson Audio WAMM Master Chronosonic – $850,000.
The next on our list of most expensive speakers is a mouthful, so please take your time. Wilson Audio Modular Monitor Master Chronosonic speakers or WAMM Master Chronosonic speakers (even the abridged version is still a mouthful!) are multi-module speakers manufactured by Wilson Audio.
The unique feature of this speaker system is that you can adjust the time alignment of each module in increments of 5 microseconds. Wilson Audio contends that if you align each speaker's driver correctly, you get a lifelike sound as a result.
Each speaker is made with aircraft-grade aluminum and stands over 2.1m tall. To reduce stored energy, the speakers have an open architecture. It takes approximately 10 weeks to make each pair of speakers, and Wilson Audio only manufactured 70 pairs. Each pair costs $850,000.
Cessaro Horn Acoustics are specialists in manufacturing horn speakers, and their top range model is the Omega I. This sounds system giant stands at 2.8m and weighs an incredible 4.5 tonnes. Cessaro Horn Acoustics says that the Omega I wasn't built for regular living rooms, and you can't help but agree.
The front-loaded horns are driven by six bass units, each with a size of 40cm. One exciting perk of the horns is that you can order them in any color you desire. The side panels and veneers also come in an extensive range. Cessaro Horn Acoustics' Omega I speakers are the first to break into the $1m mark on our list of most expensive speakers.
5. Kharma Grand Enigma – $1m.
Another loudspeaker system in the $1m category, Grand Enigma, was designed by a Dutch high-end speaker manufacturer, Kharma. When Kharma released Exquisite Extreme Grand Limited Edition 25, many mouths gaped at the £318,000 price. With the Grand Enigma, Kharma has gone a step further. This speaker system is a one-off and was designed inside a vast cellar in Belgium.
Kharma has been very discreet about the Grand Enigma, releasing little information on its website. So there's not much to work with except the picture and bits of information.
READ MORE: Top 5 Most Expensive Nike Shoes in the World
4. Moon Audio Opulence – $1.1m.
Moon Audio made its first appearance on our list of most expensive speakers with Moon Audio Opulence, and with its entrant, it was worth the wait. Only 10 pairs of speakers were manufactured, with each pair costing $1.1m. Each pair also has the signature of the designer.
It also offers another way to listen to music without using the inbuilt drivers, by using an innovative technology called Dark Star. This technology allows you to listen to sounds delivered to your brain while bypassing your ears. Opulence is the only loudspeaker that uses this technology.
Opulence is one of the lightest speakers on our list, weighing a little over a ton. They can produce sounds as high as 96dB.
3. Transmission Audio Ultimate – $2m.
Transmission Audio enters our list with Ultimate. The manufacturer's esteem for this speaker is transparent in their analogy that Ultimate is like a combination of Maserati, Ferrari, and Koenigsegg. And it is worth just as much as it costs $2m, making it the first speaker system to enter the $2m thresholds.
Ultimate is a 2.1m tall, two-channel, complete stereo system with enough components to hear its voice. It has four Dipole Subwoofers, with each Subwoofer containing 10 pieces of Ultra Class elements, 38cm each. It also has two Dipole Woofers, one for each channel, comprising 24 pieces of 20cm wideband woofers with Ultra-low distortion.
It also features four Dipole mid/high-frequency ribbon panels, two on each channel. Each panel comprises 14m of 5cn wide ribbons. In addition, there are two Dipole high-frequency super ribbon panels, one on each channel, containing 2m of 2.5cm ribbons. This is indeed very awesome
2. Hart Audio D&W Aural Pleasure – $5m.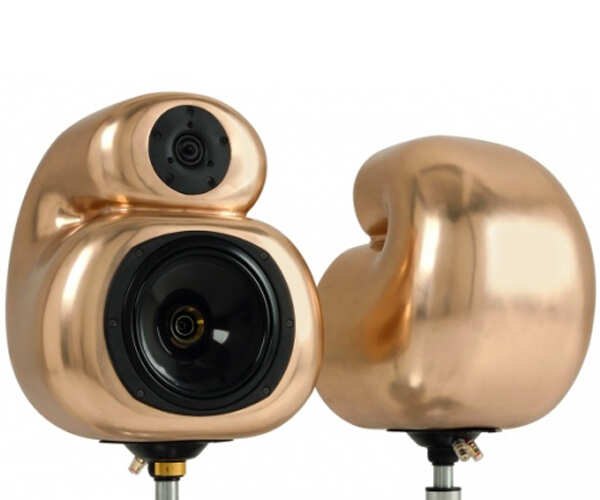 One would expect that any loudspeaker system that costs as much as a house would have so many channels and speakers, enough to fill an entire auditorium. However, our number two on the list of most expensive speakers is ironic and almost anticlimactic in that it's just a pair of speakers with a cabinet less than a meter in height.
Lawyer-turned-speaker-manufacturer David Hart says he designed this peculiar speaker with the human ear in mind. Though it looks more like a giant molar tipped on its side. This speaker comes in three variants; the pair with a bronze casing, worth $64,000 a pair, a silver variant, worth $300,000 a pair, and the pair in the gold container, worth $5,000,000.
Hart intends to manufacture 99 speakers in bronze, 14 pairs in silver, and only a pair in 18-karat Gold. So far, he's sold 14 bronze pairs and a silver.
READ MORE: 10 Most Expensive Private Jets in the World
1. Kipnis' Outer Limits Theater – $6m.
The most expensive speaker on our list is the Kipnis Outer Limits Theater. This mega combination of speakers is the invention of music producer Jeremey Kipnis.
Jeremy created this system during an experiment based on his hearing experience as a music producer. He added Snell Subwoofers to his KSS 8.8 channel audio system, and voila! The result was a marvelous effect of realism. Kipnis' Outer Limits Theater has 30 amplifiers, 10 tweeters, 16 subwoofers, and 8 tower speakers. It costs $6m
Conclusion
We're sure that your mind was just as blown away as ours. While these speakers are well beyond reach, several quality speakers are available that won't require you to break the bank. In the end, contentment is critical.