10 Most Expensive Supreme items In The World
A brand like supreme lives up to its name. It is a foremost luxury brand founded in New York City in 1994. The Supreme brand was formerly concerned with just the production of skating items, but over the years, it has branched out to make some of the world's most expensive, rare luxury items in the world.
This brand is an icon in youth culture and hip hop and has collaborated with several brands such as Louis Vuitton, Nike, Levi's, Clarks, Spalding, Rimowa, and Mo wax records. Are you curious to know some of the most expensive supreme items in the world? Here are the top ten most expensive supreme items.
10. Supreme and Stone Island 1st edition coat – $1,300.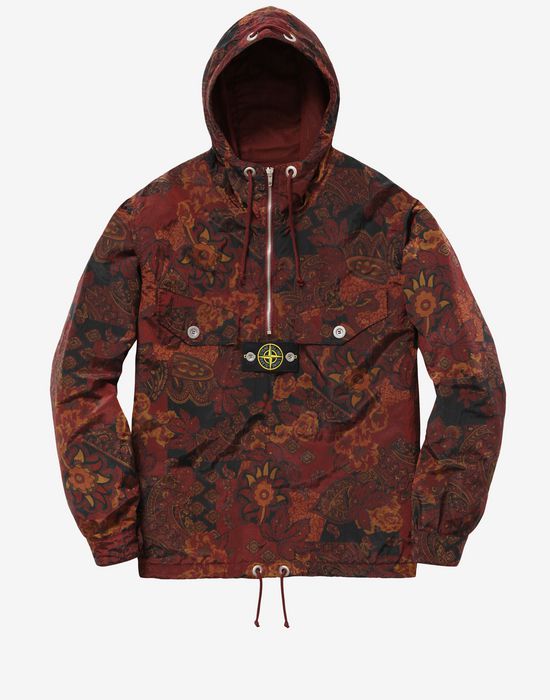 Taking the tenth spot on this list of top 10 most expensive supreme items in the world is the supreme and stone island 1st edition coat. This item was a collaboration between Supreme and Stone Island, an Italian high-end men's apparel brand.
This collaboration was very unexpected. However, it recorded massive sales years after its release. Although, due to the high price, it was stuck in the hands of retailers.
When it became rare, people saw the need to get it. The first jacket, which is yellow produced from this series, is believed to be the best seller to date. None of the other designs has been able to make this much money. Little wonder it's on the list of the top ten most expensive Supreme items.
9. Supreme Rimowa Suitcases – $6,480.
The Rimowa suitcase is one of the most expensive travel equipment brands in the world, charging up to $1,000 for a suitcase. Its collaboration with supreme makes it all the more expensive. Interestingly, about $600 more is being added to the price of a set of suitcases if the suitcase is all red and has the Supreme logo inscribed on it.
The supreme Rimowa suitcases can be compared to Louis Vuitton's because of their quality. It is also sold at the second-hand market for $5,000, so those who can't afford to buy first-hand products can still buy them. Supreme RIMOWA suitcases are synonymous with influence, street, and hype culture.
READ MORE: 10 Most Expensive Paintball Guns.
8. Supreme Skateboards by Damien Hirst- $8,500.
This is a product of a collaboration between Supreme and Damien Hirst. It was designed by Damien Hirst, a British host, and released in 2009. This breathtaking work of art comes in a pack of three or five pieces, and it has a unique design.
These supreme skateboards by Damien Hirst are designed with polka dots of different colors and glossed with a vibrant splash of colors based on the artist's spin painting series from 1992. This skate is not the best choice for professional skaters but is a must-have for collectors. It is worth $8,500.
7. Supreme and Fender Stratocaster – $15,000.
Another most expensive supreme item in the world is the supreme and Fender Stratocaster. This classic fender Stratocaster is a guitar product of a collaboration between Supreme and Fender. It dates as far back as 1954 and is considered one of the favorite designs of many foremost guitarists.
However, the white design was released by Fender in 1994 and is said to be one of Supreme's earliest babies since it was released the same year the brand was launched.
This custom guitar has Supreme's classic box logo and a matching strap. It isn't especially incredible or extraordinary in the kind of sounds and rhythms it produces, but SUPREME created it.
It is also important to note that it is very rare and has limited versions of it worldwide. Seeing the price of this guitar, you shouldn't be surprised it is on the list of the top ten most expensive Supreme items in the world.
6. Supreme and Everlast heavy punching bag – $10,254.
Whenever you hear the name Supreme, what should immediately come to your mind is extravagance. The supreme and everlast heavy punching bag is an example of the extravagant pieces supreme makes.
The Collaboration with Everlasting is a punching bag that has the name Supreme printed boldly across it in the supreme's signature print. Supreme has had a past collaboration with Everlast, but this outweighs all the others seeing how expensive it is.
If you're a fitness enthusiast, you should consider having this punching bag. It is indeed a perfect punching bag for any fitness enthusiast to have if you want to punch in style. It goes for a selling price of $10,254 at Sotheby's, making it the sixth on this list of the ten most expensive Supreme items in the world.
5. Supreme Original Donald Trump T-shirt -$23,000.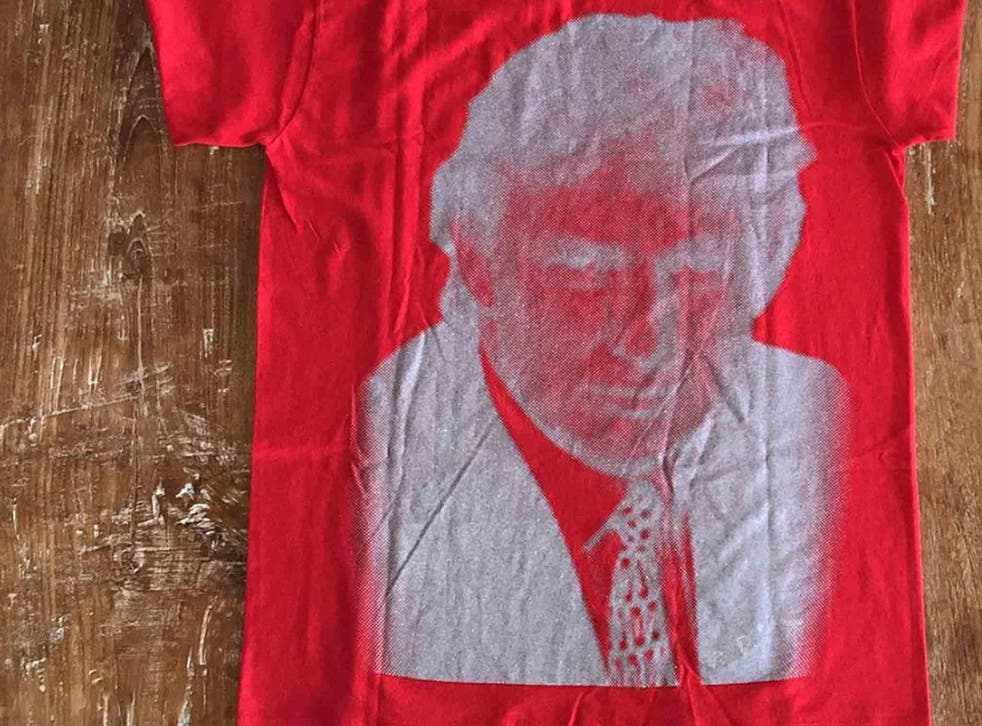 In 2003, Supreme collaborated with a Russian artist named Andrei Molodkin, and they came up with a range of box-logo T-shirts that come in various colors. These T-shirts are very rare and are hardly seen in people.
The one that is believed to be the rarest has the following features, a blue-on-red design, and it has an image of Donald Trump at the back. This T-shirt was designed when Donald Trump was still a reality Tv star and a real-estate boss.
More than a decade later, days before the result of the presidential election between Hillary Clinton and Donald Trump was announced, the shirt, as with most luxury items, had appreciated to about $2,000.
Days after, the price increased further, and it was valued at $23,000. Seeing the drastic increase in value, you will agree that Molodkin made a wise decision by putting the face of Donald Trump at the back of the T-shirt. Supreme Original Donald Trump T-shirts are rare and expensive.
READ MORE:  Top 10 Most Expensive Toys.
4. Supreme and Spalding Basketball -$25,000.
In 1996, Supreme had yet another collaboration with Spalding, which is believed to be one of the greatest illustrations of Supreme. Spalding is also a huge brand in the basketball industry. The supreme and Spalding basketball was launched in 1994, exactly two years after Supreme was founded.
Interestingly, only less than 70 of these basketballs exist worldwide, and because of this, it is in high demand. It comes in Supreme's red color combined with white stripes. It also has the slogans "World famous team" and "Each one teaches one" crested in silver on it. This is quite over the top for a basketball, but collectors, not much.
READ MORE: 10 Most expensive schools.
3. Supreme and Louis Vuitton Skate – $88,200.
This is another collaboration between Supreme and Louis Vuitton. This skate has the signature Supreme red color but has the Louis Vuitton written on it. What's more, it comes with decks and trucks in a trunk.
It also includes wheels, a tool kit, shoulder straps, and a linen bag. Only about ten pieces of this skate were produced. It is incredibly expensive because of its rarity and goes for a whopping sum of about $90,000. The French firm sold it among its selected customers. This supreme and Louis Vuitton skate is the definition of luxury.
2. Supreme Louis Vuitton teddy bear- $100,000.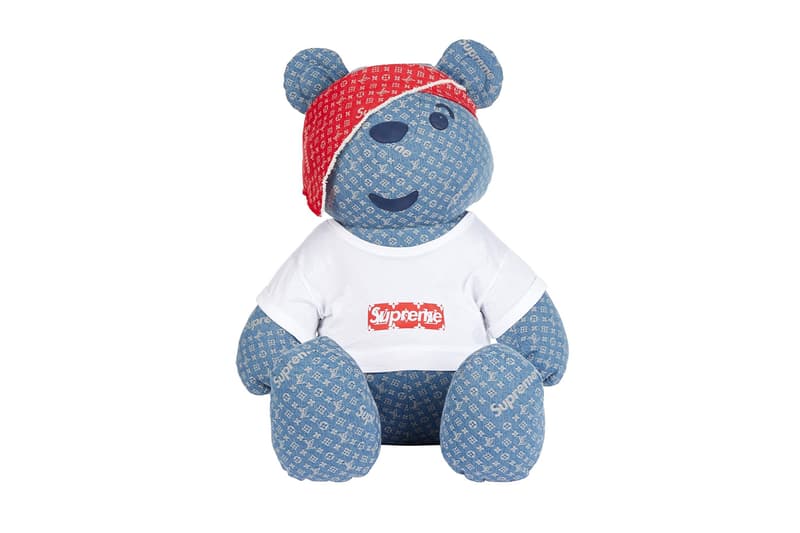 It is safe to say Supreme and Louis Vuitton are two peas in a pod. The Supreme and Louis Vuitton teddy bear is another product of a collaboration between these two power brands. This is the first and only item on this list that contains the word charity. That is to say, the proceeds from the sales go to charity.
Only one of these was produced, and it was sold on auction with the proceeds given to aid the "BBC children in need."
This teddy is covered in a white Supreme X Louis Vuitton box logo T-shirt and a red bandana over the head. The 28-inch doll was auctioned on eBay for well over $110,000. With its price and rarity, it deserves a spot on the top ten expensive supreme items.
READ MORE: 10 Most Expensive Necklaces In The World.
1. Supreme and Louis Vuitton trunk- $125,000.
The Supreme and Louis Vuitton trunk is the most expensive supreme item on this list. It is another work of art by Louis Vuitton and Supreme.
The trunks come with a print with the monogram of Louis Vuitton in white on the entire trunk with a red-colored background. It also has silver-colored metal details and white interior lines. It is believed that only three of these trunks exist in the world.
It is very rare and was retailed for $78,000 upon its release. It has since significantly appreciated it. It was sold at Christie's auction house in 2017 and was sold for a staggering $125,000. It is every collector's dream item to have.
Conclusion.
Owning one of these items could mean just building castles in the air since they are pretty pricey. But did you know you could save up for a few years and purchase one of these? However, you should also know that these prices aren't stable and the items could appreciate in the coming years. But if you're a collector, these are the top 10 most expensive supreme items in the world. They are rare and unique.