Why are Weber Grills so expensive? Are They Worth It?
If you want value for your money, quality should precede quantity when choosing grills for your home, and the Weber grill fits the description. Weber grills offer quality, one reason why they're so expensive. Weber grill was founded many years ago by the Weber- Stephen Company.
They manufacture top-notch electric grills, charcoal grills, gas grills, and charcoal smokers. People often wonder why Weber grills are so expensive. So if you're scrolling through this post, it means you're one of them. So here's why Weber grills are so expensive.
Why Weber Grills are so expensive
Apart from their excellent quality, there are several other reasons why Weber grills are more expensive compared to other grills in the market. Here are some of the reasons you need to know;
1. The materials used in making Weber Grills are top-notch.
Unlike grill brands like the Nexgrills or Charbroil grill that make thin painted metal, Weber grills are made with either porcelain-coated steel or stainless steel, cast iron, and other high-quality materials.
Interestingly, Weber grills are made of rustproof seams from welds in place of fasteners. In fact, the materials for Weber grills are of excellent quality compared to the ones used for cheaper grills, and they cost more. You should know that the materials used in making Weber grills are not only expensive, but they also last longer, making them pretty expensive.
2. Long years of expertise.
Another reason why Weber grills are so expensive is the years of experience of the Weber brand. The Weber- Stephen company started the business of making grills decades ago. They have a long history of experience in the grill industry, and they are quite popular worldwide.
There is virtually no American family that doesn't know about Weber Grills. Due to their long years of experience in making different types of grills, they have become a go-to brand for a lot of folks.
But more than that, they produce some of the best grills in the market, and people pay a fortune to buy the grills they produce.
3. Customer support.
One thing that makes a company or brand stand out is its customer service, and it is such a huge relief for customers when the company they buy from has good customer service. Weber brand provides just that.
Weber Stepan company has good customer relations and support. In fact, the company's customer service staff are always available to support their customers and give them optimum satisfaction.
Interestingly, these customer support experts help those who can't properly assemble their grills. They also help with repairs and provide answers to questions raised by their customers. Their customer support is top-notch, and a lot of money provides this service.
4. Warranty.
Not every brand or manufacturer gives you a good enough warranty. But Weber grills provide a ten-year warranty on most of their products, and for some models, they give more. They have a trusted warranty system, and you will get value for your money.
Most of their products are built to even last beyond the stipulated warranty period of 10 years. The Weber grill brand replaces any damaged grill before the ten-year warranty period is over. What's more, the process returns any money paid for those who no longer need the grill. This appendage makes them pretty expensive.
5. Exquisite Designs.
A lot of thought and serious engineering goes into the designs of weber grills. They have beautiful and very innovative designs. After creating the world's first grilling kettle in the 1950s, the weber grill brand has continually churned out new and up-to-date designs in the market.
The Weber grill brand has invested in smart grilling technology, speeding them up to their competitors. Their most recent innovation is the addition of grease channels and self-cleaning on their grills. Their grill designs are unique and user-friendly.
In fact, they are keen on making designs with striking features that fit contemporary society. Weber grills have been consistent over the years, and they have retained their position as the favorites for barbecue lovers.
They are regularly churning out designs with better heat distribution, exterior, and air circulation.
READ MORE:  10 Most Expensive Toys In The World.
What are the pros of using a Weber Grill?
Using an expensive grill product like the weber grill requires a certain level of curiosity, including why their products are good enough. So here are a few pros for using weber grill instead of others;
Weber Grills are easy to repair because their spare parts are easily accessible at different service centers. You can easily walk into any service center, and agents will repair your weber grill quickly within a short period.
You can even buy the spare parts and repair your grill yourself. Instructions on how to repair the grills are also available.
They are very easy to use.
Weber grills are easy to use because their parts are assembled through easy to follow picture by picture assembly instructions. These grills are made and packed so that they are very easy to assemble and very easy to use with less stress. To show how innovative they are, a 3D app was designed, an app that, when downloaded, helps to explain the entire assembly process to the user.
What's the point of buying an expensive grill that can end up hurting you when in use? The Weber gas grills, unlike other grills, are made with good Lp regulators, and so they are very safe to use. A gas grill with bad Lp regulators or a faulty gas hose, when disconnected, can lead to a gas explosion or even food poisoning, but that is not the case with Weber gas grills.
A stand-out feature for the Weber grills is the temperature control. To make very good barbeques, burgers, or steaks, you need to be a pro at controlling the temperature. This makes the grilling experience fun and easy without seeming like a chore and less time-consuming. You wouldn't need to waste much time-fighting fire. It is easy to control temperatures and flare-ups with the Weber Grills.
READ MORE: Why Is The Mona Lisa So Expensive
Cons of using Weber Grills
Nothing is 100% perfect, and that is also the case with these grills. Although the advantages far outweigh the disadvantages, they still have some disadvantages, and it would be nice if you knew some of them.
The Cast- Iron grates used in making the grills are quite heavy, making it a bit difficult to move around when cleaning the grill. You can also spend more time cleaning these grills when compared with the amount of time spent cleaning steel grills.
In a bid to stay trendy, Weber Grills is investing in a grilling technology called the smart grilling hub and the Weber connects system; these were designed to monitor the grill and adjust it with a smartphone. This isn't perfect yet as it is still prone to disconnection, making it quite difficult to use this feature.
READ MORE: The Most Expensive Swords in The World.
What are the best Weber Grill designs to buy?
Although the Weber grills are high quality and quite reliable, some are way better than others. So if you are considering investing in a Weber grill, these are some of the Weber grills you should consider buying.
1. Weber Summit S- 670 – $3999.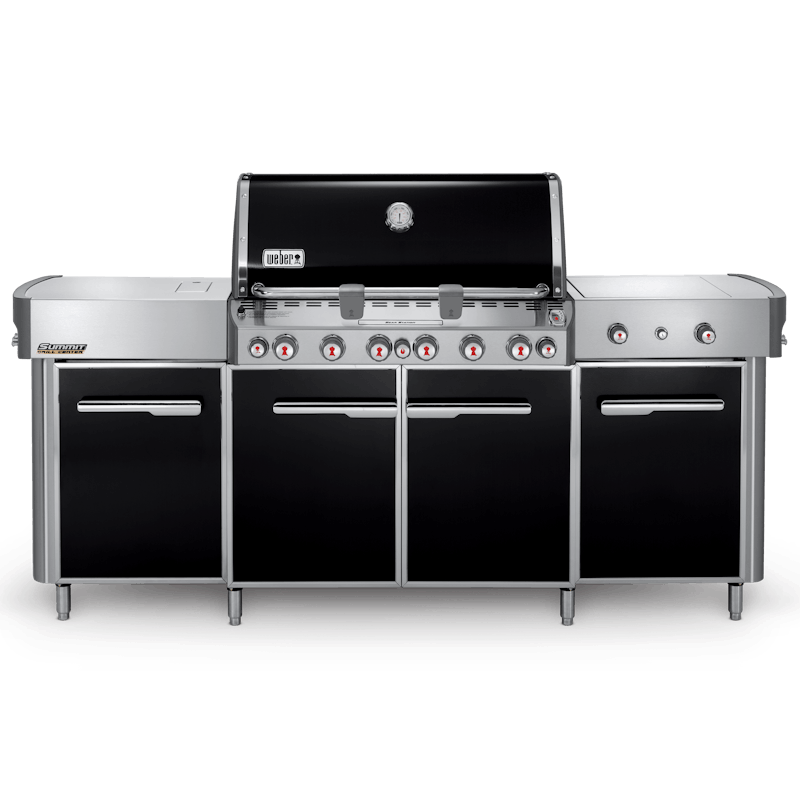 This is quite expensive compared to the others, and it is made to cater to more people. The Weber Summit S uses stainless steel on most parts, including the cooking grates and flavorizer bars.
2. Weber 60020 the Ranch charcoal kettle grill – $1679.
The Weber 60020 ranch charcoal kettle grill is also very efficient. It offers a classic compact design in a simple and solid build. It's about 42 inches wide. It is big enough to prepare grills for a larger group of people.
3. Burner propane Gas Grill – $1399.
This is the best grill for beginners because it is very easy to operate and the least expensive. It lights easily and gets very hot quickly. It is well built with porcelain-enameled cooking grates and comes with flavorizer bars. It also has reversible grill plates that enable you to grill delicate dishes, and it is good enough for a family dinner or a small party for a few people.
Others include; Weber Jumbo Joe 18. 5 inches, Weber Q 1400, Weber Spirit E330, and Weber Spirit E- 310.
Conclusion.
Although not the cheapest grills in the market, the Weber grill brand has stayed true for many decades, making the best and most durable grills. If you are looking for something of great quality and not just something that is cheap and will end up lasting for only a few years, you should buy a Weber grill.
With all the features they possess, it is no wonder why Weber grills are so expensive. They are not regular grills. They are made with great expertise, and they are worth every penny spent to get them. If you want your barbeque not just to taste better but also look better, Weber grills are pretty much your best option; that's if you can part with your money.